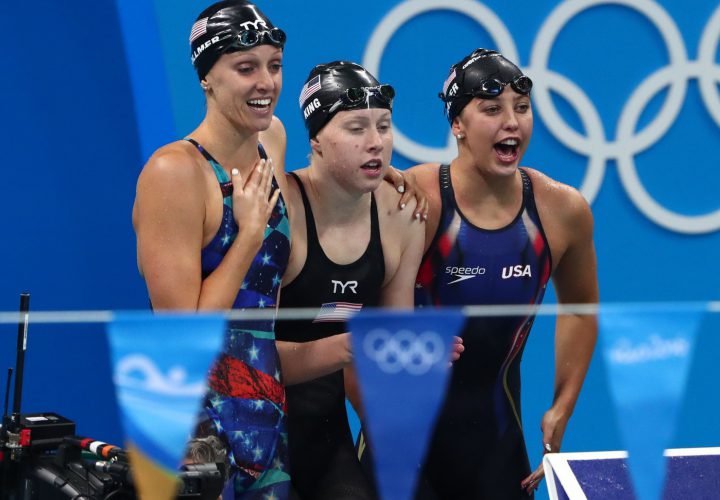 Photo Courtesy: Rob Schumacher-USA TODAY Sports
Editorial Coverage provided by

It would take some major development during the eight days of competition at the FINA World Championships for the U.S. women not to enter the final event, the 400 medley relay, heavily favored for gold.
The American women's squad won gold in Rio by a full two-second margin, and the second-fastest time of the meet actually came from the U.S. women's prelims squad, which was buoyed by Katie Meili's 1:04.93 breaststroke split.
It's breaststroke that should be the deciding leg for the U.S. this time: Aside from Russia's Yulia Efimova, no one in the field can keep pace with Lilly King on that leg, and Russia does not have three other swimmers quick enough to put that team in the medal hunt.
Read below to see what Swimming World's trio of experts think will happen in Budapest. David Rieder, John Lohn and Andy Ross will each offer their predictions for who will finish on the podium.
Women's 400 Medley Relay
Current Records:
World Record: United States — Franklin, Soni, Vollmer, Schmitt (2012) — 3:52.05
Championship Record: China — Zhao, Chen, Jiao, Li (2009) — 3:52.19
American Record: Franklin, Soni, Vollmer, Schmitt (2012) — 3:52.05
2015 World Champion: China — Fu, Shi, Lu, Duo– 3:54.41
2016 Olympic Gold Medalist: United States — Baker, King, Vollmer, Manuel — 3:53.13
Swimming World Predictions
David Rieder's Picks:
Gold: United States
Silver: Australia
Bronze: Canada
John Lohn's Picks:
Gold: United States
Silver: Australia
Bronze: China
Andy Ross' Picks:
Gold: United States
Silver: Australia
Bronze: Sweden
Previous Events
Day One:
Day Two:
Day Three:
Day Four:
Day Five:
Day Six:
Day Seven:
Day Eight: