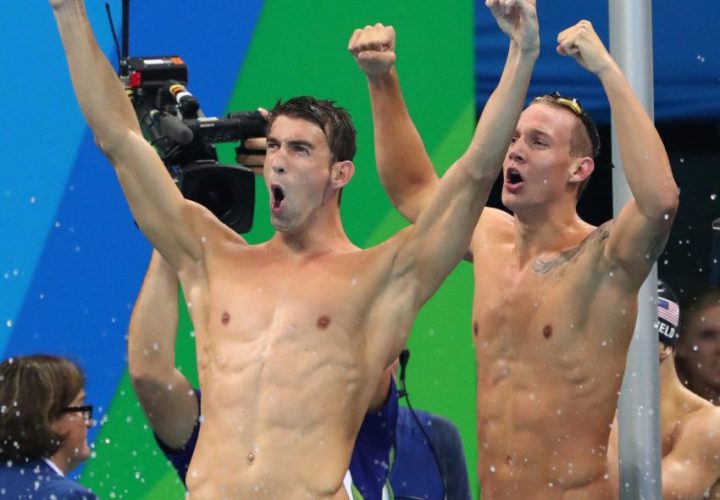 Photo Courtesy: Rob Schumacher-USA TODAY Sports
Editorial Coverage provided by

If there's been any constant over the last decade of international 400 free relays, it's been seeing France on the medal stand. The French medal streak goes back all the way to the 2007 FINA World Championships, and teams from that country have won the World title in both 2013 and 2015.
But that consistent streak will end this summer, as France loses both Florent Manaudou and Fabien Gilot from its World Champion and 2016 Olympic silver medal-winning relays and will not even have an entry this summer in Budapest. The Australia, Olympic bronze medalists in Rio, lose 100 free gold medalist Kyle Chalmers to a heart issue.
So it's tough to see the Nathan Adrian and Caeleb Dressel-led Americans as anything but heavy favorites for Budapest. The competition was so quick at U.S. Nationals that Ryan Held, who swam on the gold medal-winning 400 free relay in Rio, swam a 48.53 in the 100 free… and placed seventh.
Read below to see what Swimming World's trio of experts think will happen in Budapest. David Rieder, John Lohn and Andy Ross will each offer their predictions for who will finish on the podium.
Men's 400 Free Relay
Current Records:
World Record: United States — Phelps, Weber-Gale, Jones, Lezak (2008) — 3:08.24
Championship Record: United States — Phelps, Lochte, Grevers, Adrian (2009) — 3:09.21
American Record: Phelps, Weber-Gale, Jones, Lezak (2008) — 3:08.24
2015 World Champion: France — 3:10.74
2016 Olympic Gold Medalist: United States — 3:09.92
Swimming World Predictions
David Rieder's Picks:
Gold: United States
Silver: Brazil
Bronze: Australia
John Lohn's Picks:
Gold: United States
Silver: Brazil
Bronze: Russia
Andy Ross' Picks:
Gold: United States
Silver: Brazil
Bronze: Australia
Previous Events
Men's 400 Free
Women's 400 Free
Women's 400 Free Relay