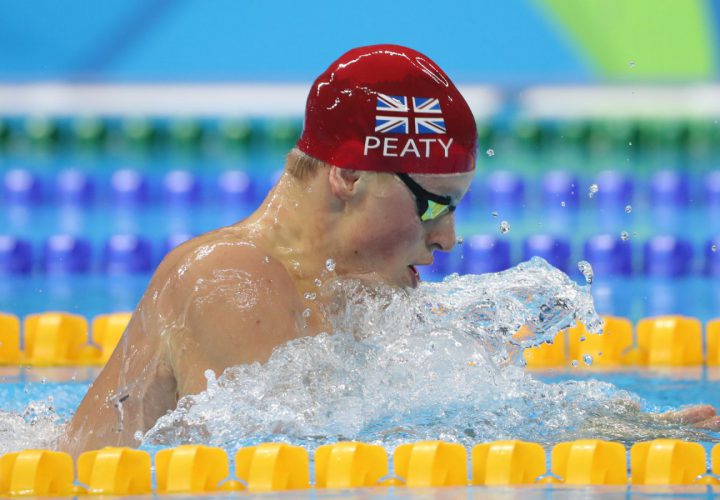 Photo Courtesy: Erich Schlegel-USA TODAY Sports
Editorial Coverage provided by

At last summer's Olympics in Rio, no swimmer—not even Katie Ledecky—was more dominant in their event than Adam Peaty was in the men's 100 breast. Expect more of the same this year at the FINA World Championships.
In Rio, Peaty won gold by more than a second and a half, taking the world record down to an unfathomable 57.13 in the process.
Who can challenge him this summer in Budapest at this year's FINA World Championships? Probably no one. But can he challenge the 57-second barrier? Amazingly, that's possible.
Read below to see what Swimming World's trio of experts think will happen in Budapest. David Rieder, John Lohn and Andy Ross will each offer their predictions for who will finish on the podium.
Men's 100 Breast
Current Records:
World Record: Adam Peaty, GBR (2016) — 57.13
Championship Record: Adam Peaty, GBR (2015) — 58.18
American Record: Kevin Cordes (2017) — 58.74
2015 World Champion: Adam Peaty, GBR — 58.52
2016 Olympic Gold Medalist: Adam Peaty, GBR — 57.13
2017 World No. 1: Adam Peaty, GBR — 57.79
Swimming World Predictions
David Rieder's Picks:
Gold: Adam Peaty, GBR
Silver: Kevin Cordes, USA
Bronze: Cody Miller, USA
John Lohn's Picks:
Gold: Adam Peaty, GBR
Silver: Cameron van der Burgh, RSA
Bronze: Kevin Cordes, USA
Andy Ross' Picks:
Gold: Adam Peaty, GBR
Silver: Kevin Cordes, USA
Bronze: Cameron van der Burgh, RSA
Previous Events
Day One: