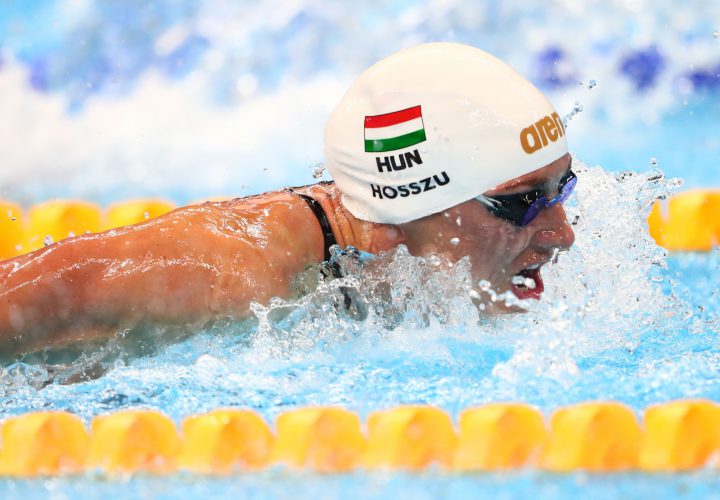 Photo Courtesy: Rob Schumacher-USA TODAY Sports
Editorial Coverage provided by

At the 2015 FINA World Championships, Katinka Hosszu won gold in the women's 200 IM by more than two seconds. At the 2016 Olympics in Rio, the margin was just three tenths of a second.
Hosszu did go a touch slower in Rio, but only four tenths of a second. The big difference: Siobhan-Marie O'Connor dropping almost two seconds in the span of a year, becoming just the third woman ever to crack the 2:07-barrier.
O'Connor, at 21 years old, is more than six years younger than Hosszu, but she will have to deal with the partisan Hungarian crowd when the two face off again in Budapest.
Read below to see what Swimming World's trio of experts think will happen in Budapest. David Rieder, John Lohn and Andy Ross will each offer their predictions for who will finish on the podium.
Women's 200 IM
Current Records:
World Record: Katinka Hosszu, HUN (2015) — 2:06.12
Championship Record: Katinka Hosszu, HUN (2015) — 2:06.12
American Record: Ariana Kukors (2009) — 2:06.15
2015 World Champion: Katinka Hosszu, HUN — 2:06.15
2016 Olympic Gold Medalist: Katinka Hosszu, HUN — 2:06.58
2017 World No. 1: Katinka Hosszu, HUN — 2:08.49
Swimming World Predictions
David Rieder's Picks:
Gold: Katinka Hosszu, HUN
Silver: Siobhan-Marie O'Connor, GBR
Bronze: Melanie Margalis, USA
John Lohn's Picks:
Gold: Katinka Hosszu, HUN
Silver: Siobhan-Marie O'Connor, GBR
Bronze: Melanie Margalis, USA
Andy Ross' Picks:
Gold: Katinka Hosszu, HUN
Silver: Siobhan-Marie O'Connor, GBR
Bronze: Sydney Pickrem, CAN
Previous Events
Day One:
Day Two: