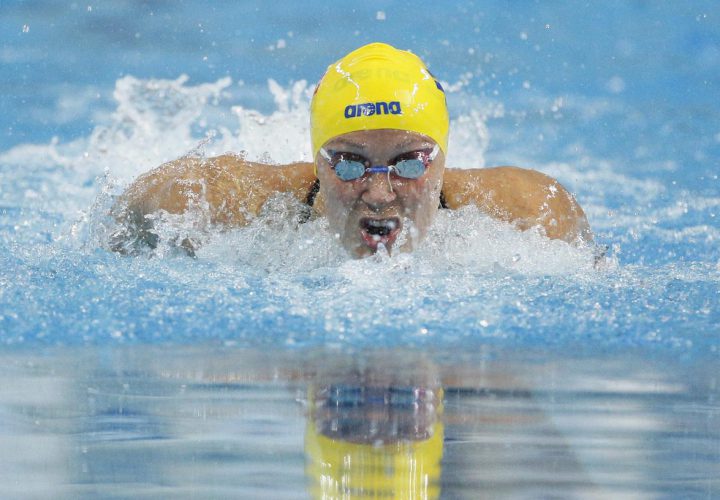 Photo Courtesy: Soobum Im-USA TODAY Sports
Editorial Coverage provided by

Sarah Sjostrom won gold in the women's 50 fly at the 2015 FINA World Championships, and it's hard to not see her adding another this time around.
Sjostrom also holds the world record in the event at 24.43, and no other woman has ever broken 25. This year, she leads Japan's Rikako Ikee for the top spot in the world rankings by three-quarters of a second.
If other predictions hold true, Sjostrom could be going for her third win of the week in the 50 fly. Have to like her chances.
Read below to see what Swimming World's trio of experts think will happen in Budapest. David Rieder, John Lohn and Andy Ross will each offer their predictions for who will finish on the podium.
Women's 50 Fly
Current Records:
World Record: Sarah Sjostrom, SWE (2014) — 24.43
Championship Record: Sarah Sjostrom, SWE (2015) — 24.96
American Record: Dara Torres (2009) — 25.50
2015 World Champion: Sarah Sjostrom, SWE — 24.96
2017 World No. 1: Sarah Sjostrom, SWE — 24.76
Swimming World Predictions
David Rieder's Picks:
Gold: Sarah Sjostrom, SWE
Silver: Rikako Ikee, JPN
Bronze: Kelsi Worrell, USA
John Lohn's Picks:
Gold: Sarah Sjostrom, SWE
Silver: Ranomi Kromowidjojo, NED
Bronze: Rikako Ikee, JPN
Andy Ross' Picks:
Gold: Sarah Sjostrom, SWE
Silver: Ranomi Kromowidjojo, NED
Bronze: Kelsi Worrell, USA
Previous Events
Day One:
Day Two:
Day Three:
Day Four:
Day Five:
Day Six: