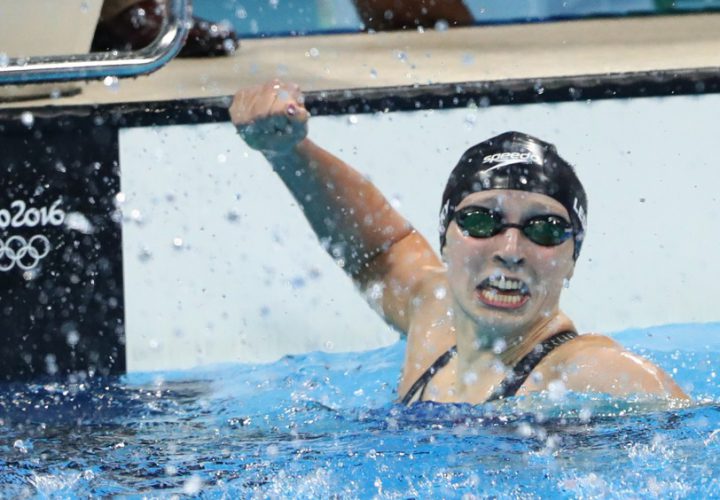 Photo Courtesy: Rob Schumacher-USA TODAY Sports
Editorial Coverage provided by

Katie Ledecky has been pretty good at the 400 free in recent years. She won the World title in the event in 2013 in Barcelona, where she broke 4:00 for the first time, and she hasn't lost since. That streak is unlikely to end at this summer's FINA World Championships.
At the Olympics in Rio, she demolished her world record in the event by almost two seconds, winning gold by almost five seconds in 3:56.46. As for the follow-up, the woman that came the closest to Ledecky in Rio, Great Britain's Jazmin Carlin, has already pulled out of Worlds.
It would be a shocker if anyone got much closer this summer in Budapest. Ledecky, who owns 11 of the 12 fastest 400 freestyle performances in history, has continued her record-setting ways during her freshman year at Stanford, so one has to assume that once again, the world record will be in danger in this race.
Read below to see what Swimming World's trio of experts think will happen in Budapest. David Rieder, John Lohn and Andy Ross will each offer their predictions for who will finish on the podium.
Women's 400 Free
Current Records:
World Record: Katie Ledecky, USA (2016) — 3:56.46
Championship Record: Katie Ledecky, USA (2015) — 3:59.13
American Record: Katie Ledecky (2016) — 3:56.46
2015 World Champion: Katie Ledecky, USA — 3:59.13
2016 Olympic Gold Medalist: Katie Ledecky, USA — 3:56.46
2017 World No. 1: Katie Ledecky, USA — 3:58.44
Swimming World Predictions
David Rieder's Picks:
Gold: Katie Ledecky, USA
Silver: Leah Smith, USA
Bronze: Li Bingjie, CHN
John Lohn's Picks:
Gold: Katie Ledecky, USA
Silver: Leah Smith, USA
Bronze: Boglarka Kapas, HUN
Andy Ross' Picks:
Gold: Katie Ledecky, USA
Silver: Leah Smith, USA
Bronze: Boglarka Kapas, HUN
Previous Events