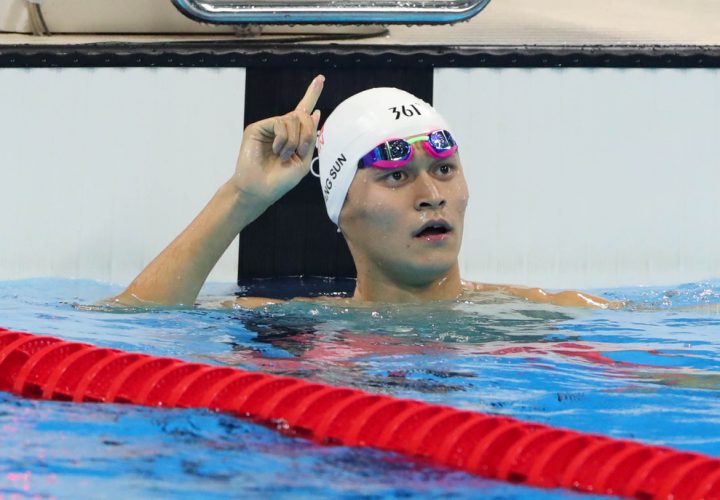 Photo Courtesy: Rob Schumacher- USA TODAY Sports
Editorial Coverage provided by

Last summer in Rio, Sun Yang could not defend his Olympic gold medals in either the 400 or 1500 free, but he did win his first gold in the 200 free at those Olympics. He blasted past surprising early leader Chad Le Clos on the last 50 and was the only man to break 1:45. Sun will again be favored in the event at the FINA World Championships.
This year, Sun has again been the only man to break 1:45, ranking first in the world at 1:44.XX. Aside from bronze medalist Conor Dwyer, the field returns mostly in tact from the Olympics, but the wildcard is Le Clos, whose "fly-and-die" strategy paid off with an Olympic silver, but he had never otherwise won an international medal outside the butterfly events.
Read below to see what Swimming World's trio of experts think will happen in Budapest. David Rieder, John Lohn and Andy Ross will each offer their predictions for who will finish on the podium.
Men's 200 Free
Current Records:
World Record: Paul Biedermann, GER (2009) — 1:42.00
Championship Record: Paul Biedermann, GER (2009) — 1:42.00
American Record: Michael Phelps (2008) — 1:42.96
2015 World Champion: James Guy, GBR — 1:45.14
2016 Olympic Gold Medalist: Sun Yang, CHN — 1:44.65
2017 World No. 1: Sun Yang, CHN — 1:44.91
Swimming World Predictions
David Rieder's Picks:
Gold: Sun Yang, CHN
Silver: James Guy, GBR
Bronze: Townley Haas, USA
John Lohn's Picks:
Gold: Sun Yang, CHN
Silver: Townley Haas, USA
Bronze: James Guy, GBR
Andy Ross' Picks:
Gold: James Guy, GBR
Silver: Sun Yang, CHN
Bronze: Townley Haas, USA
Previous Events
Day One:
Day Two: