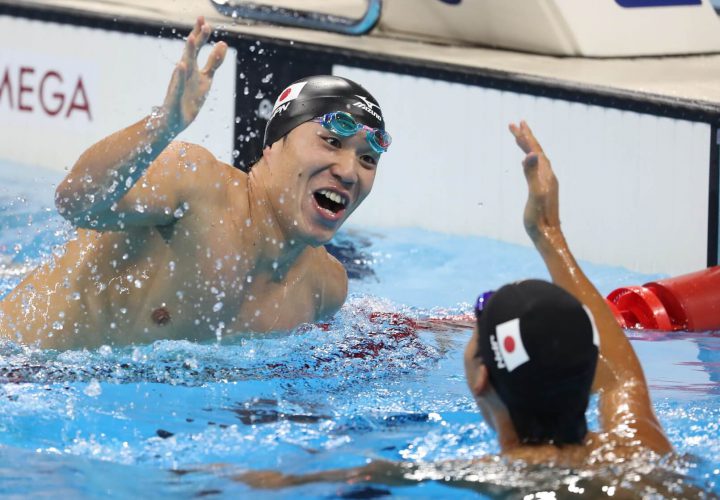 Photo Courtesy: Jason Getz/USA TODAY Sports
Editorial Coverage provided by

Ippei Watanabe became the first man to break 2:07 in the men's 200 breast earlier this year, but recent history says that this event could be unpredictable at the upcoming FINA World Championships.
Watanabe, remember, was similarly positioned to make a run at Olympic gold last summer. In the 200 breast semi-finals, he swam a time of 2:07.22, then the third-fastest mark in history, for a new Olympic record and the top seed.
One day later, Watanabe swam more than a half-second slower and finished sixth while the man in lane eight, Kazakhstan's Dmitriy Balandin, stunned the world and won gold.
Balandin will return to swim the event in Budapest, as will Olympic bronze medalist Anton Chupkov, but not the silver medalist. Josh Prenot finished third in the event at U.S. Nationals last month, locking the third-fastest performer out of the event at World Champs.
Read below to see what Swimming World's trio of experts think will happen in Budapest. David Rieder, John Lohn and Andy Ross will each offer their predictions for who will finish on the podium.
Men's 200 Breast
Current Records:
World Record: Ippei Watanabe, JPN (2017) — 2:06.67
Championship Record: Daniel Gyurta, HUN (2013) — 2:07.23
American Record: Josh Prenot (2016) — 2:07.17
2015 World Champion: Marco Koch, GER — 2:07.76
2016 Olympic Gold Medalist: Dmitriy Balandin, KAZ — 2:07.46
2017 World No. 1: Ippei Watanabe, JPN — 2:06.67
Swimming World Predictions
David Rieder's Picks:
Gold: Ippei Watanabe, JPN
Silver: Anton Chupkov, RUS
Bronze: Kevin Cordes, USA
John Lohn's Picks:
Gold: Anton Chupkov, RUS
Silver: Ippei Watanabe, JPN
Bronze: Dmitriy Balandin, KAZ
Andy Ross' Picks:
Gold: Ippei Watanabe, JPN
Silver: Kevin Cordes, USA
Bronze: Yasuhiro Koseki, JPN
Previous Events
Day One:
Day Two:
Day Three:
Day Four:
Day Five:
Day Six: