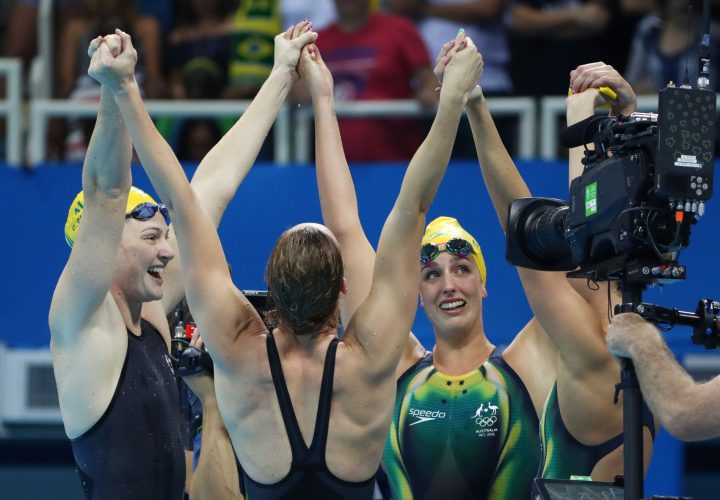 Photo Courtesy: Erich Schlegel-USA TODAY Sports
Editorial Coverage provided by

Australia's recent dominance in the women's 400 free relay could come under fire at this summer's FINA World Championships. That's because the Aussies will be missing the the world record-holder in the women's 100 free, Cate Campbell, who decided to take the summer off from going to Worlds.
Australia still counters with an impressive lineup led by reigning 100 free World Champion Bronte Campbell (Cate's younger sister) and 200 free Olympic bronze medalist Emma McKeon, but the Americans will be hot on their heels.
Whereas no American had ever broken 53 in the 100 free prior to last year's Olympics, the Americans will arrive in Budapest with two women having done so in the last year: Olympic gold medalist Simone Manuel and surprising national champion Mallory Comerford.
Read below to see what Swimming World's trio of experts think will happen in Budapest. David Rieder, John Lohn and Andy Ross will each offer their predictions for who will finish on the podium.
Women's 400 Free Relay
Current Records:
World Record: Australia — McKeon, Elmslie, B. Campbell, C. Campbell (2016) — 3:30.65
Championship Record: Australia – Seebohm, McKeon, B. Campbell, C. Campbell (2016) — 3:31.48
American Record: Manuel, Weitzeil, Vollmer, Ledecky (2016) — 3:31.89
2015 World Champion: Australia — 3:31.48
2016 Olympic Gold Medalist: Australia — 3:30.65
Swimming World Predictions
David Rieder's Picks:
Gold: Australia
Silver: United States
Bronze: Canada
John Lohn's Picks:
Gold: United States
Silver: Australia
Bronze: Canada
Andy Ross' Picks:
Gold: United States
Silver: Australia
Bronze: Netherlands
Previous Events
Men's 400 Free
Women's 400 Free