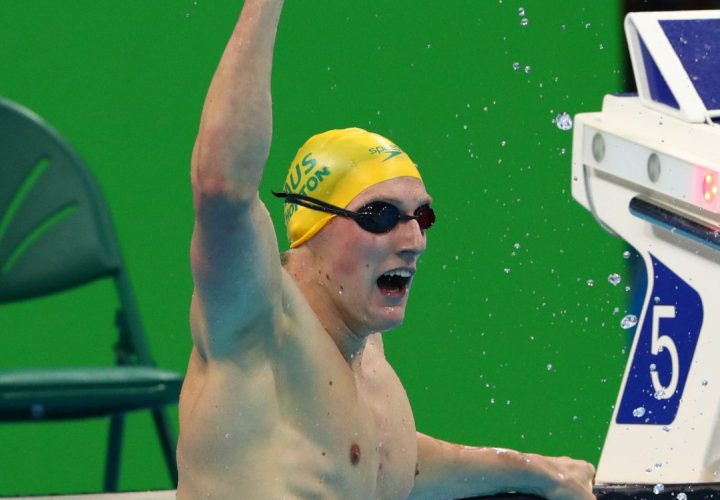 Photo Courtesy: Rob Schumacher-USA TODAY Sports
Editorial Coverage provided by

Last summer in Rio, Australia's Mack Horton dethroned Sun Yang in the men's 400 free final, holding off his Chinese rival by just 0.13. They meet again in the very first final of the FINA World Championships in Budapest.
The two developed quite a rivalry on day one of the Olympic competition, as Sun attempted to distract Horton from his training in the warm-up pool, while Horton referred to his Sun as "just a drug cheat," in reference to Sun's 2014 doping suspension.
Read below to see what Swimming World's trio of experts think will happen in Budapest. David Rieder, John Lohn and Andy Ross will each offer their predictions for who will finish on the podium.
Men's 400 Free
Current Records:
World Record: Paul Biedermann, GER (2009) — 3:40.07
Championship Record: Paul Biedermann, GER (2009) — 3:40.07
American Record: Larsen Jensen (2008) — 3:42.78
2015 World Champion: Sun Yang, CHN — 3:42.58
2016 Olympic Gold Medalist: Mack Horton, AUS — 3:41.55
2017 World No. 1: Sun Yang, CHN — 3:42.16
Swimming World Predictions
David Rieder's Picks:
Gold: Mack Horton, AUS
Silver: Sun Yang, CHN
Bronze: Gabriele Detti, ITA
John Lohn's Picks:
Gold: Sun Yang, CHN
Silver: Mack Horton, AUS
Bronze: Gabriele Detti, ITA
Andy Ross' Picks:
Gold: Sun Yang, CHN
Silver: Gabriele Detti, ITA
Bronze: Mack Horton, AUS