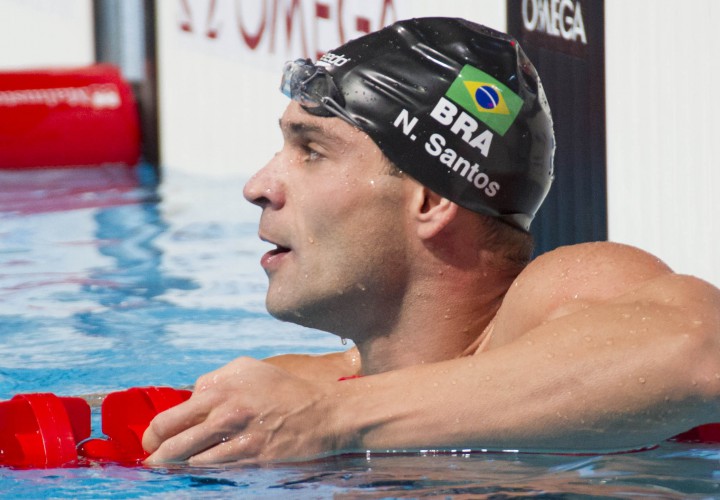 Photo Courtesy: Joao Marc Bosch
Editorial Coverage provided by

The first of the stroke 50 finals of the World Championships will be missing a key name in defending World Champion Florent Manaudou. Manaudou is better known for his freestyle, but his powerful butterfly got him the win at the 2015 FINA World Championships in Kazan.
In his absence, it's wide open as far as finding a favorite for gold. So far this year, three swimmers have broken 23 seconds: 36-year-old Brazilian Nicolas Santos, 22-year-old Brit Ben Proud and another Brazilian, Henrique Martins.
Read below to see what Swimming World's trio of experts think will happen in Budapest. David Rieder, John Lohn and Andy Ross will each offer their predictions for who will finish on the podium.
Men's 50 Fly
Current Records:
World Record: Rafael Munoz, ESP (2009) — 22.43
Championship Record: Milorad Cavic, SRB (2009) — 22.67
American Record: Bryan Lundquist (2009) — 22.91
2015 World Champion: Florent Manaudou, FRA — 22.97
2017 World No. 1: Nicholas Santos, BRA — 22.61
Swimming World Predictions
David Rieder's Picks:
Gold: Nicholas Santos, BRA
Silver: Ben Proud, GBR
Bronze: Caeleb Dressel, USA
John Lohn's Picks:
Gold: Andrey Govorov, UKR
Silver: Nicholas Santos, BRA
Bronze: Ben Proud, GBR
Andy Ross' Picks:
Gold: Ben Proud, GBR
Silver: Caeleb Dressel, USA
Bronze: Nicholas Santos, BRA
Previous Events
Day One:
Day Two: