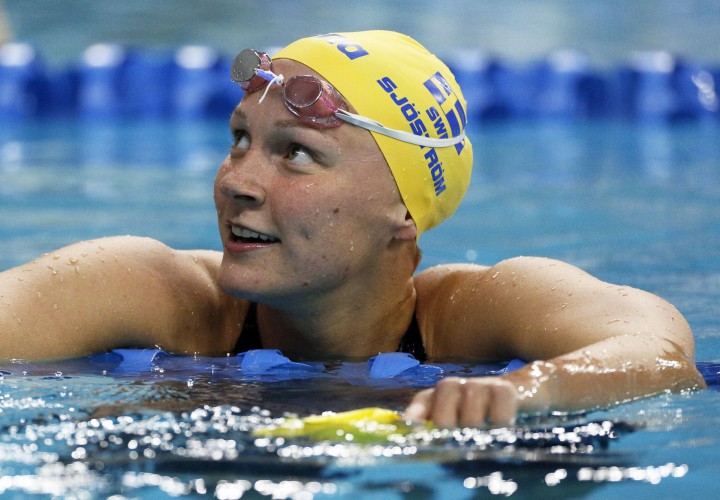 Photo Courtesy: Soobum Im-USA TODAY Sports
Arena Pro Swim Series editorial coverage is proudly sponsored by Arena USA. Visit ArenaUSA.com for more information on our sponsor. For all the latest coverage, check out our event coverage page.
Night one race videos are now up at the 2016 Arena Pro Swim Series Austin landing page.  Choose RACE VIDEOS on the right to watch them all!
Special thanks to USA Swimming for uploading the videos to YouTube.
Original 100 free report:
Sweden's Sarah Sjostrom powered by the U.S. Open record in the women's 100-meter free at the 2016 Arena Pro Swim Series Austin.
Sjostrom, who clocked a fourth-ranked 52.70 last year at Worlds, threw down a 53.12 to win the finale tonight.
That swim downed the previous U.S. Open mark of 53.30 set by Australia's Cate Campbell back in 2008 at the Santa Clara Invitational.
NCAP's Katie Ledecky, who already set a personal best with a 54.45 this morning, demonstrated her readiness for the women's 400-meter free relay internationally with a stunning 53.75.  She would have ranked as the second fastest American last year behind Missy Franklin (53.68) last year, and been in the top 10 in the world.
Canyon's Abbey Weitzeil raced her way into third with a time of 54.00, while Hungary's Katinka Hosszu failed to make the podium with a fourth-place 54.37.
HPCO's Sandrine Mainville (54.63), Franklin (54.78), SwimAtlanta's Amanda Weir (55.07) and HPCO's Chantal Van Landeghem (55.49) also swam in the finale.
California's Natalie Coughlin, who ranked 15th in the world last year with a 53.85 at the Pan Am Games, clocked a switch 54.50 to top the B final. SwimMAC's Madison Kennedy took second in 54.78.
                           === A - Final ===                            
 
  1 Sjostrom, Sarah  22 Sweden              53.72      53.12 OLY    
             25.83        53.12 (27.29)
  2 Ledecky, Katie   18 Nation's Capital    54.45      53.75 OLY    
             26.42        53.75 (27.33)
  3 Weitzeil, Abby   19 Canyons Aquatic     54.21      54.00 OLY    
             25.62        54.00 (28.38)
  4 Hosszu, Katinka  26 HUN                 54.58      54.37 OLY    
             26.56        54.37 (27.81)
  5 Mainville, Sand  23 Hpc-Ontario         55.03      54.63 OLY    
             26.31        54.63 (28.32)
  6 Franklin, Missy  20 Colorado Stars      54.90      54.78 OLY    
             26.60        54.78 (28.18)
  7 Weir, Amanda     29 SwimAtlanta         54.96      55.07 OLY    
             26.66        55.07 (28.41)
  8 Van Landeghem,   21 Hpc-Ontario         54.86      55.49 OLY    
             26.09        55.49 (29.40)
 
                            === B - Final ===                            
 
  9 Coughlin, Natal  33 California Aquat    55.54      54.50 OLY    
             26.29        54.50 (28.21)
 10 Kennedy, Madiso  28 SwimMAC Carolina    55.59      54.78 OLY    
             26.23        54.78 (28.55)
 11 Cheng, Camille   22 Una Cal             55.12      54.86 OLY    
             26.39        54.86 (28.47)
 12 Vanderpool-Wall  25 SwimMAC Carolina    55.69      55.16 OLY    
             26.01        55.16 (29.15)
 13 Lee, Felicia     23 Stanford Swimmin    55.52      55.17 OLY    
             26.95        55.17 (28.22)
 14 Vreeland, Shann  24 Athens Bulldog S    55.65      55.51 OLY    
             26.99        55.51 (28.52)
 15 Geer, Margo      23 Tucson Ford Deal    55.39      55.95 OLY    
             27.25        55.95 (28.70)
 16 Rasmus, Claire   19 Texas A & M Univ    55.79      56.24 OLY    
             27.60        56.24 (28.64)