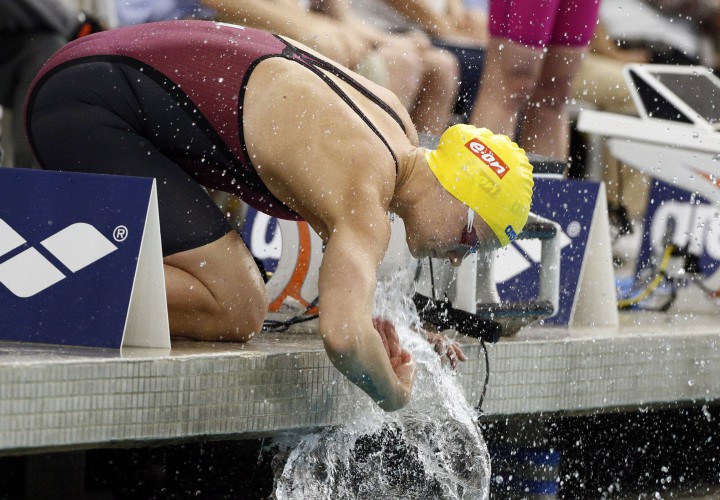 Photo Courtesy: Soobum Im-USA TODAY Sports
Arena Pro Swim Series editorial coverage is proudly sponsored by Arena USA. Visit ArenaUSA.com for more information on our sponsor. For all the latest coverage, check out our event coverage page.
Night two race videos are now up at the 2016 Arena Pro Swim Series Austin landing page.  ChooseRACE VIDEOS on the right to watch them all!
Special thanks to USA Swimming for uploading the videos to YouTube.
Original 50 free report:
Sweden's Sarah Sjostrom blasted her way to victory in the women's 50-meter free at the 2016 Arena Pro Swim Series Austin.
Sjostrom nearly captured her third U.S. Open record with a 24.17.  That swim beat her third-ranked season best from last year of 24.20.  It nearly beat Cate Campbell's U.S. Open mark of 24.13 from 2008.
SwimMAC's Madison Kennedy turned in a sizzling time of 24.72 for second, but looked slow compared to Sjostrom in the other lane.
SwimMAC's Arianna Vanderpool-Wallace placed third overall with a time of 24.84.
HPCO's Chantal Van Landeghem (24.92), Canyons' Abbey Weitzeil (24.93), California's Farida Osman (24.95), France's Anna Santamans (25.05) and HPCO's Sandrine Mainville (25.47) placed fourth through eighth.
California's Natalie Coughlin won the B final in 25.19. Teammate Dana Vollmer took second in 25.24 with Sweden's Therese Alshammar earning third in 25.38.
                           === A - Final ===                            
 
  1 Sjostrom, Sarah  22 Sweden              25.14      24.17 OLY    
  2 Kennedy, Madiso  28 SwimMAC Carolina    25.03      24.72 OLY    
  3 Vanderpool-Wall  25 SwimMAC Carolina    25.15      24.84 OLY    
  4 Van Landeghem,   21 Hpc-Ontario         25.26      24.92 OLY    
  5 Weitzeil, Abby   19 Canyons Aquatic     25.06      24.93 OLY    
  6 Osman, Farida    20 Univ California,    25.18      24.95 OLY    
  7 Santamans, Anna  22 France              25.20      25.05 OLY    
  8 Mainville, Sand  23 Hpc-Ontario         25.38      25.47 OLY    
 
                            === B - Final ===                            
 
  9 Coughlin, Natal  33 California Aquat    25.67      25.19 OLY    
 10 Vollmer, Dana    28 Una Cal             25.62      25.24 OLY    
 11 Alshammar, Ther  38 Sweden              25.42      25.38 OLY    
 12 Martin, Ivy      22 Wisconsin Aquati    25.46      25.48 OLY    
 13 Gates, Melissa   25 Trojan Swim Club    25.80      25.55 OLY    
 14 Gastaldello, Be  20 Texas A & M Univ    25.62      25.61 OLY    
 15 Geer, Margo      23 Tucson Ford Deal    25.78      25.73 OLY    
 16 Williams, Miche  25 Hpc-Ontario         25.66      25.77 OLY