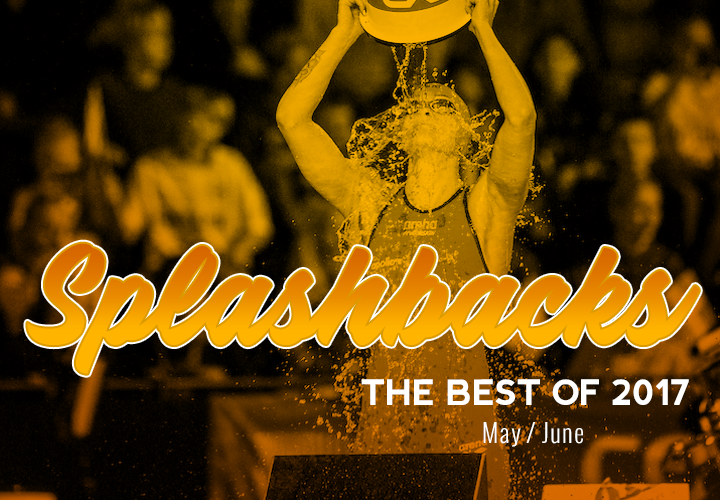 It's been another amazing year of aquatics competition, including an exciting trip to Budapest for the World Championships, and Swimming World had our readers covered every step of the way.  During the next few days, we'll take a look back in "Splashbacks", the most read stories of 2017.
Third on our list for 2017 are the months of May and June, featuring stories on the newly added Olympic events for Tokyo 2020 and the re-emergence of the infamous "Lochte Rule."
The International Olympic Committee (IOC) wasted no time going over FINA's proposal to add new events to the swimming line-up for the 2020 Olympic Games in Tokyo. The IOC announced in early June that they would be adding the men's 800 free, women's 1500 free, along with the 400 free and 400 medley mixed relays to the schedule for the next Olympic Games.
The swimming community lost a talented coach in early May when news broke that Dynamo Swim Club head coach, Jason Turcotte, had passed away in his sleep. Under Turcotte's tutelage, Dynamo Swim Club rose to national age group significance and thrust his abilities as a coach into the spotlight, earning him the appointment of co-head coach of the USA Junior World Championship team set for later in 2017.
Dr. G. John Mullen, one of Swimming World's fitness gurus, explained nine exercises that all swimmers should avoid doing and explained the negative impact they have on a swimmer's performance in the pool.
Swimming and running – two cardio-intensive sports that many communities love to avoid. However, many athletes cross-train using one or both to strengthen their athletic abilities. Swimming World college intern, Joe Buchanan, broke down the differences between the two sports by looking at the different muscles used, necessary breathing patterns, and calories burned.
Bruce Wigo, then CEO of the International Swimming Hall of Fame, followed up the news of the new Olympic events with a commentary reflection on how the sport has changed in regards to swimsuit attire and Olympic events, especially for women. Wigo's piece recounted important dates throughout the history of swimming, including the addition of women's events in the Olympic Games, the rollback on modesty requirements for female swimsuits, and more.
The infamous "Lochte Rule" reared its head at the 2017 Phillips 66 US National Championships when it resulted in the disqualification of four swimmers in the 400 IM. Most notable was the disqualification of Stanford's Ella Eastin, who had finished second in the race and would have continued on to Budapest. Bethany Galat (women's 'A' final), Kathryn Painter (women's 'B' final), and Brennan Balogh (men's 'B' final) also received disqualifications in the 400 IM for violations of the Lochte Rule.
Tech suits are a joy to receive before an important meet, but they come with a complicated history and a deep field of opinions. Swimming World college intern tackled the topic of tech suits with history and quotes from top athletes and industry leaders, while posing the question of what would happen if we ditched tech suits altogether.
"10 Hidden Benefits of Swimming" is yet another example of "an oldie, but a goodie." Dr. G. John Mullen, once again, struck gold on the fitness side of the sport by breaking down the 10 health benefits that swimming provides. These benefits go deeper than athletic abilities, also noting the growth of confidence in children.
Stroke specialization in age group swimming is a continuing hot and heated topic among the swimming community with many weighing in on both sides of the argument. Robert Griswold, Swimming World college intern, lent his voice to the conversation in mid-June when he penned "4 Important Reasons for Younger Athletes to Swim Every Event."
Many assume that to be a college athlete one must be close to perfect health, however, Calvin College graduate Hillary Glover has proved that even with a serious diagnosis of hypertrophic cardiomyopathy one can still succeed beyond their wildest dreams.