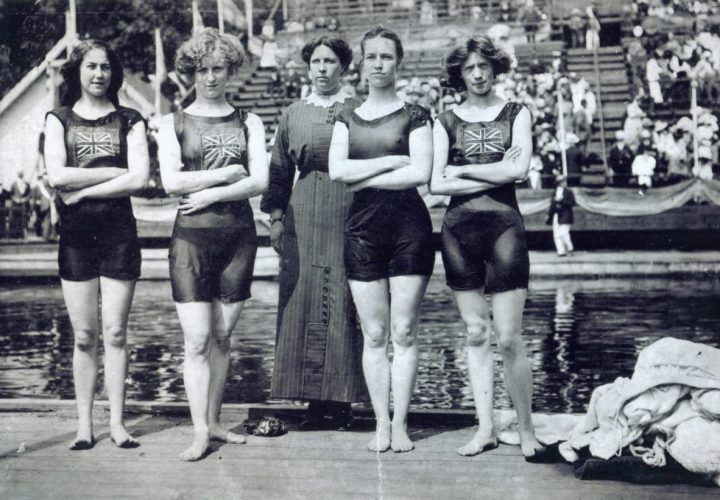 1912 British Women Relay Team
Commentary by Bruce Wigo, CEO of International Swimming Hall of Fame.
From the Middle Ages to the dawn of the 20th century, women were discouraged from participating or even watching physical activity. This view was held because a woman was supposed to be passive, obedient and the "weaker sex." In fact, it was often argued that sport was harmful to women.
Victorian morality, with its concerns about women exposing their skin and inciting uncontrollable lust in males, kept women covered in bathing costumes consisting of dark woolen or flannel stockings, bloomers, skirts and blouses that covered women from their necks to toes and to their wrists. While these costumes enabled women to bathe, they were impossible to swim in that apparel.
Because drowning became a major public safety issue at the turn of the twentieth century, swimming became the first physically active sport deemed acceptable for women. That's because Edwardian society (after 1901) recognized that women had the right to know how to swim when a man wasn't around to save them.
Through the efforts of the progressive Swedes, women's swimming appeared on the program of the 1912 Olympic Games. But while the men swam distances of 100, 200, 400 and 1500 meters over seven events, there were only 2 events for women, the 100 freestyle and a 400 freestyle relay.
Women were also required to wear robes until immediately prior to the start of their races and to cover up immediately after leaving the water.
In 1920, a 300-meter event in Olympic Swimming was added to the women's program along with a rule requiring women's swim suits to have a skirt, which was also known as a modesty panel.
In 1924, the women's 300 meter race was increased to 400 meters in Olympic swimming, but while the men swam an 800 freestyle relay, the women's relay remained at 400 meters.
Prior to August 6, 1926, it was considered absolutely impossible for a woman to swim across the English Channel, even though five men had done it, starting with Matthew Webb in 1875.
On that date, American swimmer Gertrude Ederle, not only proved women were equal to men, but she actually beat the previous best time by NEARLY 2 HOURS! In an instant she became the most famous woman in the world and New York City gave her a reception that remains the largest ticker tape parade in the city's history, with over two million people attending.
One consequence of Ederle's accomplishment was that women's track and field events were added to the 1928 Olympic program.
The Olympic swimming program of six men's events and five women's events remained untouched until 1956, when butterfly was added, but while men swam 200 meters, women were deemed capable of only swimming 100 meters.
In 1960, a men's and women's 400 medley relay was added. In 1964, the men's and women's 400 individual medley was added and the men's 100 meter backstroke was changed to a 200 meter event, while the women's event remained at 100 meters. In another change, the modestly opaque black or navy blue suit requirement was dropped to allow colored and patterned suits.
The 1960s saw dramatic changes that fostered the ideals of the gender equity movement in the Olympic Games. Women's volleyball and basketball were added to the program. The most dramatic changes in swimming came in 1968.  The program was gender equalized as men and women competed in both 100 and 200 meters in all individual stroke events, while both men and women competed in the same three relays.
However, even though Debbie Meyer was swimming the 1500 meters nearly 40 seconds faster than Australian male swimmer Murray Rose swam to win the Olympics in 1956, the IOC chose to add the 800 meter women's distance event, rather than match the men's 1500 meters.
In 1973, FINA dropped another vestige of Victorian thinking when it removed the requirement of the "modesty panel" from women's suits.
The 2001 World Championships in Fukuoka, Japan,  FINA added both distances of 800 and 1500 meters for both men and women, but the IOC did not extend the changes to the Olympics until now.
Finally in the upcoming 2020 Olympics, after over a 100 years of backward thinking, the last vestige of Victorian thinking has been abolished. Congratulations FINA and the IOC.  You got it right!