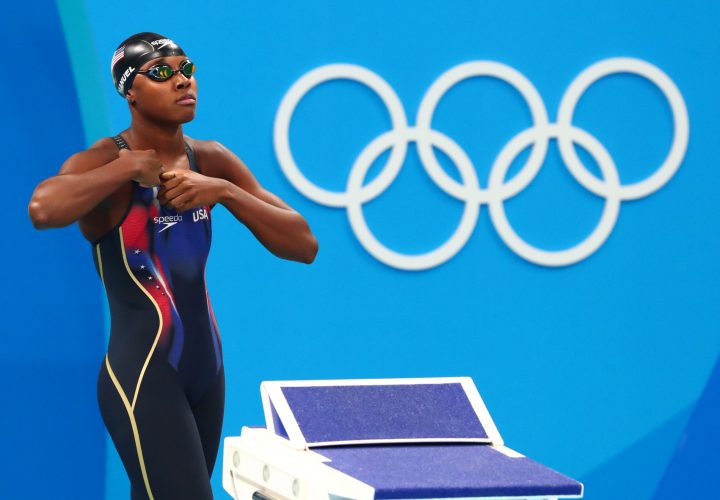 Photo Courtesy: Rob Schumacher-USA TODAY Sports
By Kristy Kinzer, Swimming World College Intern.
An Era of Tech Suits
Nearly every sport has evolved with new rules and regulations that govern the dynamics of training and competition, and swimming has not remained untouched. We've all seen changes to the sport, such as updated breaststroke pull-out regulations, new back-to-breast turns in the individual medley, improved specialty training regimens, and trendy "most effective" stroke techniques.
But all things considered, the most controversial aspect of modern swimming is the athlete's attire: the high-tech suit. Unlike minor changes in equipment with other sports such as improved technical tennis racquets or golf clubs, the high-tech swim suit offers athletes an advantage likened to doping.
The Low-Down
Swimmers are always looking for a way to get a competitive edge, whether it's shaving any exposed areas, wearing a dome cap, or uniquely engineered goggles with the intent of reducing drag. These competitive advantages may be compared with a few thousandths of seconds spared; however, the tech suit can be attributed to several tenths-of-second drops.
No one in the swimming world can forget the record-shattering 2009 World Games in Rome, affectionately known as the "Plastic Games." Forty-three new world records were set in the debut of polyurethane-based full-body tech suits, as compared to the next highest of 24 records set in 2007 and 19 in 2003 without these suits.
Highlighting this issue was the 200 freestyle race in which Michael Phelps was defeated by Germany's Paul Biedermann, who was wearing a pure polyurethane suit superior to Phelps's. It was the first race internationally that any athlete beat Phelps, and Biedermann himself seemed to credit the suit and not his abilities as the real winner.
"I hope there will be a time when I can beat Michael Phelps without the suit," Biedermann said. He added that the suit debate "is not my problem, it's not the problem of Arena, my sponsor. It's the problem of FINA…We're in a dangerous situation of what comes next. It's really important to go back to the real swimming."
Governing Response
To preserve the integrity of the sport, FINA's congress voted that racing suits be made of permeable materials and that there will be limits on how much of a swimmer's body could be covered. Among these regulations are specific thickness, buoyancy, and permeability values. Though FINA has banned full-body tech suits which provided pockets of buoyancy and extreme water repelling properties, swimwear companies continuously push the limits within the new regulations to market the "fastest" and best suit. FINA compiles a list of tested and approved swimwear for sanctioned competitions every year; however, it fails to address the underlying ethical issue of an extreme advantage with the tech suit.
Even the currently legal tech suits enable swimmers with less-than-ideal physique or inferior conditioning to be extremely streamlined, devaluing athleticism. But FINA's improved regulations have garnered positive reactions from pro swimmers. Elizabeth Beisel, one of three team captains of the US women's Olympic swim team in Rio this past summer, has strong opinions regarding changing the tech suit rules. "Pretty much anybody could swim fast in those suits," Beisel said. "Now, you definitely need to be a hard worker and have some yardage and stuff under your belt. You can't just rely on the suits to make you fast anymore."
Though it seems that the issue of tech suits giving an advantage has been curbed a bit with better regulations, they continue to provide hydrodynamic properties of extra compression, greatly improving body positioning in the water. If relying on training, speed, and talent is truly the direction that beginner and pro swimmers desire the sport to take, then why utilize high tech suits in the first place? Rather than leveling the field by banning full-body suits, wouldn't the field truly be leveled by banning them altogether?
"It's not that we are opposed to science, but we want the performance on the athletes to be gauged on their hard work, on what they're able to accomplish without technological aids, specifically swimsuits," said Chuck Wielgus, past executive director of USA Swimming.
The Bottom Line
FINA's rulings attempt to level the field; however, manufacturers are constantly pushing the boundaries to market their products and improve their bottom line. "It definitely unleashes a little more creativity and innovation if the rules are relaxed a bit," said Todd Mitchell, who helped develop Michael Phelps's signature swimsuit line for Aqua Sphere that he wore in Rio. Companies need to make the best profit, of course, and know the rest of the field will follow the elites. Young age-groupers and older masters athletes alike attempt to emulate the suit decisions from pros.
Furthering the disparity between those with tech suits and those without is the cost of suits. The full-body suits deemed illegal cost nearly $500 each and only last about three meets at most before the material degrades. The current legal suits can cost up to $300 or more depending on the brand and style and sponsorship, and this financial burden for lay-swimmer's families hardly seems to level the playing field. Wealthier athletes don't need to think twice about throwing down extra cash for an advantage, beating equally talented but less affluent athletes simply by affording a better suit.
A Truly Level Swimming-Field
"I know the suit rules are there to make it equal for everyone," said Missy Franklin, who won four gold medals at the 2012 London Games. "That's what is most important." If equality is what we're after, then swimmers who truly desire to hold on to the integrity of the sport would support going back to its roots and banning all high-tech suits from competition. No one would have any sort of advantage over the other simply based on suit material and ability to afford these suits.
After all, much of the hype around wearing the legal high tech suits plays into a mental edge rather than just a physical edge. "Some of it is the placebo effect, let's be honest," said Bruce Gemmell, who coached American star Katie Ledecky. "I think they're all about the same." Nearly every swimmer who has worn a high tech suit can attest to its confidence-boosting ability, no matter the brand of suit worn.
I may be old school, but I think that all tech suits should be banned and stricter regulations be enforced by FINA. Men wear briefs and women wear traditional training suit cuts. Athletes battle it out in the water mano a mano, allowing for superior training and technique to reign and preserve the integrity of the sport of swimming. Let's get back to simple swimming— whoever is best trained wins.
Commentary: All commentaries are the opinion of the author and do not necessarily reflect the views of Swimming World Magazine nor its staff.