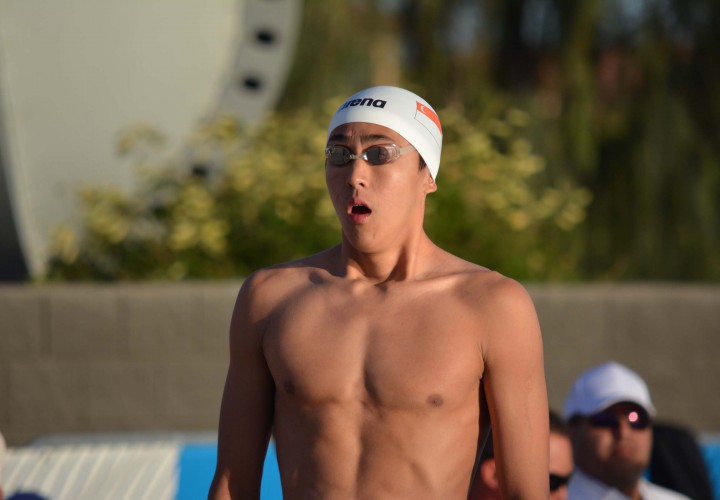 Arena Pro Swim Series editorial coverage is proudly sponsored by Arena USA. Visit ArenaUSA.com for more information on our sponsor. For all the latest coverage, check out our event coverage page.
Singapore's Zheng Wen Quah turned on the jets down the stretch to win the men's 200-meter fly at the 2016 Arena Pro Swim Series Austin.
Quah clocked a time of 1:58.07 for the win, just a second-and-a-half off his personal best.  That was good enough for the victory.
Sweden's Simon Sjodin hit the wall second with a time of 1:58.27, while Andrew Seliskar rounded out the top three in 1:58.47.
SwimMAC's Tyler Clary also cleared 2:00 with a fourth-place time of 1:58.61.
Great Britain's Jay Lellliott (2:00.55), HPCO's Zack Chetrat (2:00.61) and Club Wolverine's Michael Klueh (2:00.73) finished fifth through seventh.
California's Tom Shields, who led at the 150 with a 1:26.94, could not keep his swim together as he faded badly to eight with a 2:01.10.
NBAC's Chase Kalisz topped the B final in a time of 1:59.15, while Grant Shoults nearly posted a career best with a second-place 1:59.45.  Oakville's Mack Darragh placed third in 2:00.51.
                          === A - Final ===                            
 
  1 Quah, Zheng Wen  19 Singapore         1:59.44    1:58.07 OLY    
             26.52        56.80 (30.28)
        1:27.04 (30.24)     1:58.07 (31.03)
  2 Sjodin, Simon    29 Sweden            1:58.66    1:58.27 OLY    
             26.65        56.63 (29.98)
        1:27.79 (31.16)     1:58.27 (30.48)
  3 Seliskar, Andre  19 UN                2:00.55    1:58.47 OLY    
             26.59        56.83 (30.24)
        1:27.12 (30.29)     1:58.47 (31.35)
  4 Clary, Tyler     26 SwimMAC Carolina  1:58.29    1:58.61 OLY    
             26.42        56.55 (30.13)
        1:27.16 (30.61)     1:58.61 (31.45)
  5 Lelliott, Jay    20 Great Britain     2:00.69    2:00.55 OLY    
             27.25        57.36 (30.11)
        1:28.52 (31.16)     2:00.55 (32.03)
  6 Chetrat, Zack    25 Hpc-Ontario       2:00.54    2:00.61 OLY    
             26.86        57.42 (30.56)
        1:28.88 (31.46)     2:00.61 (31.73)
  7 Klueh, Michael   28 Club Wolverine    2:00.88    2:00.73 OLY    
             27.19        57.30 (30.11)
        1:28.87 (31.57)     2:00.73 (31.86)
  8 Shields, Tom     24 California Aquat  2:00.72    2:01.10 OLY    
             26.04        55.68 (29.64)
        1:26.94 (31.26)     2:01.10 (34.16)
 
                            === B - Final ===                            
 
  9 Kalisz, Chase    21 North Baltimore   2:01.02    1:59.15 OLY    
             26.93        57.68 (30.75)
        1:28.64 (30.96)     1:59.15 (30.51)
 10 Shoults, Grant   18 Mission Viejo Na  2:01.21    1:59.45 OLY    
             27.17        57.70 (30.53)
        1:29.06 (31.36)     1:59.45 (30.39)
 11 Darragh, Macken  22 U. of Missouri    2:02.87    2:00.51 OLY    
             27.45        57.60 (30.15)
        1:28.97 (31.37)     2:00.51 (31.54)
 12 VanSwol, Kyler   24 Santa Clara Swim  2:01.08    2:00.95 OLY    
             26.55        57.58 (31.03)
        1:29.09 (31.51)     2:00.95 (31.86)
 13 McCurdy, Christ  21 NCS               2:01.28    2:01.28 OLY    
             27.23        57.72 (30.49)
        1:29.17 (31.45)     2:01.28 (32.11)
 14 Gambardella, Co  17 Soundview YMCA S  2:02.79    2:01.52 OLY    
             27.40        58.52 (31.12)
        1:29.78 (31.26)     2:01.52 (31.74)
 15 Rousseau, Sebas  25 Gator Swim Club   2:02.23    2:02.66 NAT    
             28.00        58.84 (30.84)
        1:30.46 (31.62)     2:02.66 (32.20)
 16 Hodgson, Dakota  24 Nashville Aquati  2:01.44    2:03.79 NAT    
             27.21        59.00 (31.79)
        1:31.44 (32.44)     2:03.79 (32.35)