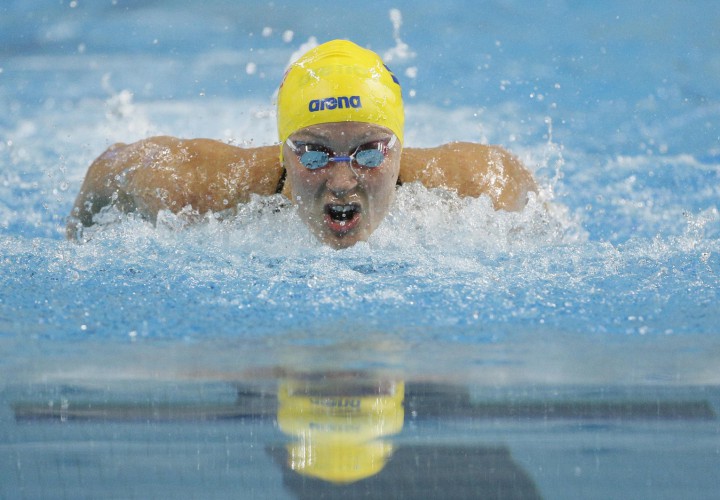 Photo Courtesy: Soobum Im-USA TODAY Sports
Arena Pro Swim Series editorial coverage is proudly sponsored by Arena USA. Visit ArenaUSA.com for more information on our sponsor. For all the latest coverage, check out our event coverage page.
Night one race videos are now up at the 2016 Arena Pro Swim Series Austin landing page.  Choose RACE VIDEOS on the right to watch them all!
Special thanks to USA Swimming for uploading the videos to YouTube.
Original 100 fly report:
Sweden's Sarah Sjostrom claimed her second U.S. Open mark of the night with a blazing 100-meter fly at the 2016 Arena Pro Swim Series Austin.
Sjostrom, who trailed by .01 at the turn, turned on the jets to win the finale in 56.38.  That swim undercut the previous U.S. Open mark of 56.42 set by Dana Vollmer during semifinals at the U.S. Olympic Trials in 2012.
Vollmer, who is shaking off a bit of a bug from a few days ago and scratched the 100 free to focus on the 100 fly, claimed second in 57.61.   That time would have ranked her ninth in the world last year behind Sjostrom's world record 55.64 from Worlds.
California's Noemie Thomas closed out the top three with a time of 58.38, while teammates Kelly Naze (58.62) and Farida Osman (59.18) took fourth and fifth.
Texas A&M's Sarah Gibson (59.23), SoFlo's Claire Donahue (59.44) and Stanford's Felicia Lee (59.58) also swam in the A final.
HPCO's Audrey Lacroix touched out NCAP's Cassidy Bayer, 59.93 to 59.98, in the B final.
                           === A - Final ===                            
 
  1 Sjostrom, Sarah  22 Sweden              56.72      56.38 OLY    
             26.51        56.38 (29.87)
  2 Vollmer, Dana    28 Una Cal             57.62      57.61 OLY    
             26.50        57.61 (31.11)
  3 Thomas, Noemie   19 Univ California,    58.70      58.38 OLY    
             27.25        58.38 (31.13)
  4 Naze, Kelly      22 Univ California,    59.35      58.62 OLY    
             27.50        58.62 (31.12)
  5 Osman, Farida    20 Univ California,    59.97      59.18 OLY    
             27.36        59.18 (31.82)
  6 Gibson, Sarah    20 Texas A & M Univ    59.05      59.23 OLY    
             28.27        59.23 (30.96)
  7 Donahue, Claire  27 South Florida Aq    59.89      59.44 OLY    
             27.29        59.44 (32.15)
  8 Lee, Felicia     23 Stanford Swimmin    59.79      59.58 OLY    
             28.10        59.58 (31.48)
 
                            === B - Final ===                            
 
  9 Lacroix, Audrey  32 Hpc-Ontario       1:00.27      59.93 OLY    
             28.35        59.93 (31.58)
 10 Bayer, Cassidy   16 Nation's Capital  1:00.18      59.98 OLY    
             28.30        59.98 (31.68)
 11 Baker, Kathleen  18 Univ California,  1:00.60    1:00.06 OLY    
             28.30      1:00.06 (31.76)
 12 Case, Lauren     17 Chattahoochee Go    59.98    1:00.07 OLY    
             28.36      1:00.07 (31.71)
 13 Bechtel, Christ  22 Kentucky Aquatic  1:00.63    1:00.15 OLY    
             27.69      1:00.15 (32.46)
 14 Marsh, Alyssa    18 SwimMAC Carolina  1:00.63    1:00.76 OLY    
             28.23      1:00.76 (32.53)
 15 Li, Celina       20 Univ California,  1:00.39    1:00.87 OLY    
             28.69      1:00.87 (32.18)
 16 Ward, Andrea     23 Una Troj          1:00.89    1:01.48 NAT    
             28.94      1:01.48 (32.54)