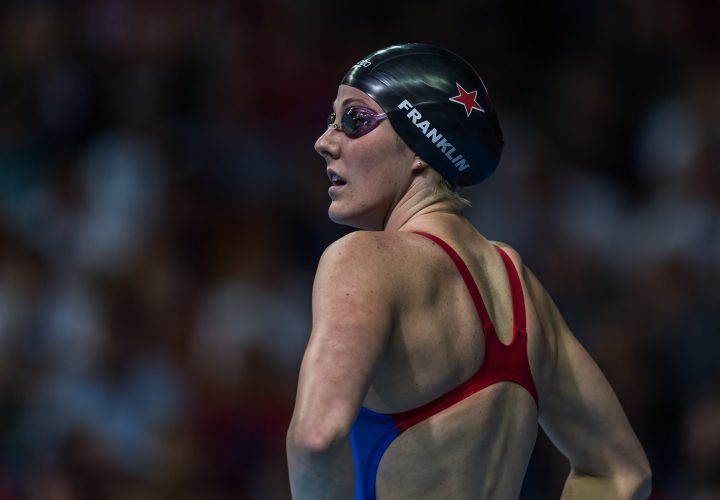 Photo Courtesy: Peter H. Bick
This week one of the most decorated female Olympians in American history broke news that she was undergoing shoulder surgery amidst more news of an NCAA program being cut and one more being combined. Read about all the week's news below in this edition of The Week That Was!
The Week That Was #5 – Ohio State Combines Programs Following Bill Wadley Retirement
This was a big news week for the Ohio State swimming & diving programs, as it was announced that long-time men's coach Bill Wadley was retiring two before the Athletics Department announced that they would be combining the men's and women's programs. Bill Dorenkott, the current women's head coach, will take over as the head coach for both programs. Wadley has coached the Ohio State men's team since 1989, amassing a 253-42 dual meet record in addition to coaching 16 Olympians and 30 Big Ten Champions over the course of his career. For his part, Dorenkott has been instrumental in the recent success of the women's program, including their first consecutive top 20 finishes at NCAAs since 1995 over the past two seasons. Head diving coach Justin Sochor, associate head coach Jordan Wolfrum and assistant coach Michael Hulme will all remain in their roles on the coaching staff.
The Week That Was #4 – Dana Vollmer To Race Pregnant At Mesa
This week Olympian Dana Vollmer announced her intentions to compete at the next Arena Pro Swim Series stop in Mesa, Ariz., from April 14-16. Vollmer, who is a three-time Olympian and won three medals — one of each color — at this summer's Olympic Games, is expecting her second child this summer with husband Andy Grant. Vollmer and Grant are already parents to a two year old, Arlen. While Vollmer's due date will coincide with the U.S. Nationals and World Championships this summer (in June and July, respectively), she will be competing in a single event, the 50 free, at the Pro Series stop. This will be Vollmer's first competition since the Rio Olympic Games.
The Week That Was #3 – Brazilian Olympian Thiago Pereira Retires
Four-time Olympian Thiago Pereira announced his retirement this week after more than a decade competing for Brazil on the international stage. Pereira competed in the 2004, 2008 2012, and 2016 Olympic Games during his career, with his highest finish coming in London where he won a silver medal in the 400 IM behind American Ryan Lochte. The Brazilian also made four straight Olympic finals in the 200 IM, with his highest finish (fourth) coming in both 2008 and 2012, one spot shy of the medal podium. Pereira owns a remarkable 23 Pan American, 15 of them gold, the most of any athlete in Pan American Games history. The 31-year old also owns 3 long course and 4 short course World Championship medals.  
The Week That Was #2 – North Dakota Cuts Swimming & Diving Program
This week the University of North Dakota announced that the school will be cutting their men's and women's swimming and diving programs effective immediately. The programs had previously been announced as in jeopardy back in the fall of 2016, but in October the school announced that they would not be eliminating any athletics programs to make up for budget shortfalls. According to a school press release, UND still needed to reduce $1.3 million from the school's budget. Alumni, current student-athletes, coaches and the CSCAA all advocated to keep their program this fall. You can read the full press release from the university here.
The Week That Was #1 – Missy Franklin Announces Break From Competition After Surgery
In a social media post this week, two-time Olympian Missy Franklin explained she was taking a break from competition following surgery on each of her shoulders earlier in the year. Franklin was diagnosed with bursitis back in January, and while she is already back in the water, she is not returning to competition yet. Franklin memorably won five Olympic golds at the 2012 Olympics before having two successful years competing for Cal in the NCAA. While she did have considerable success in the short course pool, her international career has been up and down since London, including a tough summer in 2016 that saw her fail to make any Olympic final in Rio after qualifying individually in the 200 free and 200 back. Franklin did earn a fifth Olympic gold medal for contributing in the prelims of the 800 free relay. The 21-year-old has not competed since the Rio Olympics, although she has returned to Cal to train with the men's team under head coach Dave Durden.