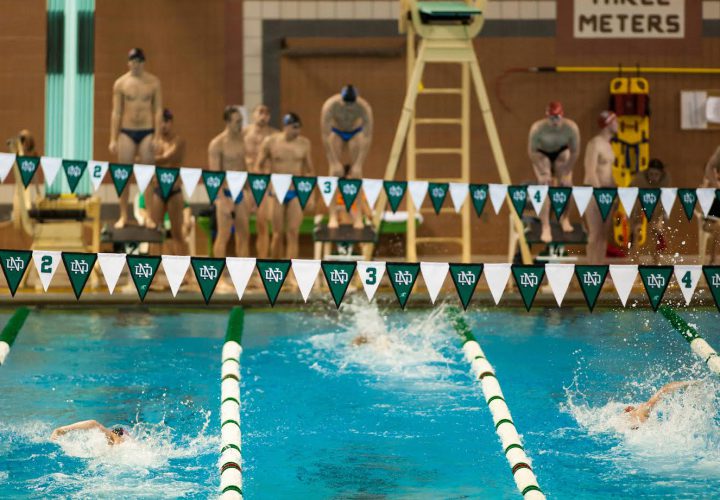 University of North Dakota President Mark Kennedy announced Tuesday that the school will not be eliminating any athletic programs. Swimming World reported last week that six different teams (including swimming and diving) could potentially be discontinued at the end of this year, but efforts from student-athletes, coaches, alumni and the CSCAA have helped to stave off that fate.
Last year, Interim school President Ed Schafer had proposed cutting teams to help lower costs, but the school's Interscholastic Athletic Committee (IAC) recommended that Kennedy keep all existing programs, believing that the teams' value outweighed expenses. The school now figures to offset costs with ticket price and student fee increases.
Head swimming and diving coach Chris Maiello spoke to the IAC last week and gave an emotional presentation while fighting for his program's survival. Arguments from former coach Mike Stromberg, prominent alumni and CSCAA executive Joel Shinofield all helped sway the IAC and Kennedy.
Shinofield believes that the program will require significant alumni support to ensure its long-term viability.
Kennedy released a statement Tuesday confirming his decision:
Thank you to the Intercollegiate Athletic Committee (IAC) members for their careful consideration of the optimum path for UND's athletic program. Their commitment to One UND is demonstrated by their support of all our sports teams, even though to do this will mean a reallocation from other priorities. I affirm their recommendation for continuing with our current level of support for actively sponsored programs and their authorization for me to invest up to $7.3 million in additional institutional support to do so.

As several committee members discussed, and as a resource document that was available and discussed by the committee before the vote states, increasing institutional funding for athletics by the amount suggested would require the reallocation of resources from other priorities, including academics.

Based on the recommendation of the IAC, we will do everything possible to prudently support the programs that attract a wide audience (Men's and women's basketball and hockey, football, volleyball), but our ability to fund the maximum number of scholarships allowed by the NCAA in other programs will be dependent on considerations necessary to stay in compliance with Title IX and during this period of fiscal constraint will be dependent on additional outside resources. This is necessary to limit adverse impact on priority academic funding. We will pursue options suggested in the IAC recommendation though feel compelled to recognize the fact that all will depend on the agreement of others and uncertainty exists that such hoped for additional funding will materialize.

We will visit with both the Ralph Engelstad Arena and the Alerus Center leadership to review our contracts with those entities, although it is uncertain how much flexibility there is in those contracts based on their responsibility for the upkeep and maintenance of their facilities and other support they provide.

Competitively funding scholarships and other operating costs for all of our sports at the level recommended by the IAC will take concerted efforts by all interested parties. Enhanced student support in terms of increased fees would require broad student support and would occur at a time when students may be also asked to consider supporting an upgrade of the Memorial Union. Increased external support from alumni, parents and the community in terms of gifts would be critical. The advisability of increased ticket prices when attendance for most sports is below capacity needs to be examined, especially with competition from televised coverage from which the university already receives revenues.

The materials presented to the IAC assumes that the long-term fate of Men's Golf will continue to be determined by the agreement already in place, making it contingent on achieving future fundraising targets.

It is heartening to see that the presentations by the coaches have generated this level of support. We appreciate the active engagement of the athletic department in these considerations. UND's ability to provide funding for each sport will be dependent on the level of support each sport can generate.

Thanks again to the IAC members for their diligent consideration of this important matter.