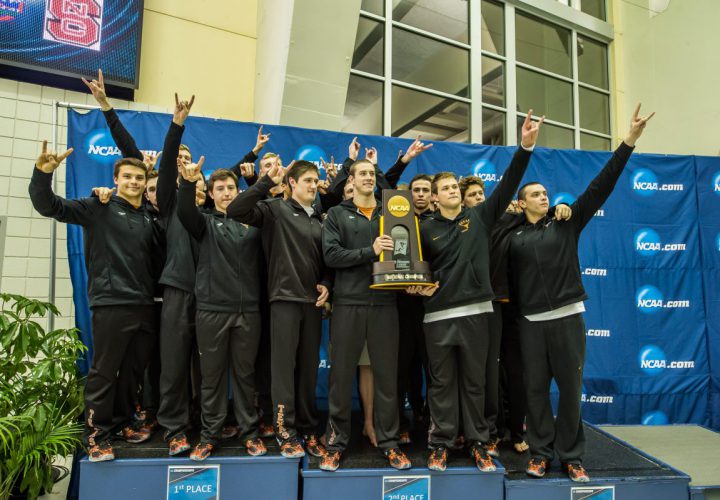 NCAA DI Championship Editorial Coverage is proudly sponsored by Adidas. Visit All-American Swim for more information on our sponsor. For all the latest coverage, check out our event coverage page.
Once again, this was a week for the record books with the Men's Division I NCAA Championships lighting up the pool down in Atlanta. Considering all of the incredible swims from this week, this week's edition of The Week That Was is devoted entirely to the races from NCAA's. Read below to see what made this meet one for the history books!
The Week That was is supported by AgonSwim.com
The Week That Was #5 – A Weekend Of Firsts
While this NCAA meet will be remembered for the sheer amount of record-breaking performances, it should also be remembered as a meet of firsts for many colleges. Several swimmers and divers became the first NCAA champions from their respective institutions, with many doing it in dramatic fashion. Most memorable would be Penn senior Chris Swanson, who overcame a three-second deficit going into the last 50 to win the 1,650 free by .12-seconds. Swanson became the first title-winner by a Penn swimmer in school history, and the first Ivy League champion at NCAA's since 1990. Other first-time titles went to University of Pittsburgh diver Dominic Giordano on three-meter and Missouri breaststroker Fabian Schwingenschlogl in the 100 breaststroke.
The Week That Was #4 – NC State Wins First Relay Title, Finishes Fourth Overall
After finishing 2nd to Texas in the 800 free relay and 200 free relay, the Wolfpack got revenge in the 400 free relay, winning by just four one-hundredths of a second. The team of Ryan Held (41.82), Simonas Bilis (40.80), Andreas Schiellerup (42.10), and Soeren Dahl (42.09) won the finale in a close battle with Texas, holding off a charging Jack Conger to win 2:46.81 to 2:46.85. Burned in the past two years by DQ's at NCAA's, NC State has long been in the hunt for an NCAA relay title but have been unable to deliver. In an interview after day four finals, Simonas Bilis described the absolute joy at finally capturing that team relay title, including the nerves they had after the results were declared unofficial after the race (Cal's relay was later disqualified). NC State ultimately finished fourth in team standings, tied for their best finish ever.
The Week That Was #3 – Caeleb Dressel Becomes Fastest Man Alive…Again
Caeleb Dressel once again became the fastest man in the pool this week, lowering his American and NCAA record en route to victories in both the 50 and 100 freestyle. Missing his NCCA and American record in the 50 freestyle in his first three attempts on day two of the meet, Dressel bested it on his last chance when he won the individual 50 freestyle title in 18.20 to once again swim the fastest 50 freestyle in history. While the record itself is again mind boggling (Dressel won the 50 by a staggering .64 seconds over Simonas Bilis), Florida coach Gregg Troy noted how the consistency Dressel's swims really set him apart. Later in what was a historic finals session on the last night of the meet, Dressel bested both his American record of 41.07 from SEC's last month and cleared Vlad Morozov's NCAA record of 40.76 from 2013 when he touched in 40.46 to take the 100 freestyle. For good measure, Dressel also posted a 44.40 that was good for second in the 100 butterfly.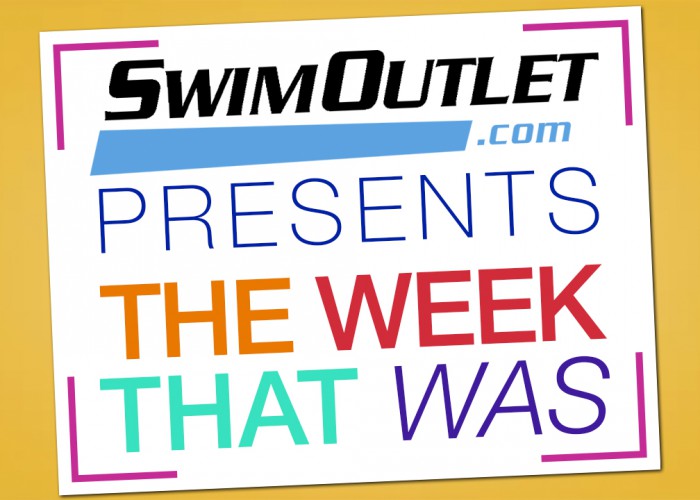 The Week That Was #2 – Ryan Murphy Rewrites Backstroke Record Books
Cal Berkeley junior Ryan Murphy rewrote the record books for the backstroke events at NCAA's this week. First, the Cal Bear broke his own NCAA record and Nick Thoman's American record leading off Cal's 400 Medley Relay in 43.51. That made Murphy the first man under 44.0 in the 100 backstroke, but he wasn't done with the event there. Later on in the finals of the individual 100 back, he lowered his record again with a 43.49 en route to a ridiculous two second win in the event. That gives Murphy his third straight win in the event. USC's John Naber is the only swimmer to have that event all four years of NCAA competition. Then, on that historic final night of the meet, Murphy crushed his own NCAA and American record of 1:36.77 from last year by over a second. Touching in 1:35.73, Murphy became the first man under 1:36 in the 200 backstroke and posted another similarly dominant win by almost three seconds over teammate Jacob Pebley.
The Week That Was #1 – Texas Wins 12th NCAA Team Championship
The Texas Longhorn men took their 12th NCAA Team Championship in dominant fashion this week, earning 541.5 points to finish well ahead of second place California (351). The Longhorns started off with a bang on the first night of the meet and never looked back, ultimately winning nine events while also rewriting the record books. All told, the Longhorn's accounted for six NCAA records, three American records, and three of the fastest relay splits in history. A complete list, including links, is below:
The performances from the Longhorn men were truly staggering, especially considering the youth of their team; Jack Conger and Will Licon are only juniors, Joseph Schooling a sophomore, and Townley Haas just a freshman. Expect legendary Coach Eddie Reese, who also picked up his 12th CSCAA Coach Of The Year Award and now leads Men's NCAA Division I coaches with 12 team titles, to continue to push these athletes to greater heights in the coming years.
For all of Swimming World's coverage of the Men's NCAA Division I Championships, head over to our Meet Landing Page.