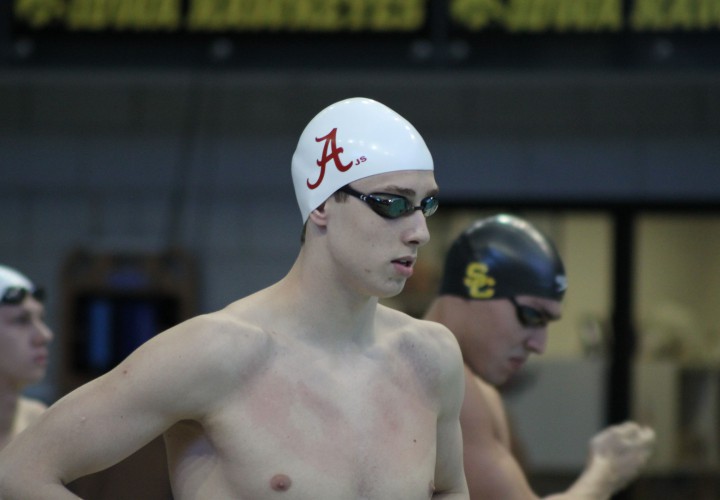 Photo Courtesy: Andy Ringgold
NCAA DI Championship Editorial Coverage is proudly sponsored by Adidas. Visit All-American Swim for more information on our sponsor. For all the latest coverage, check out our event coverage page.
Kristian Gkolomeev delivered a monster anchor of 18.00 to pull Alabama to its first NCAA relay win ever with a triumph in the men's 200-yard medley relay at the 2016 NCAA Division I Men's Championships.
Gkolomeev, along with Florida's Caeleb Dressel, turned in the first 18.00 splits as Alabama nearly broke the NCAA and U.S. Open record of 1:22.27 set by Michigan back in 2013.
Connor Oslin (20.86), Pasha Romanov (23.40), Lucas Kaliszak (20.02) and Gkolomeev (18.00) won the race in 1:22.28.  Alabama isn't new to the NCAA title game, with 13 individual wins in program history, but the team has never won a relay title until tonight.
California looked to be in control, starting off with Ryan Murphy's unreal 20.20 backstroke split, but Murphy (20.20), Connor Hoppe (23.29), Justin Lynch (20.02) and Tyler Messerschmidt (18.98) could not hold off the freight train that was Gkolomeev.
Texas' John Shebat (20.94), Will Licon (23.30), Joseph Schooling (19.36) and John Murray (19.15) finished an unbelievable day for Texas with a third-place 1:22.75.
Florida's Jack Blyzynskyj (21.20), Mark Szaranek (24.10), Jan Switkowski (20.13) and Dressel (18.00) turned in a fourth-place time of 1:23.43.
Louisville (1:24.08), Tennessee (1:24.11), Georgia (1:24.31) and Auburn (1:24.51) completed the rest of the championship heat.
                               === A - Final ===                                 
 
  1 Alabama                             1:24.14    1:22.28P  40  
     1) Oslin, Connor JR              2) r:0.13 Romanov, Pasha JR     
     3) r:0.29 Kaliszak, Lucas SO     4) r:0.13 Gkolomeev, Kristian JR
    r:+0.67  10.17        20.86 (20.86)
          30.89 (10.03)       44.26 (23.40)
           53.14 (8.88)     1:04.28 (20.02)
         1:12.71 (8.43)     1:22.28 (18.00)
  2 California                          1:23.50    1:22.49P  34  
     1) Murphy, Ryan JR               2) r:0.18 Hoppe, Connor SO      
     3) r:0.24 Lynch, Justin SO       4) r:0.25 Messersschmidt,yler SR
     r:+0.76  9.95        20.20 (20.20)
          30.41 (10.21)       43.49 (23.29)
           52.41 (8.92)     1:03.51 (20.02)
         1:12.43 (8.92)     1:22.49 (18.98)
  3 Texas                               1:24.16    1:22.75P  32  
     1) Shebat, John FR               2) r:0.22 Licon, Will JR        
     3) r:0.22 Schooling, Joseph SO   4) r:0.13 Murray, John SR       
    r:+0.60  10.41        20.94 (20.94)
          31.29 (10.35)       44.24 (23.30)
           52.87 (8.63)     1:03.60 (19.36)
         1:12.83 (9.23)     1:22.75 (19.15)
  4 Florida                             1:24.70    1:23.43P  30  
     1) Blyzinskyj, Jack JR           2) r:0.24 Szaranek, Mark SO     
     3) r:0.22 Switkowski, Jan SO     4) r:0.16 Dressel, Caeleb SO    
    r:+0.61  10.51        21.20 (21.20)
          32.04 (10.84)       45.30 (24.10)
           54.23 (8.93)     1:05.43 (20.13)
         1:13.93 (8.50)     1:23.43 (18.00)
  5 Louisville                          1:24.70    1:24.08   28  
     1) Tarasevich, Grigory JR        2) r:0.21 Claverie, Carlos SO   
     3) r:0.09 Quallen, Joshua JR     4) r:0.30 Carroll, Trevor JR    
    r:+0.79  10.45        21.14 (21.14)
          31.60 (10.46)       44.81 (23.67)
           53.76 (8.95)     1:05.01 (20.20)
         1:14.02 (9.01)     1:24.08 (19.07)
  6 Tennessee                           1:24.79    1:24.11   26  
     1) Lehane, Sean SR               2) r:0.16 Stevens, Peter SO     
     3) r:0.28 Coetzee, Ryan SO       4) r:0.28 Decoursey, Kyle FR    
    r:+0.67  10.76        21.54 (21.54)
           31.38 (9.84)       44.23 (22.69)
           53.51 (9.28)     1:05.14 (20.91)
         1:14.25 (9.11)     1:24.11 (18.97)
  7 Georgia                             1:24.42    1:24.31   24  
     1) Dale, Taylor JR               2) r:0.28 Mattern, John JR      
     3) r:0.25 Clark, Pace JR         4) r:0.25 Trice, Michael SR     
    r:+0.62  10.26        20.82 (20.82)
          31.65 (10.83)       45.14 (24.32)
           54.24 (9.10)     1:05.57 (20.43)
         1:14.34 (8.77)     1:24.31 (18.74)
  8 Auburn                              1:24.66    1:24.51   22  
     1) Darmody, Kyle JR              2) r:0.19 Duderstadt, Michael JR
     3) r:0.29 Mendes, Arthur SR      4) r:0.21 Holoda, Peter SO      
    r:+0.63  10.55        21.40 (21.40)
          32.02 (10.62)       45.12 (23.72)
           54.14 (9.02)     1:05.53 (20.41)
         1:14.62 (9.09)     1:24.51 (18.98)
 
                                === B - Final ===                                 
 
  9 Missouri                            1:25.02    1:24.23   18  
     1) Love, Dillon SR               2) r:0.21 Schwingenschlogbian JR
     3) r:0.12 Sansoucie, Andrew JR   4) r:0.17 Chadwick, Michael JR  
    r:+0.52  10.65        21.82 (21.82)
          32.10 (10.28)       45.19 (23.37)
           54.13 (8.94)     1:05.55 (20.36)
         1:14.32 (8.77)     1:24.23 (18.68)
 10 NC State                            1:24.82    1:24.28   14  
     1) Stuart, Hennessey SO          2) r:0.18 Hren, Derek JR        
     3) r:0.41 Bilis, Simonas SR      4) r:0.29 Held, Ryan SO         
    r:+0.51  10.72        21.69 (21.69)
          32.35 (10.66)       45.45 (23.76)
           54.29 (8.84)     1:05.63 (20.18)
         1:14.52 (8.89)     1:24.28 (18.65)
 11 Indiana                             1:25.26    1:24.36   12  
     1) Glover, Bob JR                2) r:0.17 Kurz, Tanner SR       
     3) r:0.37 Lanza, Vinicius FR     4) r:0.26 Khalafalla, Ali SO    
    r:+0.58  10.44        21.23 (21.23)
          31.48 (10.25)       44.63 (23.40)
           54.02 (9.39)     1:05.41 (20.78)
         1:14.42 (9.01)     1:24.36 (18.95)
 12 Michigan                            1:25.15    1:24.70   10  
     1) Whitaker, Aaron SO            2) r:0.11 Klein, Christopher JR 
     3) r:0.27 Raisky, Jeremy SR      4) r:0.27 Powers, Paul SO       
    r:+0.57  10.44        21.17 (21.17)
          31.50 (10.33)       44.94 (23.77)
           54.22 (9.28)     1:05.66 (20.72)
         1:14.81 (9.15)     1:24.70 (19.04)
 13 Arizona                             1:25.74    1:24.74    8  
     1) Dobbs, Chatham FR             2) r:0.41 Bish, Blair FR        
     3) r:0.18 Idensohn, Chad FR      4) r:0.17 Richmond, Renny JR    
    r:+0.99  10.44        21.18 (21.18)
          32.32 (11.14)       45.35 (24.17)
           54.10 (8.75)     1:05.59 (20.24)
         1:14.58 (8.99)     1:24.74 (19.15)
 14 Duke                                1:25.45    1:25.32    6  
     1) Takabayashi, Kazumu JR        2) r:0.14 Kropp, Peter JR       
     3) r:0.24 Armstrong, David SR    4) r:0.13 Peek, James JR        
    r:+0.55  10.71        21.67 (21.67)
          32.42 (10.75)       45.50 (23.83)
           54.74 (9.24)     1:06.24 (20.74)
         1:15.12 (8.88)     1:25.32 (19.08)
 15 Stanford                            1:25.69    1:25.58    4  
     1) Dudzinski, Ryan FR            2) r:0.26 Anderson, Matt FR     
     3) r:0.17 Liang, Andrew SO       4) r:0.18 Perry, Sam SO         
    r:+0.54  10.67        21.95 (21.95)
          32.46 (10.51)       45.95 (24.00)
           55.29 (9.34)     1:06.74 (20.79)
         1:15.55 (8.81)     1:25.58 (18.84)
 16 Minnesota                           1:26.12    1:26.09    2  
     1) Turner, Daryl JR              2) r:0.21 McHugh, Conner SO     
     3) r:0.04 Fair, Paul JR          4) r:0.40 Becker, Bowen FR      
    r:+0.61  10.73        22.18 (22.18)
          32.92 (10.74)       46.43 (24.25)
           55.35 (8.92)     1:06.73 (20.30)
         1:16.08 (9.35)     1:26.09 (19.36)
                    Men - Team Rankings - Through Event 14                      
 
  1. Texas                             366   2. California                        271
  3. Florida                           255   4. NC State                          197
  5. Georgia                           162   6. Tennessee                         152
  7. Alabama                           143   8. Missouri                          140
  9. Louisville                      134.5  10. Michigan                          118
 11. Indiana                         113.5  12. Auburn                            111
 13. Southern Cali                      83  14. Stanford                         78.5
 15. Ohio St                            66  16. Arizona                            52
 17. South Carolina                     36  18. Pittsburgh                         31
 18. University of Miami                31  20. Virginia Tech                    28.5
 21. Brigham Young                      27  22. Wisconsin                          25
 23. Minnesota                          18  24. UNC                                16
 24. Air Force                          16  26. Cleveland St                       15
 27. Oakland                            13  28. Texas A&M                          12
 29. George Washington                  11  30. Univ of Utah                        9
 30. Unlv                                9  32. Princeton                           8
 33. Duke                                7  34. Penn                                6
 34. Lsu                                 6  36. Hawaii                              5
 36. Georgia Tech                        5  38. Purdue                              3
 38. Virginia                            3  40. Iowa                                2
 40. Harvard                             2  40. Penn State University               2