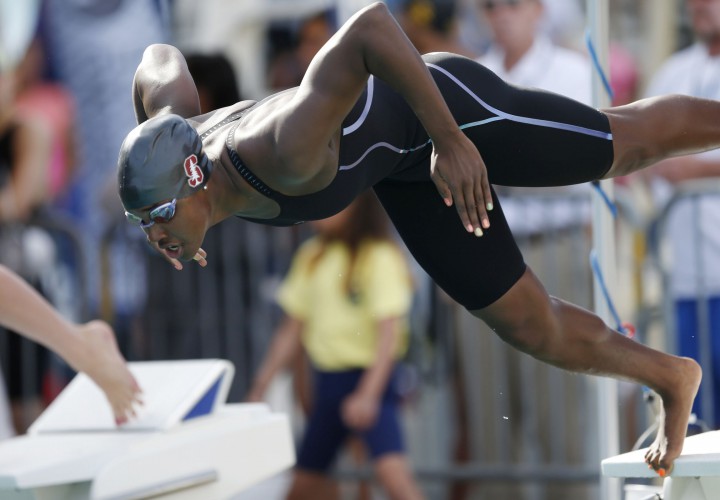 Photo Courtesy: Robert Stanton/USA Today Sports Images
Arena Pro Swim Series editorial coverage is proudly sponsored by Arena USA. Visit ArenaUSA.com for more information on our sponsor. For all the latest coverage, check out our event coverage page.
Stanford's Simone Manuel powered to the win in the women's 100-meter free at the 2016 Arena Pro Swim Series Orlando.
Manuel posted a top time of 54.27 to move into a 10th-ranked tie with Jeanette Ottesen in the world rankings.
NBAC's Allison Schmitt turned in a second-place time with a 54.56 to move into the top 20 in the world.
NCAP's Katie Ledecky, a future teammate of Manuel at Stanford, wound up third in 54.67.  She's been faster this year with a fifth-ranked 53.75 from the Austin stop of the Series.  In fact, she's the fastest American this year.
Belarus' Aliaksandra Herasimenia (55.00), Trojan's Katarzyna Wilk (55.33), Stanford's Felicia Lee (55.64), California's Natalie Coughlin (55.79) and Colorado Stars' Missy Franklin (55.83) comprised the rest of a loaded finale.
SwimMAC's Madison Kennedy claimed the B final with a time of 54.92.  Gator's Isabel Ivey, just 15, took second in 55.71.
                          === A - Final ===                            
 
  1 Manuel, Simone   19 Stanford Swimmin    54.69      54.27 OLY    
                 26.45        54.27 (27.82)
  2 Schmitt, Alliso  25 North Baltimore-    55.45      54.56 OLY    
                 26.71        54.56 (27.85)
  3 Ledecky, Katie   18 Nation's Capital    54.87      54.67 OLY    
                 27.04        54.67 (27.63)
  4 Herasimenia, Al  30 Belarus-US          55.30      55.00 OLY    
                 26.51        55.00 (28.49)
  5 Wilk, Katarzyna  23 Una Troj-CA         55.36      55.33 OLY    
                 26.53        55.33 (28.80)
  6 Lee, Felicia     23 Stanford Swimmin    55.69      55.64 OLY    
                 27.26        55.64 (28.38)
  7 Coughlin, Natal  33 California Aquat    55.65      55.79 OLY    
                 26.91        55.79 (28.88)
  8 Franklin, Missy  20 CO Stars-CO         55.31      55.83 OLY    
                 27.26        55.83 (28.57)
 
                            === B - Final ===                            
 
  9 Kennedy, Madiso  28 SwimMAC Carolina    55.76      54.92 OLY    
                 26.30        54.92 (28.62)
 10 Ivey, Isabel     15 Gator Swim Club-    55.83      55.71 OLY    
                 26.82        55.71 (28.89)
 11 Medeiros, Etien  24 Brazil-US           55.83      55.92 OLY    
                 26.74        55.92 (29.18)
 12 Martin, Ivy      22 Wisconsin Aquati    55.92      56.08 OLY    
                 26.82        56.08 (29.26)
 13 Lyrio, Manuella  26 Brazil-US           56.30      56.30 OLY    
                 27.22        56.30 (29.08)
 14 Becker, Daiane   24 Fiat Minas-US       56.60      56.34 OLY    
                 27.34        56.34 (29.00)
 15 Vreeland, Shann  24 Athens Bulldog S    56.07      56.66 JRS    
                 27.74        56.66 (28.92)
 16 Ruck, Taylor     15 Scottsdale Aquat    55.85      57.00 JRS    
                 27.16        57.00 (29.84)