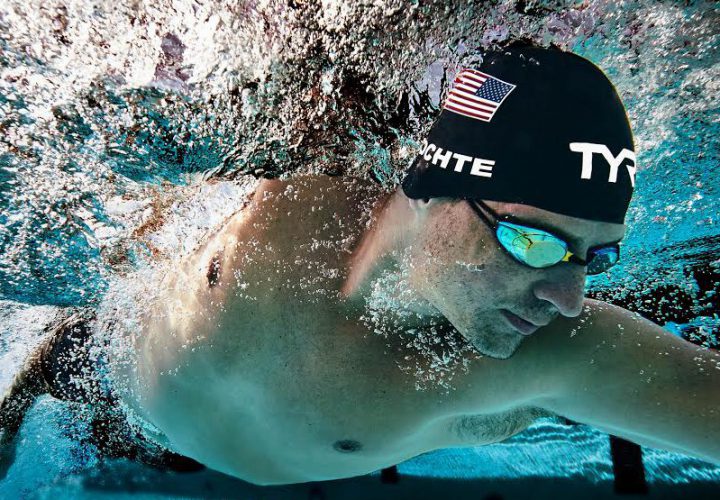 Photo Courtesy: TYR Sport
Olympic gold medalist Ryan Lochte has signed a new apparel deal with TYR. The agreement was first reported Thursday morning by Sports Business Daily and confirmed by TYR in a 12 p.m. ET release.
According to a press release from TYR, Lochte will be featured in the company's "Just Let Me Work" campaign.
Lochte, 32, has made four Olympic teams and won six gold medals in his career. He swam each of those Olympics in a Speedo suit and was under contract with Speedo from the conclusion of his college career at Florida in 2006 until a few days after the most recent Olympics in Rio.
However, Lochte was involved in an incident at a gas station in Rio just hours after the swimming competition ended, and his behavior in the aftermath led to most of his sponsors, including Speedo and others, to drop their endorsement deals.
Lochte was suspended 10 months for his role in the incident and will be barred from competing at the World Championships in Budapest. But he has landed some new endorsements since then, including with Pine Brothers cough drops just days after the incident was publicized, and just last week with PowerBar. Lochte starred in a commercial promoting PowerBar's "clean start" campaign.
There had been hints that Lochte would be announcing a deal with TYR, particularly after he was spotted in a TYR cap during a commercial for Debt.com posted earlier this week.
This signing comes after a 2016 when TYR signed Dana Vollmer, Kelsi Worrell and Jacob Pebley to suit deals.
This fall, Lochte got engaged to Kayla Rae Reid, and the two are expecting a son later this year.
Click here to read the original report from Sports Business Daily, and the full press release from TYR is available below.
TYR Sport is proud to announce the signing of 12X Olympic Medalist Ryan Lochte to its roster of sponsored athletes.

As a truly iconic figure in the world of sports, Ryan has earned his status as one of history's most recognizable names in swimming. With showstopping appearances in the last four Olympic Games, he remains the World Record holder in the 200 individual medley. In addition, his seven individual Olympic medals are second all-time in the sport of men's swimming.Ryan has been named both American and World Swimmer of the Year twice in his career (2010 & 2011) and has a total of 70 medals in major international competitions including 45 first place finishes.

Ryan's debut will be featured in TYR's marketing campaign "Just Let Me Work," and will provide fans with a glimpse into what motivates the decorated athlete moving forward.

In addition to his success in the pool, Ryan is incredibly focused on charity. He is the spokesperson for Parent Project Muscular Dystrophy (Duchenne), an illness that has personally impacted his family, as well as the Mac Crutchfield Foundation, an organization dedicated to raising money for drowning awareness.

"I am thrilled that I will be continuing my swimming career with TYR Sport," began Ryan. "I still have so much more I want to accomplish and TYR offers the perfect platform to achieve those goals. I've always been very impressed with the quality of their gear and feel fortunate to be part of their family. I look forward to the next chapter."

"TYR is incredibly excited to welcome Ryan Lochte to our family," said Matt DiLorenzo, Chief Executive Officer of TYR Sport. "Through his work in the pool he has elevated the sport of swimming on a global scale. However, it is his humble and caring approach toward his fans that has proven truly commendable. As a company we stand behind Ryan, and look forward to seeing what he can achieve."

Ryan joins an accomplished team of TYR sponsored swimmers including Olympic Gold Medalists Dana Vollmer, Matt Grevers, Cody Miller and Kelsi Worrell, as well as Olympians Jacob Pebley and Molly Hannis.