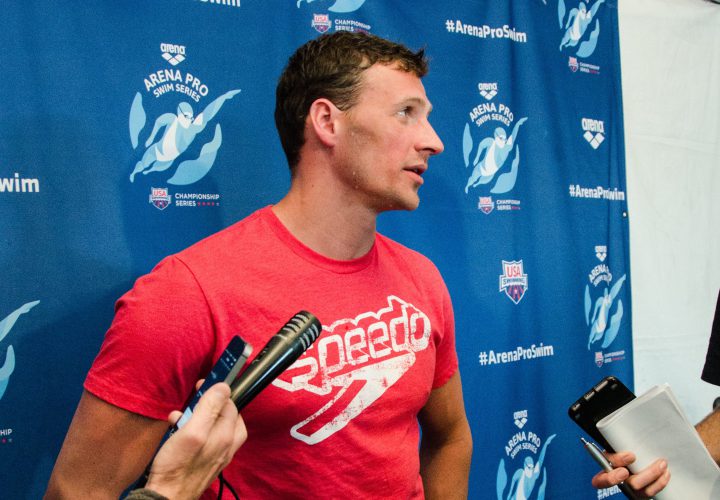 Photo Courtesy: Brooke Wright
Just over one week since Ryan Lochte provided a false police report stating that he and USA Olympic teammates Jimmy Feigen, Gunnar Bentz, and Jack Conger were robbed at gun point the 12-time Olympic medalist has lost his first endorsement deal.
Speedo USA has announced that they are ending their sponsorship of Lochte stating that they "cannot condone behavior that is counter to the values this brand has long stood for."
Lochte had originally signed a ten-year contract with Speedo in 2006, but it is unclear as to how much time was remaining on his existing contract.
Along with their decision to drop him as one of their athlete's, Speedo also announced that they would be donating a "$50,000 portion of Lochte's fee to Save The Children, a global charity partner of Speedo USA's parent company, for children in Brazil."
Currently Lochte still has existing deals with Ralph Lauren, the mattress company Airweave, and with Gentle Hair Removal, however, Lochte was all-but removed from Ralph Lauren's website last week.
The announcement concluded with well wishes on Lochte's behalf, noting, "we appreciate his many achievements and hope he moves forward and learns from this experience."
[Updated]
Shortly after the announcement was made by Speedo that they would be dropping Lochte, Ralph Lauren issued a similar statement noting that they would not be renewing Lochte's contract.
The statement notes that "Ralph Lauren continues to proudly sponsor the U.S. Olympic and Paralympic Team and the values that its athletes embody. Ralph Lauren's endorsement agreement with Ryan Lochte was specifically in support of the Rio 2016 Olympic Games and the company will not be renewing his contract."
Statements made by his other two existing deals, Airweave and Gentle Hair Removal, could still be in jeopardy.
Last week Motokuni Takaoka, CEO of Airweave, commented that "Lochte will remain a US ambassador for Airweave as long as our partnership agreement remains effective," while Gentle Hair Removal's parent company, Syneron-Candela, chose to "reserve decisions until we have a more complete understanding of the situation."
Full detailed report can be read on ESPN.