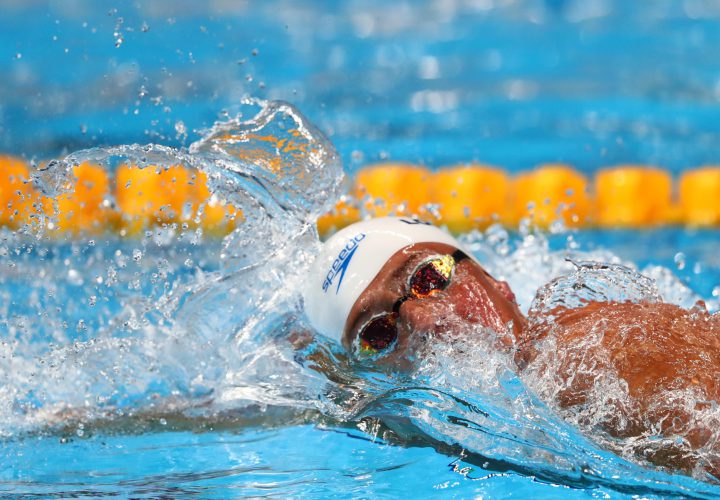 Editorial Coverage Sponsored By FINIS
According to multiple reports, including ABC News' T.J. Holmes, Ryan Lochte fabricated the story that he was robbed at gunpoint early Sunday morning in Rio. Jack Conger and Gunnar Bentz, both reportedly with Lochte at the time, admitted that the robbery story was "made up" to Rio police Thursday after being pulled off a plane back to the U.S. late Wednesday night.
Reports by CBS News state that the swimmers pushed on the door of an outside bathroom at a gas station in Barra da Tijuca and broke it after finding it locked. A security guard, who was "armed with a pistol," confronted them but never took out his gun or pointed it at them. The manager used a customer to help translate, telling the swimmers that they had to pay for the broken door.
UPDATE No. 1: The Associated Press reports that two security guards did point guns at U.S. swimmers during the confrontation.
According to CBS the swimmers did pay the gas station owner a sum of money, but there are no confirmations as to the amount they gave him.
.@AP reports: Ryan Lochte fabricated story about being robbed, according to an official with direct knowledge of investigation. #Rio2016

— T.J. Holmes (@tjholmes) August 18, 2016
2 US swimmers (Bentz & Conger) who were pulled off plane have admitted to police that they made up the robbery story — @AP #Rio2016

— T.J. Holmes (@tjholmes) August 18, 2016
Long story, short: drunk, needed a bathroom, found one, was locked, broke down door, confronted by security, lied — police. #LochteGate

— T.J. Holmes (@tjholmes) August 18, 2016
"The only truth is that they said they were drunk," — Rio police chief describing story of Lochte & other 3 swimmers. #Rio2016 #LochteGate

— T.J. Holmes (@tjholmes) August 18, 2016
ABC News has released video footage of the four Olympic swimmers at a gas station in Barra da Tijuca. The video shows them coming out of the restroom and then getting into their cab.  The cab was then blocked from leaving while a security guard asked them to get out of their vehicle.  The rest of the video shows them sitting on the ground getting questioned.

Feigen, Bentz and Conger are all still currently in Brazil working with the authorities, while Lochte is back home in the United States.
UPDATE No. 2: Lochte's attorney, Jeff Ostrow, told ESPN's Wayne Drehs that he has not been contacted by authorities since Lochte gave his statement Sunday night.
"The authorities know how to get in touch with me. And we would cooperate," Ostrow said. "But I haven't heard from anyone."
UPDATE No. 3: In a Thursday afternoon press conference, Rio police confirmed the report that there was no robbery. According to a translation from NBC's Gadi Schwartz, the taxi driver confirmed that detail to police.
Per investigators: A third party translator stepped in and negotiated payment for damage. 100 reis and 20 dollars USD.

— Gadi Schwartz (@GadiNBC) August 18, 2016