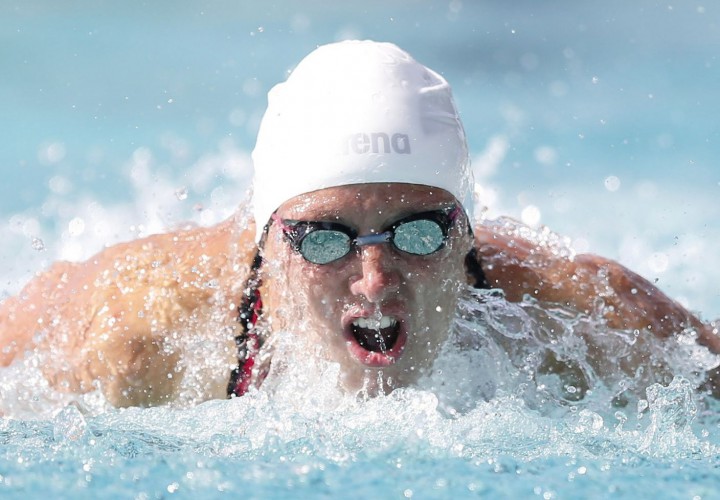 Photo Courtesy: Robert Stanton/USA Today Sports Images
Arena Pro Swim Series editorial coverage is proudly sponsored by Arena USA. Visit ArenaUSA.com for more information on our sponsor. For all the latest coverage, check out our event coverage page.
Hungary's Katinka Hosszu doubled up with a win in the women's 200-meter IM at the 2016 Arena Pro Swim Series Austin.
Hosszu posted a winning time of 2:10.69, which would have ranked her ninth in the world last year if not for her world-record setting time of 2:06.12.
Hosszu still missed the January record for the 200 IM of 2:09.67 set by Ye Shiwen at the 2013 BHP Super Series event.
Saint Petersburg's Melanie Margalis closed fast with a second-place time of 2:12.67, while Aggie's Sarah Henry earned third in 2:12.77.
SwimMAC's Kirsty Coventry (2:12.86), Texas A&M's Sydney Pickrem (2:14.04), Texas' Madisyn Cox (2:14.05), California's Caitlin Leverenz (2:14.27) and Great Britain's Georgia Coates (2:15.50) also competed in the finale.
Lakeside's Brooke Forde topped the B final in a time of 2:15.04.  California's Celina Li (2:15.50) and Kelly Naze (2:15.72) placed second and third.
                          === A - Final ===                            
 
  1 Hosszu, Katinka  26 HUN               2:12.38    2:10.69 OLY    
             28.51      1:01.50 (32.99)
        1:39.69 (38.19)     2:10.69 (31.00)
  2 Margalis, Melan  24 Saint Petersburg  2:14.63    2:12.67 OLY    
             29.61      1:04.01 (34.40)
        1:42.16 (38.15)     2:12.67 (30.51)
  3 Henry, Sarah     24 Aggie Swim Club   2:13.54    2:12.77 OLY    
             28.95      1:03.15 (34.20)
        1:41.65 (38.50)     2:12.77 (31.12)
  4 Coventry, Kirst  32 SwimMAC Carolina  2:14.43    2:12.86 OLY    
             29.52      1:03.54 (34.02)
        1:42.22 (38.68)     2:12.86 (30.64)
  5 Pickrem, Sydney  18 Texas A & M Univ  2:14.30    2:14.04 OLY    
             29.63      1:03.55 (33.92)
        1:42.52 (38.97)     2:14.04 (31.52)
  6 Cox, Madisyn     20 Univ of Texas     2:13.59    2:14.05 OLY    
             29.44      1:03.56 (34.12)
        1:42.51 (38.95)     2:14.05 (31.54)
  7 Leverenz, Caitl  24 California Aquat  2:15.40    2:14.27 OLY    
             29.11      1:03.98 (34.87)
        1:42.45 (38.47)     2:14.27 (31.82)
  8 Coates, Georgia  16 Great Britain     2:15.22    2:15.50 OLY    
             30.11      1:05.94 (35.83)
        1:44.53 (38.59)     2:15.50 (30.97)
 
                            === B - Final ===                            
 
  9 Forde, Brooke    16 Lakeside Swim Te  2:16.40    2:15.04 OLY    
             29.33      1:04.80 (35.47)
        1:43.51 (38.71)     2:15.04 (31.53)
 10 Li, Celina       20 Univ California,  2:16.61    2:15.50 OLY    
             28.61      1:02.90 (34.29)
        1:43.18 (40.28)     2:15.50 (32.32)
 11 Naze, Kelly      22 Univ California,  2:16.84    2:15.72 OLY    
             28.37      1:02.93 (34.56)
        1:43.86 (40.93)     2:15.72 (31.86)
 12 Bispo, Karlee    25 Una Minn          2:17.12    2:15.88 OLY    
             28.93      1:03.51 (34.58)
        1:43.63 (40.12)     2:15.88 (32.25)
 13 Galat, Bethany   20 Texas A & M Univ  2:17.61    2:16.57 OLY    
             29.06      1:05.72 (36.66)
        1:44.30 (38.58)     2:16.57 (32.27)
 14 Luthersdottir,   24 Gator Swim Club   2:17.56    2:17.26 OLY    
             30.14      1:07.23 (37.09)
        1:44.66 (37.43)     2:17.26 (32.60)
 15 Bratton, Lisa    19 Texas A & M Univ  2:18.15    2:19.11 NAT    
             30.19      1:04.02 (33.83)
        1:46.20 (42.18)     2:19.11 (32.91)
 16 Sogar, Laura     24 Bluefish Swim Cl  2:17.37    2:20.48 NAT    
             30.44      1:08.00 (37.56)
        1:46.13 (38.13)     2:20.48 (34.35)