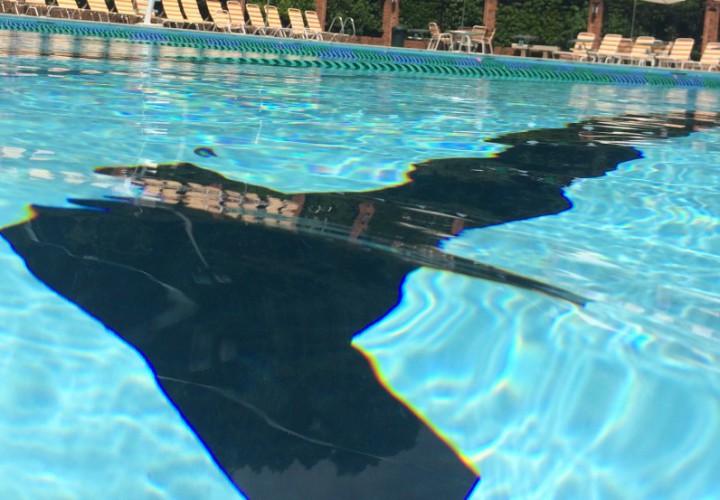 Photo Courtesy: Cathleen Pruden
Editorial content for the 2018 NCAA DII Championship coverage is sponsored by TritonWear. Visit TritonWear.com for more information on our sponsor.
The second round of fall invites finished this past weekend for Division II schools. There was plenty of fast swimming across the nation with teams like Northern Michigan, Wingate and Grand Valley, among others competing across the country in various post-Thanksgiving invitationals.
But the biggest highlight of the weekend came from Oklahoma Baptist's David Lambert. The senior won the 50 free at the Texas Invite on Thursday night. Yes that is the same Texas Invite that featured 2016 Olympains Joseph Schooling and Santo Condorelli. Lambert beat all of them with a 19.17 to win the event. Lambert's time was a new NCAA record, surpassing Lindenwood's Sergei Golban's time from the 2016 NCAA's at 19.18.
Lambert leads all of Division II by seven tenths ahead of Queens' Dymytro Sydorchenko (19.89) and is currently tied for fifth in all of college swimming with Cal's Pawel Sendyk. Lambert's 100 was not as quick, as he only managed a 43.60 for 14th at the Texas Invite, and was a 58.15 in the 100 breast. He still sits tied for third in Division II in the 100 free with Queens' Paul Pijulet.
Oklahoma Baptist was not alone this weekend as they also had strong swims from breaststroker Fernando Morillas, who swam a 54.36 100 breast to put him at tied for second with Marius Mikalauskas of Grand Valley, who swam an identical time this past weekend at the Calvin Invitational. Morillas swam a 1:59.44 200 breast, but was a little off his 1:58.72 from the Mizzou Invite before Thanksgiving.
Grand Valley's Mikalauskas had the fastest 200 breast on the weekend with his 1:56.32 from the Calvin Invite. He now leads all Division II swimmers in the event by almost two full seconds. GV's other breaststroker Ahmed Nabih also had strong swims with a 54.54 and a 1:59.67 in the two events. Grand Valley's other highlight on the weekend was backstroker Harry Shalamon who swam a 47.66 and a 1:45.68 in the two back events.
Grand Valley ended up winning the Calvin Invite ahead of fellow Division II school Northern Michigan. The Wildcats were highlighted by Renars Bundzis who swam a 1:44.41 in the 200 back to put him second in Division II this season, as well as Lajos Budai who swam a 47.55 100 back (third), a 20.16 50 free (sixth) and a 43.75 100 free (sixth) to place him in the top eight in both events this season.
The other top team that swam on the weekend was Wingate, with top swims from Sebastian Holmberg in the 100 fly (47.68) and David Granados in the 200 back (1:47.24). Holmberg also had good times on the weekend in the 200 IM (1:49.51) and the 100 back (48.87).
The highly ranked Northern Michigan women (#7) were also in action at the Calvin Invite with top swims from Rachel Helm in both backstroke events (55.02, 1:58.64) and Gabriella Spajic in the 200 fly (2:02.27). Helm leads the nation in the 200 back as the only swimmer in Division II to break two minutes this season. Fellow Wildcat backstroker Regan Kilburn also had good times in both backstrokes with a 55.58 and a 2:00.60 in the two events.
Northern Michigan actually finished second in the invite to Grand Valley, despite being ranked higher. Grand Valley was ranked 15th in the last November 14 poll. Grand Valley was highlighted on the weekend by Sam Postmus who won both IM events (2:04.58, 4:24.22) and led off the 800 free relay with a 1:51.13. Postmus finished the meet with a 2:01.61 200 back.
Grand Valley used its depth to get by Northern Michigan in the in-state invite at Calvin.
The #8 Oklahoma Baptist women also competed at the Texas Invite with good swims from Tamlyn Price, Suzanne Afchain and Celina Marquez in the 100 back (54.93, 55.45, 55.48) as well as Price in the 50 free (23.60) and Marquez in the 200 back (2:00.75).
Other top times:
100 Free: Benjamin Walling, Grand Valley (44.20)
200 Free: Alex Sobers, Emmanuel College (1:36.85)
500 Free: Sam Bryant, Colorado Mesa (4:26.88)
1000 Free: Bryant, Colorado Mesa (9:16.76)
1650 Free: Bryant, Colorado Mesa (15:29.23)
100 Breast: Arnoldo Herrera, Northern Michigan (54.87)
100 Fly: Janko Radmanovic, Findlay (47.95)
200 Fly: Radmanovic, Findlay (1:46.52)
200 IM: Caleb Howell, Carson Newman (1:47.98)
400 IM: Howell, Carson Newman (3:54.29)
200 Free Relay: Oklahoma Baptist (1:19.23)
400 Medley Relay: Wingate (3:16.22)
200 Medley Relay: Grand Valley (1:28.34)
800 Free Relay: Northern Michigan (6:36.60)
400 Free Relay: Wingate (2:59.98)
100 Free: Miranda Yarnell, Western State (50.26)
200 Free: Yarnell, Western State (1:48.80)
200 Free: Margaret Stansberry, Carson Newman (1:48.88)
500 Free: Mia Wood, Colorado School of Mines (4:56.32)
1000 Free: Wood, Colorado School of Mines (10:13.34)
1650 Free: Catalina Galea Berraud, Lynn (16:59.74)
100 Back: Erin Sullivan, Minnesota State Moorhead (55.28)
200 Back: Edda Skoric, Northern State (2:00.46)
100 Breast: Annika Ellison, Hillsdale (1:02.49)
200 Fly: Charlotte Knippenberg, Wingate (2:02.19)
200 IM: Alexis Divelbiss, Wingate (2:02.99)
400 IM: Sarah Hughes, Lynn (4:23.62)
200 Free Relay: Carson Newman (1:33.65)
400 Medley Relay: Northern Michigan (3:46.54)
200 Medley Relay: Northern Michigan (1:43.49)
800 Free Relay: Wingate (7:29.61)
400 Free Relay: Carson Newman (3:24.32)
November 20 recap
November 6 recap
October 29 recap
October 22 recap
October 16 recap