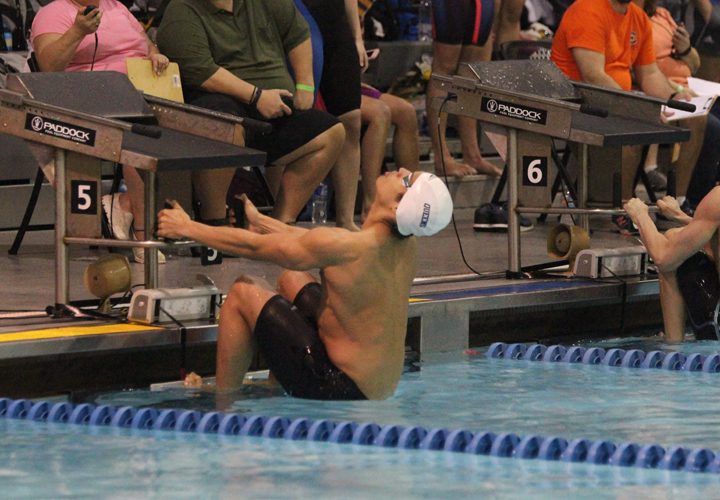 Photo Courtesy: Queens Athletics
Editorial content for the 2018 NCAA DII Championship coverage is sponsored by TritonWear. Visit TritonWear.com for more information on our sponsor.
With the first round of invitationals done, the top times list have basically been rewritten as teams all over the country have put on suits for the first time this season. Top ten teams Drury, Queens, Cal Baptist, Oklahoma Baptist, Fresno Pacific and Indianapolis were all in action on the weekend.
(#2/2) Drury and (#12/8) Oklahoma Baptist were swimming at the Mizzou Invitational in Columbia. The Drury men finished second in the meet behind only SEC opponent Missouri. Oklahoma Baptist finished fourth in the invite behind Wyoming. The Drury men were highlighted by Joan Casanovas in the 500 (4:22.26) and the 200 free (1:35.89) to put him at or near the top of Division II in both events. The Drury distance program was also highlighted by Alex Reinbrecht in the 500 (4:25.16) and the mile (15:25.35) as he leads Division II in the latter.
Pavel Semochkin also had strong swims in the 100 fly (46.73) and the 100 back (47.06) which puts him second in both. The Panthers were not the only ones at Mizzou who had fast swims. Oklahoma Baptist's David Lambert put up a 19.36 and a 43.65 in the sprint freestyle events to lead Division II in the 50. This is Lambert's first year with OBU as he has not swam collegiately since the 2015 NAIA Championships for Saint Andrews University in North Carolina. If there was such a thing, Lambert would be a strong contender for comeback swimmer of the year in Division II this year.
The Drury women were not as successful as the men as they came in fourth behind Mizzou, Nebraska and Wyoming. They do have one of the best swimmers in Division II in sophomore Bailee Nunn. Nunn continued her winning ways with a 1:56.78 in the 200 IM, 59.63 in the 100 breast and 2:11.34 in the 200 breast. Nunn was close to the Division II record in the 200 IM that Patricia Castro Ortega of Queens holds at 1:55.63, as well as the 100 breast record of 59.51 from West Florida's Theresa Michalak.
Nunn also led off Drury's 200 free relay at 22.90 to sit second behind OBU's Victoria Fonville at 22.54. Oklahoma Baptist really showed off their sprint speed with the top ranked swimmer in both 50 frees. Fonville's 100 free was not as strong, as she swam a 51.03 to currently sit 11th.
Queens showed its dominance by winning their Marriott Fall Frenzy Invite ahead of Limestone and Gardner-Webb. The superstars Paul Pijulet and Marius Kusch continued their dominating ways as Pijulet won the 100 fly (45.60), the 100 back (46.71) and the 200 back (1:43.62) to lead Division II in all three. Pijulet actually leads all of the NCAA currently in the 100 fly as NC State's Ryan Held swam a 45.92 at the Ohio State Invite.
Kusch won the 200 free (1:35.45), 500 (4:24.05) and the 200 fly (1:43.50) with strong times in all. Nick Arakelian, the third member of the "legion of boom" at Queens won the 200 IM (1:46.97) and the 400 IM (3:51.94) as well as the 200 breast (1:58.00). As long as the LOB (Arakelian, Kusch and Pijulet) are swimming, Queens looks unbeatable.
The west coast teams have also made a big statement this year with (#14/20) UC San Diego and (#20/4) Fresno Pacific making noise out west at the A3 Performance Invitational in San Diego. Fresno's Laura Fornshell has been the premiere distance swimmer in Division II with her 4:49.70 500 this past weekend along with her 16:41.61 in the mile in San Diego. The 200 breast was another quick event at that meet with Cal State East Bay's Claire Beaty winning the race at 2:12.50 ahead of Fresno's Daria Belova (2:13.49) and San Diego's Rachel Taylor (2:14.22) as those girls are second, third and fourth behind Bailee Nunn.
Another west coast team making a statement has been (#4/10) California Baptist as they competed at the UNLV Invitational this past weekend. Brandon Schuster had a quick 400 IM (3:51.79) to put him second in Division II while his 200 IM (1:48.66) put him third. Robert Griffith also had a strong mile with his 15:32.19 to put him third in Division II this year.
The University of (#3/4) Indianapolis was another team with a strong weekend as Krystal Caylor came away with times of 1:49.19 in the 200 free and 2:02.57 in the 200 IM to put her third in both. Darian Murray's 200 fly (2:01.28) and Laura Bern's 100 free (50.70) were also mini-highlights on the weekend for the Greyhounds as they finished third behind Division I Connecticut and IUPUI.
The UIndy men finished only second behind UCONN at the same invite as Guilherme Zavaneli won the 200 free (1:35.11) and Rodrigo Codo Berti won the 200 IM (1:47.18), the 100 back (47.73) and the 200 back (1:44.48).
November 6 recap
October 29 recap
October 22 recap
October 16 recap