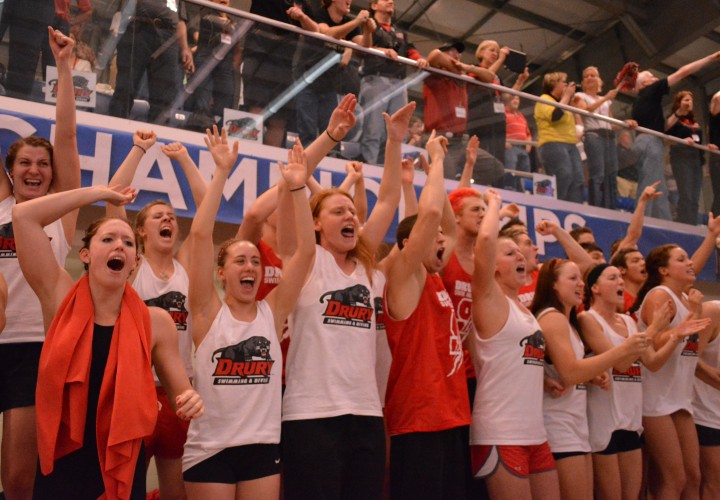 Photo Courtesy: Tony Romanini
NCAA DI editorial coverage is proudly sponsored by Adidas. Visit adidasswimming.com for more information on our sponsor. For all the latest coverage, check out our event coverage page.

CLICK HERE FOR LIVE RESULTS
The number one (women) and number five (men) Drury teams are looking to continue their success in the Division this weekend as they host Missouri S&T and William Jewell. Four fellow Great Lakes Valley Conference teams will also be busy battling it out in Indianapolis, making this a big weekend for GLVC schools. Check out all of the biggest contests in this week's Division II Meet Preview.
Meet of the Week: Drury Invitational
Drury will host Missouri S&T and William Jewell at home this week, competing in a two day meet starting Friday. The Drury women are on a roll right now, holding a #1 team ranking from the CSCAA and having multiple women with the fastest times in the country, including senior Wen Xu (50 free) and freshman Erica Dahlgren (500 free). But it is freshman Bailee Nunn who is the biggest standout of the Panthers, holding top times in the country is six different events (100 butterfly, 200 butterfly, 200 IM, 100 free, 100 breast, and 200 breast).
While the Drury men aren't as strong as the women's team, the sixth place team from last year's NCAA's is still ranked #5 is the country and backed by junior Kim Jun Han, who has far and away the top time in the country in the 200 butterfly (1:47.92).
Both the Drury men and women won the invitational last year, and should be on track to do the same again on the women's side. Missouri S&T could be a potential spoiler for the Drury men, as they finished nearly 36 points ahead of Drury at the opening Show Me Showdown earlier this year. But with a strong start to the year, this meet should be the one to watch in Division II as the Drury women set themselves up to be potential spoilers at NCAAs this year, while the men look like they will continue moving up in the rankings.
Queens vs. Gardner-Webb, Richmond
Defending national champions Queens University of Charlotte will swim against Division I opponents Gardner-Webb and Richmond. Second ranked in the country for both men and women, Queens faces Division I teams throughout their schedule, giving them plenty of opportunities to race top-tier talent. Both teams should provide a nice challenge for Queens, with any team having to work in order to come away with a win.
On the women's side, the Royals have a very well-rounded dual meet lineup, with McKenzie Stevens in distance freestyle, Alexandra Marshall and Linda Baron leading the sprints, Hannah Peiffer in the backstroke, Dasha Talanova in the breaststroke, and Josephina Lorda in the IM events.
On the men's side, junior Dion Dreesens is usually dominant in the middle-distance and distance freestyle events and will look to continue to set himself up for success on the national stage. Junior Paul Pijulet has also been dominant in the sprint fly and back events, while classmate Ben Mayes has been strong in the sprint free. Junior Nick Arakelian is also a versatile swimmer who is strong in the IM and distance free events.
Indianapolis vs. McKendree, Lewis, & Bellarmine
The University of Indianapolis will take on conference rivals McKendree University, Bellarmine University, and Lewis University in a two-day meet beginning this friday. Indianapolis was recently ranked in the latest CSCAA poll (men 12th, women 18th), and their men finished 15th at NCAA's last year. No other team competing at the quad meet this weekend was ranked in the initial CSCAA poll.
Great Lakes Valley Conference Freshman of the Year Vitor Botana has been strong in the distance free events for Indy so far, while the men's team also has shown strength in sprint free, backstroke, and breaststroke. While the women's team is not quite as strong as the men's, they are currently the second ranked GLVC team in the country behind Drury and started the season with a dominant win over Division III DePauw.
This is the inaugural season for both the men and women at McKendree under former Division I coach Jimmy Tierney at the helm, and will be a good test of a conference opponent to gauge their progress in this first season. Lewis and Bellarmine are consistently in the middle of the pack in the GLVC, and should provide good competition for the McKendree team as it finds its place in the conference.
Wingate vs. Catawba, Limestone, Lenoir-Rhyne
Wingate is coming off a loss to defending national champions Queens, and will be looking to rebound with a quad meet against a trio of conference rivals: Limestone College, Lenoir-Rhyne University, and Catawba College. This will only be Wingate's second meet of the season and a chance to improve their current national rankings of 9th (women) and 13th (men). For the men, Wingate has a strong sprint and middle distance freestyle crew led by seniors Mehdi Zeraidi and Leif-Henning Kluever. The women were second at NCAA's last year behind Queens, but the loss of key legs of their winning medley relays to graduation will definitely put them in a challenging spot to repeat that.
While Wingate was a solid second place behind Queens on both sides of the Bluegrass Mountain Conference meet last year, the other three teams were significantly farther back. Limestone, Lenoir-Rhyne, and Catawba were all bunched in 6th, 7th, and 8th at last year's Bluegrass Mountain Conference Meet on the women's side, while Limestone's men were right behind Wingate in third at the men's conference meet.
This meet could give an indication if the Limestone men can close the gap this year against Wingate, but given the Bulldogs only lost to conference champion Queens by 5 points last weekend that will certainly be a challenge. For the remaining teams, this quad meet should provide a good opportunity for these teams to make a statement on where they should be in the conference at the end of the year.