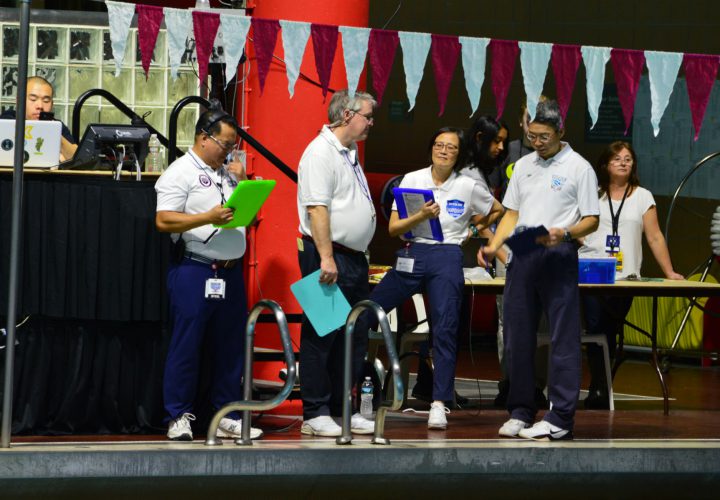 Photo Courtesy: Jessica Pochek
By Kyle Roethlin, Swimming World Intern.
Swimming officials can work at a variety of different meets, from small summer leagues to the Olympics. However, what is it like to officiate the BAC Winter Invitational? What challenges or learning experiences do the officials face?
Like any other meet, officials push themselves to be fair as a possible. Some of the fastest swimmers in the state attend this meet, and many of them go on to attend national meets. As a result, it is of the utmost importance that officials treat the meet as though it were a national meet, so that these swimmers can be prepared for when national meets do arrive.
This means that officials must as hard at this meet as any to make both correct and fair calls on swimmers. However, the judgments that officials make aren't always easy to call. David Lam, an official at the BAC invitational, said that some of the harder calls involve turns and finishes.
Lam explained that swimmers are often DQ'd for not completing a two-hand touch on the wall when finishing in either breaststroke or butterfly. The swimmers hands may not touch at the exact same time, and it can be very close. Another difficult call to make regards turns. Lam said, "swimmers that are trying to go as fast a possible may turn too early or too late, and that is something that we have to watch out for."
While officials may face challenges while officiating, what are some of the things they hope to gain from working at the BAC Winter invitational? Officials are always learning, and that is one of the things that many officials hope to get out of a Invitational.
Another reason is a bit more personal. Many of the officials have children that are swimming in certain events. Officiating is one of the ways that parents can be active in their children's swimming careers. They can take what they see in their child's swimming and help to critique their stroke. However, this comes with some disadvantages, as the official may have to DQ their child or perhaps a friend of their child.
The job of an official is a very interesting one. They face challenges, but can also get a lot out of their work. Every swimmer can easily relate to and understand their job. The BAC Winter Invitational is a great opportunity for officials and swimmers alike.