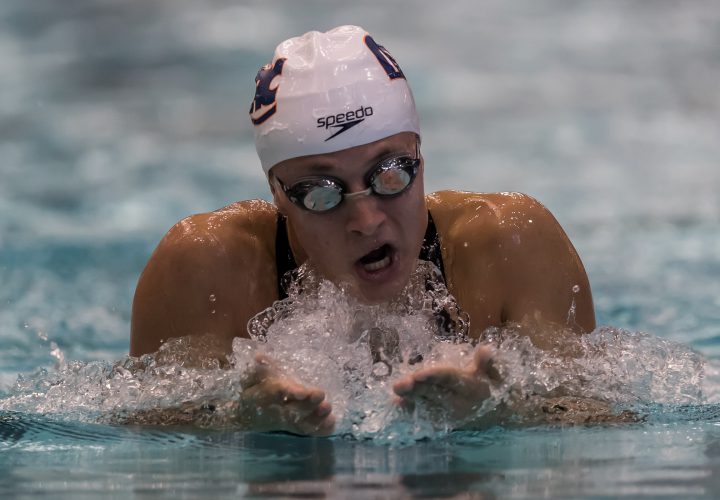 Photo Courtesy: Peter H. Bick
Agon is the proud sponsor of all high school coverage (recruiting, results, state championships, etc.) on SwimmingWorld.com. For more information about Agon, visit their website AgonSwim.com.
To report a college commitment, email HS@swimmingworld.com. Join Swimming World's Watch List
NEW COMMIT: The University of North Carolina at Chapel Hill is quickly developing a recruiting line to Charlotte. The Tarheels have received a verbal commitment from Lilly Higgs, a senior at SwimMAC. A USA Swimming Scholastic All-American, Higgs will joins SwimMAC teammates Heidi Lowe and Sophie Linder in Chapel Hill next fall. Their UNC Class of 2022 will also include Raleigh's Grace Countie.
They join SwimMAC seniors Teddy Perelli, Julia Menkhaus, Curtis Wiltsey, and Will Chan in making verbal commitments to college programs.
Higgs is a senior at Hough High School where she is teammates with Lowe. A NISCA All-American, Higgs was a key piece of Hough's North Carolina 4A state title last winter. She started the meet swimming the breaststroke leg (28.68) of the third place 200 medley relay. She picked up another bronze with a 2:02.61 in the 200 IM. Finishing ahead of her in that event were Julia Poole and Kate Moore, NC State freshmen this year who she'll see plenty of in ACC competition.
Hough's 200 freestyle relay also touched in third, led off by Higgs in 24.25. She ended the meet with a runner up finish (to Poole) in the 100 breaststroke (1:02.19).
Higgs' best times include:
100 Breast 1:01.58
200 Breast 2:14.08
200 IM 2:02.23
400 IM 4:25.49
She also represents the Bahamian National Team. At this summer's World Junior Championships Higgs finished 22nd in the 100 breaststroke (1:11.18) and 20th in the 50 breaststroke (32.84), both in National Record time.
Higgs wrote on CollegeSwimming,
"UNC has always held a special spot in my heart, and I can't wait to continue my academics and swimming career at UNC Chapel Hill!"