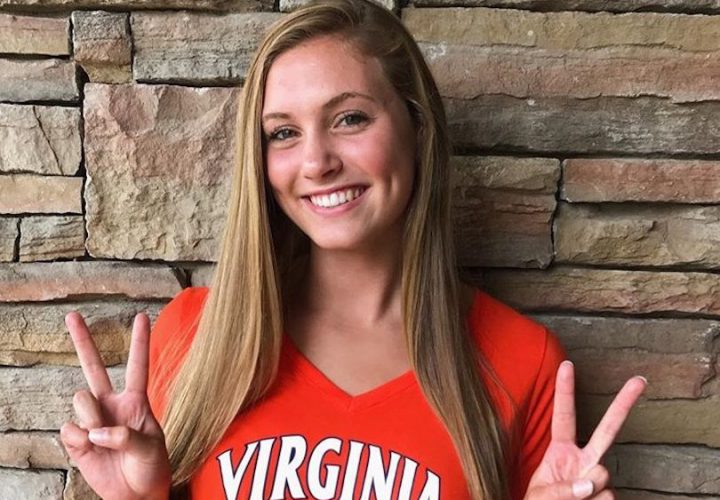 Photo Courtesy: Julia Menkhaus Instagram @julia_menkhaus
Agon is the proud sponsor of all high school coverage (recruiting, results, state championships, etc.) on SwimmingWorld.com. For more information about Agon, visit their website AgonSwim.com.
To report a college commitment, email HS@swimmingworld.com. Join Swimming World's Watch List
NEW COMMIT: The new coaching staff at the University of Virginia has secured its first verbal commitment for the Class of 2022. SwimMAC Carolina's Julia Menkhaus has given her verbal commitment to the Cavaliers. Menkhaus is a senior at Charlotte Catholic High School.
Menkhaus is incredibly versatile, but strongest as a backstroker. Her top times are:
50 Back 24.81
100 Back 52.64
200 Back 1:55.38
200 IM 2:00.02
400 IM 4:12.66
200 Fly 1:57.05
200 Free 1:47.63
A number of Menkhaus' top times came from Junior Nationals East last December. At that meet she swam the backstroke leg of SwimMAC's winning 200 medley relay and led off the third place 800 freestyle relay. She also led off the team's silver medal 400 medley relay. Individually Menkhaus was second in the 100 and 200 back, third in the 200 fly, fifth in the 400 IM and 12th in the 200 IM.
At the 2017 North Carolina 4A High School state championships Menkhaus set a 4A state record in the 100 butterfly, winning the event in 53.88. She followed that up with a win in the 100 backstroke with a 53.74 as well as being a member of the winning 400 freestyle relay. Charlotte Catholic finished third in the meet. Menkhaus also won those same individual events as a sophomore in 2016.
She wrote in her announcement made on Instagram,
"WAHOOWA So EXCITED to announce my verbal commitment to continue my swimming and academic career at the University of Virginia. Special thanks to my family and friends for supporting me along the way! #gocavs #gohoos"