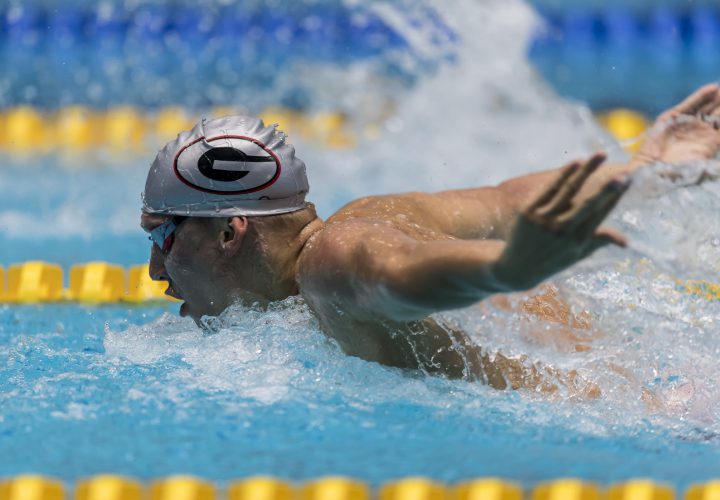 Photo Courtesy: Peter H. Bick
Editorial content for the Commonwealth Games coverage is sponsored by TritonWear. Visit TritonWear.com for more information on our sponsor. For full Swimming World coverage, check event coverage page.
The second week in January was a big one, with the TYR Pro Swim Series kicking off the new year in Austin, Texas, and plenty of swimming's stars making their 2018 racing debuts. Check out the biggest swims from the meet and the other notable stories of the week in The Week That Was.
The Week That Was #5 – Joseph Schooling and Zheng Quah to Skip 2018 Commonwealth Games
This week in a report from the Straits Times Singaporean Olympians Joseph Schooling and Zheng Quah will be sitting out the 2018 Commonwealth Games that will take place in Australia this April. Schooling and Quah will both instead be focusing on the 2018 NCAA Championships in March. Schooling, who won the 100 butterfly at the 2016 Rio Olympics, is in his senior year at the University of Texas and will be part of a team that will be vying for their fourth straight NCAA team championship title in March. Quah, meanwhile, swims for Cal, the team which should pose the biggest challenge to the Longhorns. Schooling and Quah did both say they intend to compete at the Asian Games at the end of the summer in August.
The Week That Was #4 – Pieroni Drops 1:33 200 Free in Dual Against Michigan
College swimming continued with missing a beat this weekend with some notable times being thrown down despite most teams continuing through with heavy January training. Auburn sprinter Zach Apple was impressive in their dual meet against Texas. While the Longhorns narrowly won both the men's and women's meets, Apple took down defending NCAA Champ Townley Haas in the 200 free, went on to win the 100, and contributed to 19-second relay splits. Longhorn swimmer Claire Adams threw down an impressive 52.56 win in the 100 back at that same meet, while Georgia swimmer Gunnar Bentz made a return to competition following shoulder surgery last year to help Georgia to their first wins of 2018. And Indiana's Blake Pieroni threw down an impressive 1:33.88 in the 200 free in Indiana's win over Michigan. You can see all the recaps from this week's college results here.
The Week That Was #3 – Ryan Lochte and Kayla Rae Reid Marry In Florida
12-time Olympic medalist Ryan Lochte is officially a married man, marrying partner Kayla Rae Reid in a ceremony in Florida earlier this week according to multiple news outlets. The pair have been together since early 2016 and are the parents of a son, Caiden Zane, who was born in June. Lochte recently moved back to the Gainesville, Florida to train with long-time coach Gregg Troy, who he trained with at the University of Florida from 2002 to 2013. Lochte returned to competition this summer after completing his 10-month suspension from the 2016 Olympic Games.
The Week That Was #2 – Missy Franklin Kickstarting Comeback At University of Georgia
Five-time Olympic gold medalist Missy Franklin has relocated to the University of Georgia to train under head coach Jack Bauerle, moving from California where she has been training under Dave Durden for the past year. Franklin has not competed since the 2016 Rio Olympics, and underwent double shoulder surgery early in 2017. Speaking to the Associated Press, Franklin cited her desire to swim with a combined gender team, the proximity to extended family, and her long-time relationship with Bauerle all as contributing factors to her decision to change training bases. Franklin said that she is aiming to compete at this summer's U.S. Nationals in Irvine. You can read the full Associated Press report here.
The Week That Was #1 – First TYR Pro Series Event Kicks Off 2018
The first meet of the TYR Pro Swim Series was completed at the end of last week down in Austin, Texas, with plenty of pros and college swimmers on hand to throw down some fast times. This was the first Pro Series meet with the new format that includes 50-meter events for each stroke that culminates in a "shootout-style" final, a mixed 400m medley relay featuring members of the National Team divided into "SwimSquad" teams, and a 200m "mystery" individual medley final in which stroke order will be determined immediately prior to the event. Chase Kalisz was a huge standout from the meet, winning the 400 IM in a new pool record 4:10.80 to kick off the meet before going on to win the 200 IM (1:57.50) and 200 fly (1:55.63). Other notable swims include Molly Hannis becoming the fourth fastest performer ever in the 50 breast (29.71) and Regan Smith's pool record of 59.38 in the 100 backstroke. You can see all the coverage from the first stop of the 2018 TYR Pro Swim Series on our Event Coverage Page.