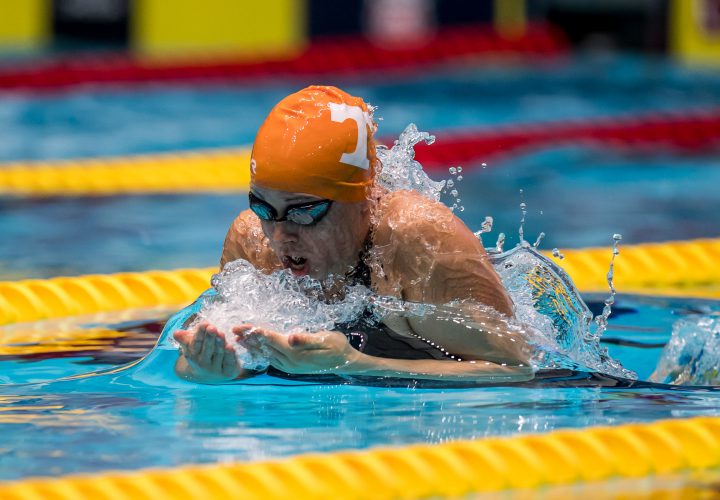 Photo Courtesy: Peter H. Bick
Editorial content for the 2018 TYR Pro Swim Series Austin is sponsored by SwimOutlet.com. Visit SwimOutlet.com for more information on our sponsor. For full Swimming World coverage, check out our event coverage page.
2016 Olympian Molly Hannis may have missed the 2017 World Championship team, but she got her 2018 off to a sizzling start as she swam a 29.71 in the 50 breast final at the TYR Pro Swim Series meet in Austin, Texas. Hannis broke Lilly King's meet record in the quarter finals and even flirted with King's world record as she was not far off of the 29.40 King set at World Championships this past summer.
Hannis has been a part of a rising crop of 25-year-olds at this meet who have had struggles in the last few years but have used 2018 as a fresh start and showed they are stronger than ever. Hannis is now the second fastest American all-time in the 50 breast to move ahead of Jessica Hardy. Hannis is also fourth all-time as she is behind King, Ruta Meilutyte and Yulia Efimova.
Katie Meili was second in the race with a 30.87 as she scored points for Kaitlin Sandeno.
 Event 30F  Women 50 LC Meter Breaststroke
=========================================================================
        World: W 29.40  7/30/2017 Lilly King
     American: A 29.40  7/30/2017 Lilly King
         Meet: M 29.71  1/13/2018 Molly Hannis, Una TNAQ-SE
    Name            Age Team                 Seed     Finals       Points 
=========================================================================
  1 Hannis, Molly    25 Una Tnaq-SE            NT      29.71M       
  2 Meili, Katie     26 New York Athleti       NT      30.87