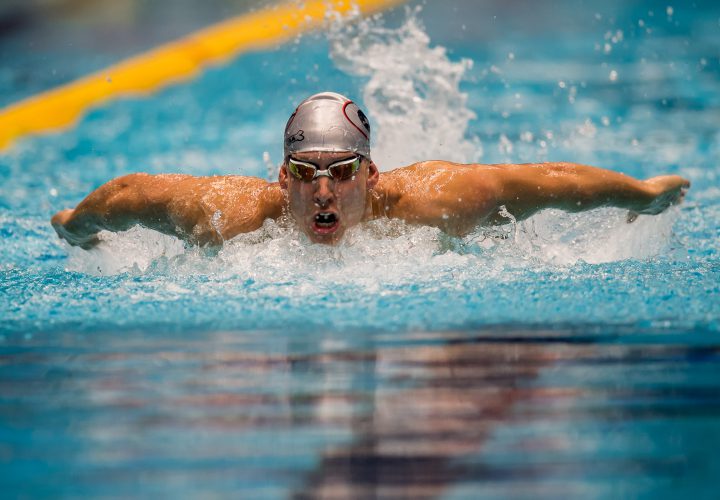 Photo Courtesy: Peter H. Bick
Editorial content for the 2018 TYR Pro Swim Series Austin is sponsored by SwimOutlet.com. Visit SwimOutlet.com for more information on our sponsor. For full Swimming World coverage, check out our event coverage page.
After having one of the best years of his career, Chase Kalisz showed no signs of slowing down in 2018, even after attending the College Football Playoff National Championship Game on Monday in Atlanta. Kalisz swam a 4:10.80 to break his own pool record on Thursday night at the TYR Pro Swim Series in Austin. Kalisz won comfortably by almost nine full seconds over NC State's Anton Ipsen (4:19.27) and Calgary's Tristan Cote (4:20.93).
Kalisz was a little off his meet record from last year's Atlanta Pro Swim Series where he swam a 4:09.43 in May 2017. Kalisz is proving he is not slowing down as we head into the 2018 season.
Daniel Sos (4:22.01), Jake Foster (4:23.72), Etay Gurevich (4:27.49), Eric Knowles (4:29.60) and Jarrett Jones (4:29.66) also swam in the championship final.
Kalisz is a member of Lenny Krayzelburg's Swim Squad.
 Event 2  Men 400 LC Meter IM
=========================================================================
        World: W 4:03.84  8/10/2008 Michael Phelps
     American: A 4:03.84  8/10/2008 Michael Phelps
         Meet: M 4:09.43  2017      Chase Kalisz
         Pool: P 4:11.51            Chase Kalisz
    Name            Age Team              Prelims     Finals       Points 
=========================================================================
                       === Championship Final ===                        
 
  1 Kalisz, Chase    23 Athens Bulldog S  4:19.07    4:10.80P       
             26.52        56.85 (30.33)
        1:29.85 (33.00)     2:02.23 (32.38)
        2:36.97 (34.74)     3:12.56 (35.59)
        3:42.37 (29.81)     4:10.80 (28.43)
  2 Ipsen, Anton Oe  23 NC State Univers  4:21.87    4:19.27        
             27.91      1:00.24 (32.33)
        1:34.25 (34.01)     2:06.98 (32.73)
        2:44.04 (37.06)     3:21.12 (37.08)
        3:50.93 (29.81)     4:19.27 (28.34)
  3 Cote, Tristan    22 UOFC-ZZ           4:24.40    4:20.93        
             28.05        59.83 (31.78)
        1:33.92 (34.09)     2:06.69 (32.77)
        2:43.58 (36.89)     3:21.31 (37.73)
        3:51.65 (30.34)     4:20.93 (29.28)
  4 Sos, Daniel      19 Univ Louisville-  4:22.97    4:22.01        
             27.07        59.26 (32.19)
        1:32.54 (33.28)     2:05.83 (33.29)
        2:43.22 (37.39)     3:22.13 (38.91)
        3:52.77 (30.64)     4:22.01 (29.24)
  5 Foster, Jake     17 Mason Manta Rays  4:25.00    4:23.72        
             27.94      1:00.08 (32.14)
        1:35.28 (35.20)     2:10.16 (34.88)
        2:45.56 (35.40)     3:22.19 (36.63)
        3:53.66 (31.47)     4:23.72 (30.06)
  6 Gurevich, Etay   22 Univ Louisville-  4:30.94    4:27.49        
             27.31        58.68 (31.37)
        1:34.18 (35.50)     2:08.84 (34.66)
        2:45.80 (36.96)     3:24.20 (38.40)
        3:56.60 (32.40)     4:27.49 (30.89)
  7 Knowles, Eric    18 NC State Univers  4:29.55    4:29.60        
             28.33      1:00.95 (32.62)
        1:35.95 (35.00)     2:11.53 (35.58)
        2:49.43 (37.90)     3:29.14 (39.71)
        4:00.26 (31.12)     4:29.60 (29.34)
  8 Jones, Jarrett   20 Univ Louisville-  4:29.94    4:29.66        
             28.51      1:00.95 (32.44)
        1:36.58 (35.63)     2:10.88 (34.30)
        2:49.94 (39.06)     3:29.22 (39.28)
        4:00.59 (31.37)     4:29.66 (29.07)