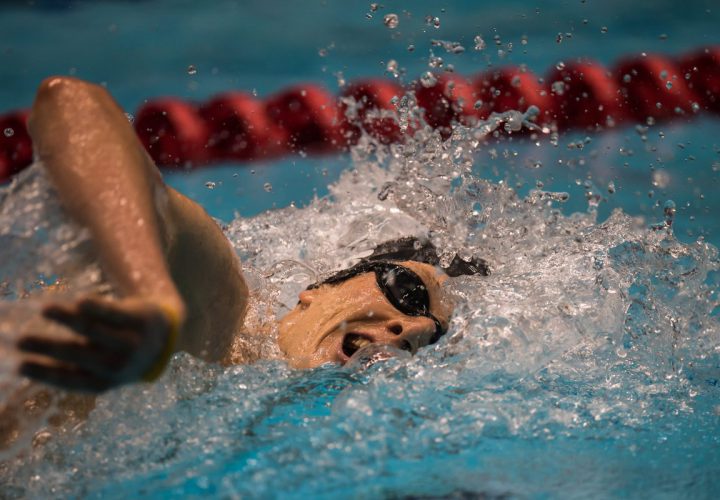 Photo Courtesy: Peter H. Bick
Zane Grothe stunned the swimming world this week with two new American records at the Winter National Championships this weekend, capping off a week of fast swimming across the United States. Catch up on those meets and more in this week's edition of The Week That Was!
The Week That Was #5 – Filippo Magnini Announces His Retirement
Two-time 100 free World Champion Filippo Magnini announced his retirement at the conclusion of the Italian Short Course Nationals this week after originally intending to compete at the European Short Course Championships next month. The 35-year-old has had a storied career that includes two World Championship titles in 2005 and 2007 and and Olympic bronze medal from 2004. Magnini also had three European Championships to his name in 2004, 2006 and 2012 in addition to four Olympic Games (2004, 2008, 2012, 2016) appearances where he was a clutch relay performer for the Italians.
The Week That Was #4 – Ledecky Honored As Top Female Olympic Athlete By USOC
Five-time Olympic champion Katie Ledecky was honored on Wednesday by the United States Olympic Committee as the winner of the Female Olympic Athlete of the Year at the Team USA Awards. Ledecky has continued to be one of the most dominant swimmers in the pool in 2017, leaving World Championships with six medals, her most ever in a single Championship, and five golds. She also helped Stanford to their first team NCAA title since 1998 in her freshman season with the Cardinal. This is Ledecky's third time receiving the honor and the second year in the row she received it. This continues to add to Ledecky's total honors this year, which include the Women's Sport Foundation Sportswoman of the Year, Golden Goggles Female Athlete of the Year, and the Honda Cup top collegiate female athlete.
The Week That Was #3 – USA Leads Start of World Para Swimming Championships
Team USA is off to a strong start at the 2017 World Para Swimming Championships, leading all countries with 23 medals through the first three days of competition. The Para World Champs were originally scheduled for late September but were unexpectedly delayed a week before following a devastating earthquake in Mexico City. Backstroker Robert Griswold was the first winner for Team USA in the men's S8 100 backstroke (1:04.17), the first world title of his career. That kicked off a nine-medal performance by Team USA on night one that included three gold medals. Jessica Long, who was selected as a captain for Team USA, continued that streak on day two, contributing to a 10-medal haul by Team USA with three individual titles in the SB7 100 breaststroke (1:35.48), the S8 100 freestyle (1:06.83) and in the 400 34-point free relay alongside teammates Hannah Aspden, McKenzie Coan, and Natalie Sims. Coan has also won gold in the S7 women's 50 free and 100 free. You can see complete recaps from the first three days of the 2017 World Para Swimming Championships here and here.
The Week That Was #2 – College Invites Season Wraps Up in Texas, Georgia and Across United States
This was a big weekend of cotllege invitationals, with NCAA teams across the country doing a mid-season shave and taper to see where they stand a few months into official season. Tons of big Division I schools, including Texas, Georgia, Cal, and Michigan were competing across the country this weekend, with lots of fast times thrown down across the country. Down in Texas, Joseph Schooling, Justin Wright and Riley Scott all threw down nation leading times as Texas, USC and University of Arizona, among others, duked it out in Austin. At the Georgia Invitational the Michigan women were victorious over second place Georgia and third place Cal, while the Cal men took first over Michigan and Georgia. Many other Division I, II, and III schools competed this weekend to impact this season's top times, so check on all of the results from college invitationals across the country this week, head over to our college news coverage here.
The Week That Was #1 – Zane Grothe Records Highlight Winter Nationals
This weekend in Columbus, Ohio, several pro swimmers returned to short course yards for the first time this season at USA Swimming's Winter Nationals. Post-grad and National Team member Zane Grothe was the star of the meet, taking down two big American distance records in the 500 and 1,650 yard freestyles. Grothe started off the meet by becoming the first man under 4:08 in the 500 free, breaking Clark Smith's American record from last year with a 4:07.25. He ended the meet by taking down Smith's other American record from last year in the 1650 free, touching in 14:18.25 to take an insane 4 seconds off the old record. Other notable performances included Kelsi Worrell's sub-50 100 fly, Reece Whitley's NAG record in the 200 breast, and Nathan Adrian throwing down a 18.77 in the 50 free. You can read the rest of the highlights of Winter Nationals here.