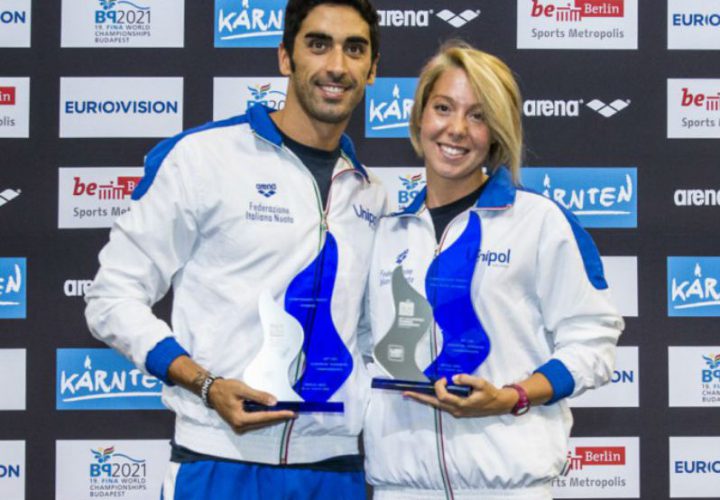 Photo Courtesy: Giorgio Scala
The 2005 and 2007 World Champion in the 100 free, Filippo Magnini of Italy, has announced his retirement at the Italian Short Course Nationals. Magnini has decided not to compete at the European Short Course Championships next month as the 35-year-old will be calling it quits after a long and successful career.
Magnini was the World Champion in 2005 in the 100 free when he beat South African Roland Schoeman to the gold medal. A year later in 2006 he defeated Dutch legend Pieter van den Hoogenband at the European Championships in Budapest. Magnini continued that momentum into 2007 when he tied Canadian Brent Hayden for the World Championship gold medal in Melbourne. He could not quite match that success at the 2008 Olympics, as he finished ninth in the 100 free. He also anchored Italy in the free relays at the Olympics and finished fourth in both.
Magnini intended on competing at the European Short Course Championships but "preferred to (finish at Nationals)."
Regardless of his lack of Olympic medals, Magnini is still regarded as one of the best Italian swimmers in history. Magnini has one Olympic medal with a bronze from 2004 where he anchored Italy's 4×200 free relay team. He swam in four Olympics. He also has relay medals from the World Championships with a silver in the 4×100 free relay from 2007. He had the fastest split (47.18) as the anchor for the runner-up Italian team. He also anchored eight years later to a bronze in the same relay at the 2015 Worlds in Kazan. Despite the gap, Magnini still split a 47.55 at the age of 33.
Magnini finished fifth in the Olympic final in Athens in the 100 free and finished 19th in London and 37th in Rio. Magnini was also a three-time European champion in the 100 free (2004, 2006, 2012).
He was a well-known relay swimmer and has personal best splits of 46.84 and 1:44.12 from the Beijing Olympics.
His best times in swimming were:
100 Free: 48.04 (LCM), 46.26 (SCM)
200 Free: 1:46.89 (LCM), 1:41.65 (SCM)