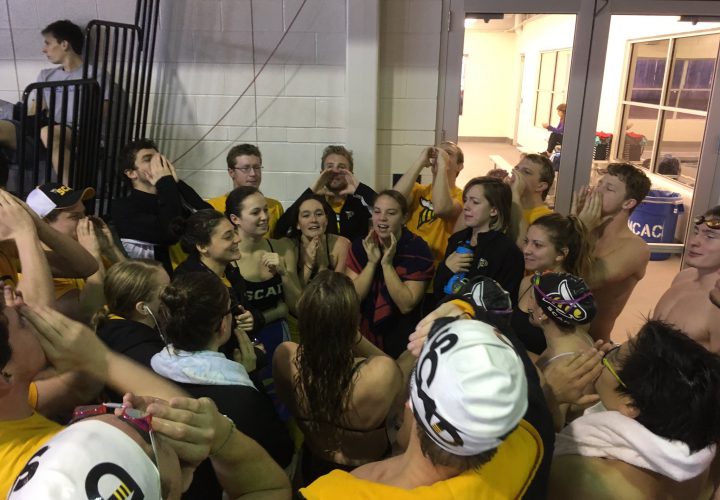 Photo Courtesy: SCAD Swimming Twitter
Day two of the National Association of Intercollegiate Athletics (NAIA) men's and women's Swimming and Diving National Championships began this morning in Columbus, Georgia.
Today's prelim action saw the 200 free relay, 500 free, 200 IM, 50 free, and 400 medley relay.
Heading into tonight's final, both the SCAD men and women's teams sit in first place after winning the 800 free relays last night.
2017 NAIA Championships Day 2 Prelims – Results
Click here for the meet homepage.
Women's 200 Free Relay
SCAD started day two by taking the top seed in the women's 200 free relay. The team of Julie Woody (23.11), Julie Menninger (24.22), Annie Weber Callahan (24.01), and Sara Lacusky (24.04) finished in 1:35.38. Olivet Nazarene finished almost a second behind in 1:36.31 and Biola took third in 1:36.79.
Tonight's A-Final:
1. SCAD-1:35.38
2. Olivet Nazarene-1:36.31
3. Biola-1:36.79
4. Brenau-1:38.13
5. Cumberlands-1:38.73
6. College of Idaho-1:39.38
7. Lindsey Wilson-1:39.48
8. Lindenwood-Belleville-1:39.63
Men's 200 Free Relay
Thomas University opened the men's meet by narrowly taking the top spot in the men's 200 free relay. The team of Alex Haymond (20.80), Tan Dang (21.07), Igor Dos Santos (20.16), and Perry Lindo (19.78) stopped the clock in 1:21.81, only 0.09 ahead of the runner-ups. SCAD finished second in 1:21.90 while Olivet Nazarene took third in 1:22.03.
Tonight's A-Final:
1. Thomas-1:21.81
2. SCAD-1:21.90
3. Olivet Nazarene-1:22.03
4. St. Andrews-1:23.58
5. Keiser-1:23.73
6. Cumberlands-1:23.87
7. Wayland Baptist-1:24.49
8. Lindsey Wilson-1:25.11
Women's 500 Free
Brenau's Courtney Hayward will get the chance to defend her 500 free title by qualifying first for tonight's final. The senior finished in 5:03.01, but will face tough competition from SCAD's Abigail Richey (5:03.42) and Murningside's Suzanna Gonzalez (5:03.62).
Tonight's A-Final:
1. Courtney Hayward (Brenau)-5:03.01
2. Abigail Richey (SCAD)-5:03.42
3. Suzanna Gonzalez (Morningside)-5:03.62
4. Sierra Rhodes (Olivet Nazarene)-5:06.53
5. Deirdre Gerke (Olivet Nazarene)-5:07.10
6. Jane Lev (Keiser)-5:08.14
7. Lara Kaufmann (Union)-5:08.16
8. Hayley Ronci (Olivet Nazarene)-5:08.64
Men's 500 Free
The heavy favorite to win this event, SCAD's Joel Thatcher cruised to 4:27.42 this morning to claim the middle lane tonight. The freshman's time was five seconds ahead of runner-up Matija Luka Rafaj (4:32.04) and Joshua Bouma (4:33.07).
Tonight's A-Final:
1. Joel Thatcher (SCAD)-4:27.42
2. Matija Luka Rafaj (Lindenwood-Belleville)-4:32.04
3. Joshua Bouma (Olivet Nazarene)-4:33.07
4. Wyatt Engler (Keiser)-4:35.08
5. Vinny Lijoi (Thomas)-4:35.42
6. Niels Engeln (Lindenwood-Belleville)-4:36.23
7. Manuel Laguna Gomez (WVU-Tech)-4:36.55
8. Zavier Bordes Adell (Olivet Nazarene)-4:37.68
Women's 200 IM
Olivet Nazarene's Tiffany Ray is in good shape to defend her 200 IM title after this morning's swim. The senior dropped four seconds from her entry time to be tonight's top qualifier, posting a time of 2:07.11. SCAD's Rebecca Justus closely follows in 2:07.81 while her teammate Lacusky is third in 2:08.28
Tonight's A-Final:
1. Tiffany Ray (Olivet Nazarene)-2:07.11
2. Rebecca Justus (SCAD)-2:07.81
3. Sara Lacusky (SCAD)-2:08.28
4. Mckayla Stevens (College if Idaho)-2:08.65
5. Christina Klouda (Cumberlands)-2:09.51
6. Rachel Stinchcomb (Biola)-2:09.57
7. Lydia Reinhardt (SCAD)-2:09.95
8. Rachel Munschauer (Keiser)-2:10.48
Men's 200 IM
Olivet Nazarene's Daniil Kuzmin was the only swimmer under the 1:50 barrier this morning. The sophomore dropped nearly five seconds from his entry time to take the top spot tonight in 1:49.04. He's followed by his teammate Magnus Andersen (1:50.16) and Keiser's Lukas Macek (1:52.21).
Tonight's A-Final:
1. Daniil Kuzmin (Olivet Nazarene)-1:49.04
2. Magnus Andersen (Olivet Nazarene)-1:50.16
3. Lukas Macek (Keiser)-1:52.21
4. Charles Bennett (Olivet Nazarene)-1:52.63
5. Keith Jessee (Asbury)-1:52.76
6. Nico Tscherner (Lindenwood-Belleville)-1:53.04
7. Clemens Paetzold (Lindsey Wilson)-1:53.95
8. Thomas Sheridan (College of Idaho)-1:54.56
Women's 50 Free
Not too long after helping SCAD take the top spot in the 200 free relay heading into tonight, Woody swam to first this morning in the individual 50 free. The senior posted a time of 23.03. Biola's Lisa Tixier, who finished second in this event last year, will try to chase her down after finishing second in 23.36. College of Idaho's Madison Kelly took third in 23.84.
Tonight's A-Final:
1. Julie Woody (SCAD)-23.03
2. Lisa Tixier (Biola)-23.36
3. Madison Kelly (College of Idaho)-23.84
4. Leannae Latocha (Olivet Nazarene)-23.97
5. Andrea Vega (Olivet Nazarene)-24.15
6. Ronni Borders (Lindsey Wilson)-24.33
7. Andrea Bond (Wayland Baptist)-24.40
8. Brittany Litke (Cumberlands)-24.46
Men's 50 Free
Opting not to swim the 500 free-an event he won last year-SCAD's Joel Ax took the top seed in the men's sprint event as the only swimmer under the 20-second barrier. The senior posted a time of 19.87, not too far off the 19.71 meet record set back in 2014. Thomas' Lindo finished second in 20.42 and Wayland Baptist's Josiah Morales took third in 20.57.
Tonight's A-Final:
1. Joel Ax (SCAD)-19.87
2. Perry Lindo (Thomas)-20.42
3. Josiah Morales (Wayland Baptist)-20.57
4. Andrei Stukov (Keiser)-20.60
4. Alex Haymond (Thomas)-20.60
6. Vladislav Khoroletc (Olivet Nazarene)-20.63
7. Juan Patino (St. Andrews)-20.68
8. Anton Arvidsson (SCAD)-20.89
Women's 400 Medley Relay
SCAD will look to go three-for-three on relays after tonight's finals. The team of Menninger (58.31), Alle Ragland (1:06.57), Cadie Crow (56.95), and Richey (52.37) qualified first in 3:54.20. Taking a close second in 3:54.68 was Biola and Brenau finished third in 3:56.67.
Tonight's A-Final:
1. SCAD-3:54.20
2. Biola-3:54.68
3. Brenau-3:56.67
4. Olivet Nazarene-3:57.49
5. College of Idaho-3:59.35
6. Columbia College-4:00.30
7. Lindsey Wilson-4:01.87
8. Cumberlands-4:03.78
Men's 400 Medley Relay
Olivet Nazarene will be the top seed by over two seconds in the men's 400 medley relay tonight. The team of Khoroletc (49.84),  Nate Peterson (56.26), Magnus Poulsen (48.07), and Charles Bennett (45.41) finished in 3:19.48. SCAD took second in 3:21.87 and Keiser finished third in 3:23.07.
Tonight's A-Final:
1. Olivet Nazarene-3:19.48
2. SCAD-3:21.87
3. Keiser-3:23.07
4. Wayland Baptist-3:23.23
5. Lindsey Wilson-3:24.28
6. Thomas-3:24.98
7. WVU Tech-3:25.39
8. Cumberlands-3:25.49
Finals will begin at 5 p.m. EST.
All results can be found on Meet Mobile-NAIA National Championships 2017.