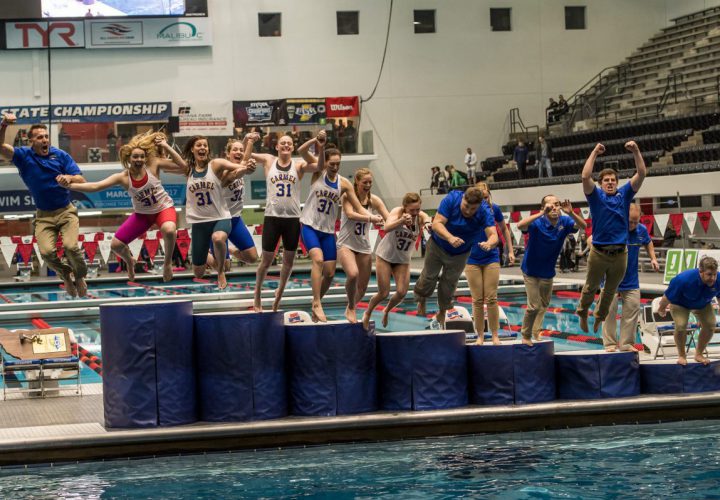 Photo Courtesy: Peter H. Bick
Agon is the proud sponsor of all high school coverage (recruiting, results, state championships, etc.) on SwimmingWorld.com. For more information about Agon, visit their website?AgonSwim.com.?National Records for High School Are Pending Application Verification.? Click Here to Learn More
Agon is the proud sponsor of all high school coverage (recruiting, results, state championships, etc.) on SwimmingWorld.com. For more information about Agon, visit their website AgonSwim.com.
The girls from Carmel High School will be chasing their 32nd consecutive Indiana High School state championship beginning Friday. Last year the team secured number 31, winning the meet by nearly 200 points. That squad saw two seniors, Emma Nordin and Sammie Burchill, win individual events.
The psych sheet does not suggest that Carmel is set up to repeat all three relay titles, but the team could rise to the occasion. Carmel is fourth in the 200 medley relay, seeded six seconds behind the state record the school set in 2015, and two seconds behind the top seed, Hamilton Southeastern. Carmel is also fourth headed into the 200 freestyle relay, a second and a half behind top seeded Northridge. In the 400 freestyle relay the defending champions have the fastest entry time.
Carmel junior Kelly Pash should be a key relay piece. She's top seed in the 100 (49.39) and 200 (1:47.68) freestyle events.
Trude Rothrock, a Carmel senior and Tennessee commit, is top seed in the 200 IM. She's got Yorktown junior and Indiana commit Emily Weiss on her tail. Weiss is the state record holder and top seed (59.68) in the 100 breaststroke.
Elizabeth Broshears, a sophomore from Evansville Reitz Memorial, enters the meet with the fastest times in two events: the 50 free (22.89) and 100 fly (53.75). She's followed by Rothrock (54.01) in the 100 fly.
The 500 free should be a tight race, with the top nine swimmers seeded between 4:54 and 4:59. Fishers junior Samantha Hietpas leads the way with a 4:54.49.
Purdue commit Tessa Wrightson is the top seed in the 100 back. The senior from Zionsville finished third in the 100 back, and second in the 50 free last year. She's seeded 12th in the 50 free, with an entry time six tenths slower than she ended up going last year.
Full psych sheet available here.