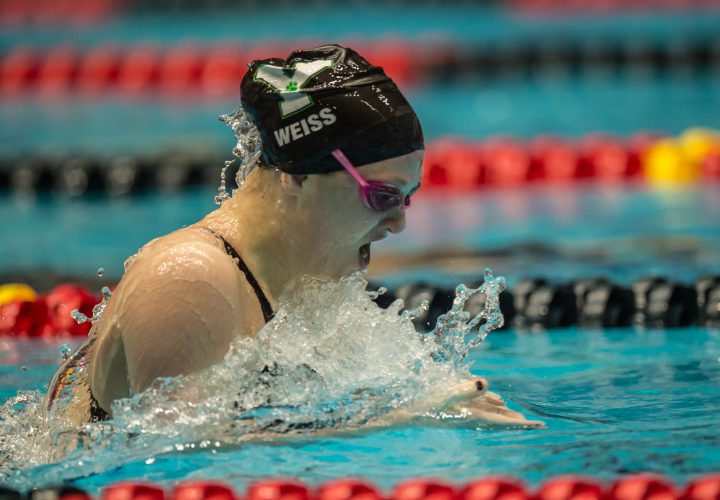 Agon is the proud sponsor of all high school coverage (recruiting, results, state championships, etc.) on SwimmingWorld.com. For more information about Agon, visit their website?AgonSwim.com.?National Records for High School Are Pending Application Verification.? Click Here to Learn More
Agon is the proud sponsor of all high school coverage (recruiting, results, state championships, etc.) on SwimmingWorld.com. For more information about Agon, visit their website AgonSwim.com.
By Andy Ross, Swimming World Contributor
The Carmel Greyhounds captured their 31st straight Indiana High School Girls State title on Saturday at the IUPUI Natatorium. What Carmel is doing deserves endless superlatives, as they won the competition with 386.5 points, almost 200 points ahead of second place Chesterton with 189. They won all three relays and saw two wins from their senior leaders, Emma Nordin and Sammie Burchill.
Carmel had a dominant performance, but it was Yorktown sophomore Emily Weiss who stole the show late in the meet. Weiss broke the state record in the 100 breaststroke with a 59.37, breaking the old record of 59.63 that belonged to reigning Olympic gold medalist and current SCY American record holder Lilly King. Weiss had just missed the record on Friday night with a 59.75 and took it out a half second faster to assure she got under King's record. Weiss is only a sophomore and she might chase after Lindsey Horejsi's 58.56 national record over the next two years.
The other state record to fall on the day went to Carmel senior Sammie Burchill in the 200 IM. Burchill broke the oldest state record on the books with a 1:56.67 to break Michelle McKeehan's 1:56.87 from 2008. Ironically, McKeehan swam four years at Georgia following her high school career and that is exactly where Burchill will be headed in the fall. Carmel now holds every state record on the girls side except diving and the recently broken 100 breast.
Carmel senior Emma Nordin had nearly broke her 500 free record with a 4:45.32 500 free for the win, just missing her 4:45.15 from 2015. Nordin also won the 200 free with a 1:47.08. Nordin will be heading to Arizona State in the fall. To top it off, Nordin was a part of the winning freestyle relays for her team. She anchored the 200 free relay team with a 22.99 to seal the win at 1:33.01. Grace Pangburn (23.64), Kelly Pash (23.04) and Rachel Young (23.34) set up Nordin for her victory lap. Nordin also swam the third leg for the winning 400 free relay team that swam a 3:19.10. Trude Rothrock (49.68), Kelly Pash (49.60), Nordin (50.52) and Burchill (49.30) made up the relay.
The only other double winner on the day was Bloomington South's Grace Haskett. The Indiana commit ran away with the 50 free with a 22.77 and came back later to win a tight 100 back. Haskett out-touched Burchill 53.38-53.71. It was the first time someone not from Carmel won the 100 back at this meet since 2008.
Carmel picked up a couple other victories from junior Trude Rothrock and sophomore Kelly Pash. Rothrock had a little bit of an upset victory over National Junior Teamer Hannah Kukurugya in the 100 fly. The junior out-touched the Stanford commit with a 52.97 ahead of Kukurugya's 53.33. Pash had a dominant performance in the 100 free with a 49.41 for the win. Carmel also kept their dominance in the 200 medley relay going with a 1:41.23 good for the victory. Burchill (25.32), Grace Estabrook (28.93), Rothrock (24.02) and Pangburn (22.96) comprised that relay.
Carmel is showing no signs of slowing down and they keep churning out stellar senior classes and phenomenal age group performances. There are still some swimming left for the school year, but Carmel definitely set the bar for the rest of the nation for a chance at the mythical national championship.
Check out results by clicking here, and below is our photo gallery from the meet, courtesy of Swimming World's Peter H. Bick.
This slideshow requires JavaScript.