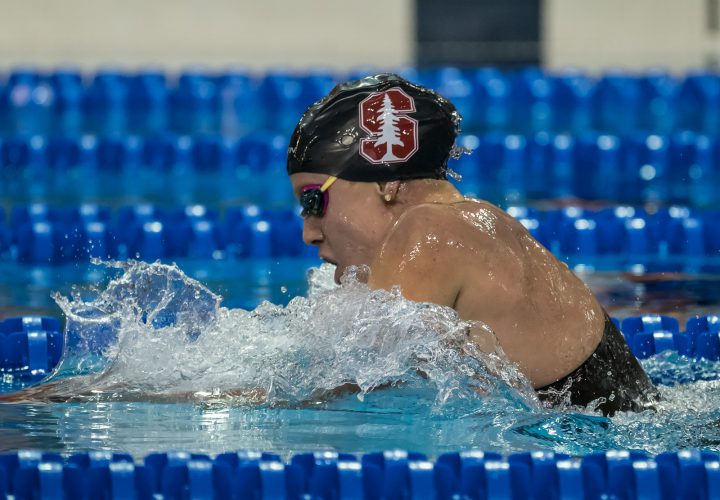 Photo Courtesy: Peter H. Bick
This week's Performance Of The Week, sponsored by LumaLanes, goes to Stanford junior Ella Eastin for her American and NCAA record performance in the 400 IM at the 2018 NCAA Division I Swimming & Diving Championships.
Just a few weeks before NCAAs, talk around the 400 IM centered around Eastin's teammate Katie Ledecky, arguably the most dominant swimmer competing right now. At the Pac-12 championships last month, Ledecky broke Eastin's American record with a 3:56.53, the fastest 400 IM in history up to that point. And with Ledecky forgoing the 200 free to swim the longer IM at NCAA's, all eyes were on the two Stanford swimmers to see who could get their hand on the wall first.
It ended up being Eastin's race to lose, with the junior leading from the 150 onward, building a monstrous 4 second lead over her teammate after the breaststroke leg. Finishing in 3:54.60 Eastin jumped over 3:55 entirely to become the fastest woman in history by nearly two seconds and throw down a swim for the ages. While there has been a lot of focus over Eastin's long course 400 IM DQ from last summer that kept her off the Worlds team, it is safe to say that the junior has used that disappointment as motivation for some head turning swims.
Eastin added two more individual titles in the 200 IM (which also happened to be an NCAA and American record of 1:50.67) and the 200 fly (1:50.01) as well as relay wins as part of the 400 and 800 free relays to end up as the CSCAA Swimmer of the Meet and help Stanford to their second straight NCAA team championship title.
Congratulations Ella Eastin on earning Swimming World's Performance of the Week!
Special Thanks to LumaLanes for sponsoring Swimming World's Performance of the Week.
Learn More About LumaLanes