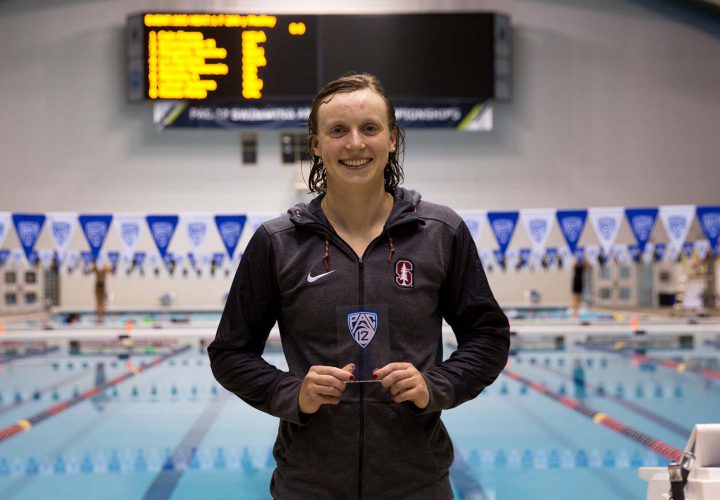 Photo Courtesy: Chuckarelei Studios
Stanford's Katie Ledecky took down both the American and NCAA records in the women's 400 IM at the Pac-12 championships Friday evening. Ledecky swam a time of 3:56.53, beating Katinka Hosszu's NCAA record of 3:56.54 set back in 2012 by one hundredth.
Ledecky also crushed the American record of 3:57.57 set by teammate Ella Eastin last year. Eastin finished second in the race in 3:57.32, also under her previous American record. She now ranks as the third-fastest performer in history behind Ledecky and Hosszu.
Eastin and Ledecky went head-to-head for much of the race, with Eastin taking over on the breaststroke before one of the all-time greats in freestyle took over on the last 100 on her way to a record.
Stanford's Brooke Forde took third in 4:01.04, making it a 1-2-3 sweep for the Cardinal.
Cal freshman Sarah Darcel was fourth in 4:03.00. Next came three more Stanford swimmers, Allie Szekely (4:06.63), Leah Stevens (4:07.74) and Hannah Kukurugya (4:09.19). Eight went to ASU's Marlies Ross (4:11.93).
Event 8  Women 400 Yard IM
=========================================================================
         NCAA: N 3:56.54  3/16/2012 Katinka Hosszu, USC
       Pac-12: M 3:56.54  2012      Katinka Hosszu, USC
 Pac-12 Champ: P 3:57.68  2017      Katie Ledecky, STAN
                 4:04.70  A Standard
                 4:19.39  B Standard
    Name           Year School            Prelims     Finals       Points 
=========================================================================
                            === A - Final ===                            
 
  1 Ledecky, Katie   SO STAN-PC           4:00.68    3:56.53NA       32  
                 25.90        54.75 (28.85)
        1:25.09 (30.34)     1:54.04 (28.95)
        2:28.65 (34.61)     3:03.47 (34.82)
        3:30.55 (27.08)     3:56.53 (25.98)
  2 Eastin, Ella     JR STAN-PC           4:02.22    3:57.32PA       28  
                 26.13        55.38 (29.25)
        1:26.03 (30.65)     1:55.41 (29.38)
        2:29.39 (33.98)     3:03.17 (33.78)
        3:30.66 (27.49)     3:57.32 (26.66)
  3 Forde, Brooke    FR STAN-PC           4:04.27    4:01.04 A       27  
                 26.03        55.15 (29.12)
        1:26.45 (31.30)     1:56.77 (30.32)
        2:31.31 (34.54)     3:06.24 (34.93)
        3:34.30 (28.06)     4:01.04 (26.74)
  4 Darcel, Sarah    FR CAL-PC            4:06.56    4:03.00 A       26  
                 25.78        55.00 (29.22)
        1:25.97 (30.97)     1:55.96 (29.99)
        2:30.65 (34.69)     3:05.80 (35.15)
        3:34.79 (28.99)     4:03.00 (28.21)
  5 Szekely, Allie   SO STAN-PC           4:05.85    4:06.63 B       25  
                 26.34        55.93 (29.59)
        1:26.90 (30.97)     1:56.85 (29.95)
        2:32.09 (35.24)     3:08.16 (36.07)
        3:37.64 (29.48)     4:06.63 (28.99)
  6 Stevens, Leah    JR STAN-PC           4:08.63    4:07.74 B       24  
                 27.43        58.16 (30.73)
        1:30.41 (32.25)     2:01.42 (31.01)
        2:36.75 (35.33)     3:11.97 (35.22)
        3:40.25 (28.28)     4:07.74 (27.49)
  7 Kukurugya, Hann  FR STAN-PC           4:09.15    4:09.19 B       23  
                 26.73        56.67 (29.94)
        1:29.46 (32.79)     2:01.06 (31.60)
        2:36.52 (35.46)     3:12.19 (35.67)
        3:41.01 (28.82)     4:09.19 (28.18)
  8 Ross, Marlies    JR ASU-AZ            4:08.94    4:11.93 B       22  
                 26.40        56.93 (30.53)
        1:28.13 (31.20)     1:59.27 (31.14)
        2:34.77 (35.50)     3:11.24 (36.47)
        3:42.00 (30.76)     4:11.93 (29.93)