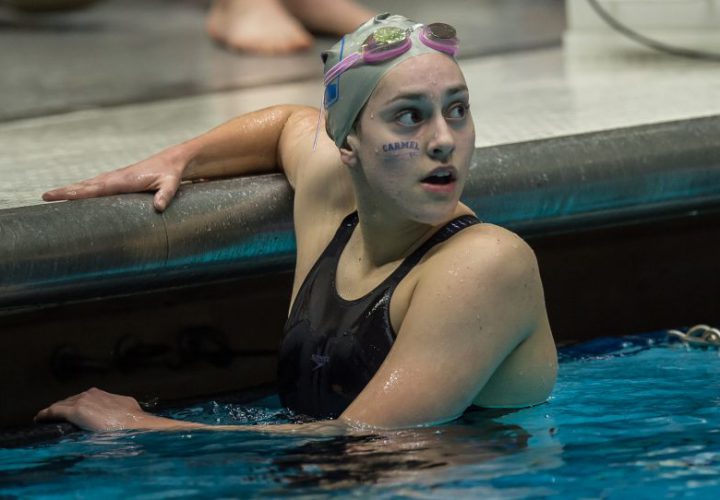 Photo Courtesy: Peter Bick
Agon is the proud sponsor of all high school coverage (recruiting, results, state championships, etc.) on SwimmingWorld.com. For more information about Agon, visit their website?AgonSwim.com.?National Records for High School Are Pending Application Verification.? Click Here to Learn More
Agon is the proud sponsor of all high school coverage (recruiting, results, state championships, etc.) on SwimmingWorld.com. For more information about Agon, visit their website AgonSwim.com.
By Andy Ross, Swimming World Contributor
Another year, another dominant performance by the Carmel Girls Team at the Indiana High School Swimming and Diving Championships. The Greyhounds have won 30 straight state titles and are showing no signs of slowing down, thanks to their continued depth.
Carmel had a lights out performance on Friday night at the preliminary session with 16 A-final swims along with 8 B-final swims. To put that in perspective, Chesterton has the second most amount of A-final swims returning with ten. No one has been able to match Carmel's depth and that is why they continue to be dominant.
Carmel Senior Emma Nordin is the top seed going into tomorrow's finals in the 200 and 500 freestyle. The Arizona State commit went 1:47.88 and 4:46.98 respectively. She will be chasing former teammate and current Texas freshman, Claire Adams' state record in the 200 that stands at 1:45.09, as well as her own record in the 500 at 4:45.15 from two years ago. Nordin also anchored Carmel's 400 free relay team to the top seed at 3:25.51. She swam alongside Caroline Schultz, Kendra Bowen and Morgan Grout.
There were two other swimmers that achieved the top seed spot in two individual events. One was Crown Point senior and national junior team member, Hannah Kukurugya. The Stanford commit is the top seed in the 200 IM at 1:57.99, where she will be chasing the much vaunted state record held by Michelle McKeehan at 1:56.87 from 2008. She will also get pressure from Carmel senior and defending champion, Sammie Burchill, who is seeded second at 1:59.35. The Georgia commit won the event last year at 1:57.99, so it is anybody's race tomorrow. Kukurugya is also the top seed in the 100 fly with a 53.26, where she has an outside chance at getting Veronica Burchill's state record of 51.79 set last year.
The other to get two top seed spots was Bloomington South Senior Grace Haskett. The Indiana commit is first in the 50 free with a 22.68, within half a second of Amy Bilquist's state record of 22.15 from 2015. She is also the top seed in the 100 back with a 53.81, but is closely followed by Sammie Burchill (53.85) and Tessa Wrightson of Zionsville (53.88). Carmel has won the 100 back eight straight times at the IHSAA state meet and it will be up to Burchill to continue that streak after the graduation of four-time defending champion Claire Adams. The eight-year winning streak is the longest current streak that any school has in an individual event in Indiana.
Carmel also picked up a top seed from Sophomore Kelly Pash in the 100 free where she is first at 49.17. Pash is less than a second away from Bilquist's state record of 48.36 set two years ago. Pash was the only one in the field to break 50 seconds. Pash also anchored Carmel's 200 free relay team that is seeded first with a 1:34.52. She teamed with Alyssa Conley, Avery Williams and Rachel Young to claim the top seed. They are followed by five teams at 1:35, but who knows who Carmel will put on their relay tomorrow. They have won eight of the last nine state titles in that relay.
One of the quiet stars of the meet right now is Sophomore Emily Weiss of Yorktown. She won the 100 breaststroke at the meet a year ago with a 1:02 and is the top seed going into tomorrow with a 59.75. She is agonizingly close to Olympic gold medalist Lilly King's state record of 59.63 set two years ago. Weiss is nearly two seconds ahead of second place seed Aislinn Walsh of South Bend St. Joseph's and the IUPUI Natatorium crowd should definitely be on record watch during the 100 breast final tomorrow.
Carmel has won eight straight 200 medley relay state titles but will walk out tomorrow as the third seed in that event. Penn (Madilyn Ziegert, Kionna Clayton, Makenna Bottorf and Meagan Ronci) is the top seed with a 1:42.65. Bloomington South, led by Haskett, is second at 1:43.10 and Carmel is third at 1:43.34. Carmel could still be holding a few swimmers for tomorrow, but it will be interesting if any other team could challenge their stranglehold of that relay.
Finals will be tomorrow at 1 p.m. EST and will be streamed live at IHSAAtv.org. Meet results can be found on Meet Mobile as well as IHSAA.org.