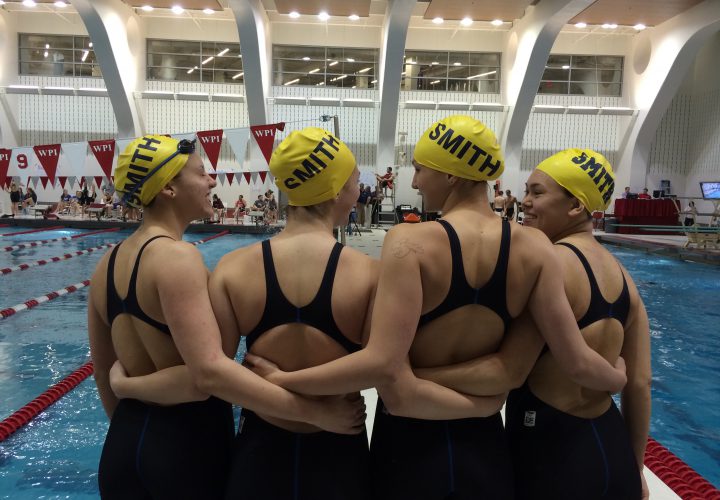 NCAA DI editorial coverage is proudly sponsored by Adidas. Visit adidasswimming.com for more information on our sponsor. For all the latest coverage, check out our event coverage page.
CLICK HERE FOR LIVE RESULTS
A fast weekend of swimming during the first group of conference championships set up a pretty solid preview of what it will take to qualify for the 2017 NCAA Division III Swimming & Diving Championships. A strong group of seniors led the way but are followed closely by a quick class of freshmen. But there is still a lot of fast swimming coming up; here is everything you need for the second wave of conference championships.
New England Small College Athletic Conference (Men),
Feb. 17-19
Participating Institutions:
Amherst College, Bates College, Bowdoin College, Colby College, Connecticut College, Hamilton College, Middlebury College, Trinity College, Tufts University, Wesleyan University, Williams College
Swimmers to Watch:
Benjamin Lin (Williams, backstroke) – Lin has taken hold of the NESCAC backstrokes over the last three years. He won the 100 and 200 at the last two NESCACs, and won the 100 at NCAAs as a sophomore with a time of 47.47. He has also led off the 400 medley relay in 47.03, which is the current NCAA division III record. He claimed runner-up honors last season in the event, and will be looking for another title this season. Lin is not known to swim particularly fast in season, especially with the late start to the NESCAC season. He is swimming right around where he has in previous seasons (49-high to 50.0 in dual meets). History has shown that Lin will likely swim a 47-high this weekend at NESCACs, which is the swim he needs as he is currently outside the top twenty in the 200 and fifteenth in the 100.
Kingsley Bowen (Tufts, backstroke) – Coming off two All-American swims at last year's NCAAs, Bowen will be looking to take over as the leader of backstroke in the NESCAC Conference. This would require a lot, as Lin has won the backstrokes the last two years. But it is not out of Bowen's capability that is for sure. He took second in the 200 back last year with a 1:47.34 and then swam just off this time for a fourth place finish at NCAAs. His 1:49.23 from December has him fourteenth, while he is ranked seventh in the 100 with a 49.41, just three tenths off his time from March. Bowen and Lin should put together quite the race in both distances; you cannot count out Bowen despite Lin's veteran status and ability to swim fast when it matters.
Zachary Wallace (Tufts, IM) – Wallace, a junior, will be looking to take his first trip to the NCAA Championships. Wallace consistently places in the top eight at NESCACs, but has never quite put together the 400 IM to make the meet. This year, he has already set lifetime bests in the IMs in December; his 1:51.45 puts him twenty-first in the national rankings while his 3:58.28 puts him twelfth. His best chance is definitely in the 400 IM, as this time should hold up even if he does not drop time. There are two to three swimmers this upcoming weekend that could knock him down, but if he drops any amount of time this weekend you can expect to see Wallace in Shenandoah.
New England Women's and Men's Athletic Conference,
Feb. 16-19
Participating Institutions:
Babson College, Clark University, Massachusetts Institute of Technology, Mount Holyoke College, Smith College, Springfield College, United States Coast Guard Academy, Wellesley College, Wheaton College, Worcester Polytechnic Institute
Swimmers to Watch:
Veronika Jedryka (MIT, backstroke) – Jedryka will be making her fourth and final trip to NCAAs this year; she has won at least one event every year at NEWMACs, including the 200 back for all three years. She has earned four individual All-America titles, and should add two more this go around. She holds the seventh fastest time in the 200 back (2:01.36), even through a tough round of conference championships last weekend. She also holds the twelfth ranked time in the 100 (56.19). With these times posted, she may not be completely resting for NEWMACs this year. Even so, she should not see any real challenges in the backstrokes. This may not prove true if she swims the 50 free, an event she has claimed runner-up honors in for the last two years in a row. While the times are less important this weekend, keep an eye out for Jedryka to go after the triple here, an impressive way to leave the NEWMAC her senior year.
Jessica Chen (MIT, breaststroke) – Chen was last season's runner-up in both breaststrokes at NEWMACs. Once again, she will face off against Springfield All-American Emily Medeiros. But this time around it is Chen who has the upper hand headed into the meet, as she is seeded at 1:03.68 and 2:20.12 to Mederios' 1:03.77 and 2:20.72. The reality for both of these women is that they will both need to swim a bit faster in order to qualify for NCAAs, a meet where they both made finals last year. Both rank outside the top twenty in the 200, while Chen is currently fourteenth and Medeiros seventeenth in the 100. Medeiros should have no problem as she posted a 1:02 and 2:16 at this meet last year, but Chen will need to make sure she dips under 2:20 and drops a few tenths in the 100 in order to secure a spot. Regardless, Chen should put up a few races to challenge Medeiros, and could end up taking the 100 if she puts together the perfect race.
Bouke Edskes (MIT, backstroke/IM) – Edskes has not wasted any time during his freshman season. He currently holds the fourth fastest time nationwide in the 400 IM, (3:53.40) the fifth in the 100 back (49.28) and the sixth in the 200 fly (1:49.01). While it is not the most common combination of events, Edskes excels in all of them and should lead MIT to a high team finish at NCAAs. He should be challenged by a variety of different teammates this weekend, which will prepare him for these events in March. This is a tough year to be a 200 or 400 IMer on the men's side in division III, so Edskes will need all the preparation he can get.
Brandon McKenzie (MIT, breaststroke/IM) – Just a sophomore, McKenzie will be looking to add more All-American titles to the one he earned last year in the 400 IM. After winning both the IMs at NEWMACs, he went on to an eighth-place finish in March with a time of 3:58.66, his first time breaking the 4:00 barrier. Currently, McKenzie ranks eighth in this event (3:56.31) but also ranks sixth in the 100 breast (55.14) and tenth in the 200 breast (2:01.11). He will have no problem making the meet, but will certainly be a swimmer to keep an eye on this weekend. Expect him to put together solid back halves of his IMs to challenge Edskes if the two end up facing off.
Upper New York State Collegiate Swimming Association, Feb. 15-18
Participating Institutions:
Ithaca College, Rochester Institute of Technology, Rensselaer Polytechnic Institute, Stevens Institute of Technology, Hartwick College, Union College, Hobart and William Smith Colleges, Nazareth College, Vassar College, Hartwick College, Skidmore College, Clarkson University, Saint Lawrence University, Alfred University, Utica College
Swimmers to Watch:
Shanny Lin (RPI, butterfly) – Lin holds the second rank across all division III swimmers in the 200 butterfly, even after a loaded weekend of championships. She is second only to Denison's Halli Garza who out-swam her by nine one hundredths. Lin has placed fourth in this event at NCAAs for the last two years; she always comes in with a quick seed time and this year is no different. Like the previous two years, Lin has a realistic chance at taking this event in March. She was almost a full second faster in this event in December than she was last year, so this is a good indicator of what is to come. You would think with this fast of a seed time that she would be unchallenged this weekend in the butterfly events, but her races at UNYSCSAs will prepare her for NCAAs. She should come out on top in the 200, but it may not be easy as she is likely to swim not fully rested this weekend.
Sarah Jurczyk (Stevens, butterfly) – Lin's biggest competitor will be Jurczyk, a junior who has won the 100 fly two years in a row but has not put together as good of a 200. She currently ranks twenty-third in the 200 with a 2:04.92, while she sits third in the 100 with a 54.89. She should easily take the 100 at UNYSCSAs and has a shot at claiming the event in March as well. She finished eleventh last year, but was not under 55 seconds all season. She is one of five swimmers to do so this season, so it will be interesting to see who takes this one in Shenandoah.
Julia Cunningham (Vassar, butterfly) – Also in the butterfly mix this weekend will be Vassar senior Cunningham. After a fifth place finish in the 200 fly at NCAAs last year, she will need a quick swim this weekend to make the meet. Last season, she posted a 2:01.92 after swimming a 2:04.50 at conferences. She will need to be slightly under this time to make it this year, but she is in good company to help her do so. Expect Cunningham to take the second spot in the 200 behind Lin as she should be strong enough to get to the wall ahead of Jurczyk. Her experience in this event will play a big role in her success.
Four More to Watch:
Samantha Senczyszyn (Wisconsin – Eau Claire) – WIAC Conference
Just as Senczyszyn burst onto the NCAA scence last year claiming the 100 breast at NCAAs, (1:01.09) she will need to be prepared to battle a few freshmen in March. She will not see the same level of competition at WIACs this weekend, and is unlikely to compete on a full taper. Her times from December are both still ranked number one in the breaststrokes, as she posted a 1:01.11 and 2:14.22 at the Rochester Invitational. She also holds the second fastest time in the 50 free at 23.08. This will be a challenging event to win in Shenandoah but she should have the experience to re-claim the 100 breast. This weekend, you can expect Senczyszyn to claim her three events with ease, but it is always fun to watch a swimmer of this caliber.
Emma Paulson (Saint Thomas) – MIAC Conference
Similarly to last year, Paulson has swam a bit under the radar so far this season. She posted a 23.36 in December, which is just seven one-hundredths off what she swam last year. This swim puts her eighth, but Paulson took advantage of the conference championship last year by racing to a 22.86. This time would put her first. She won the NCAA title in 22.77, and could be the one to break the NCAA record of 22.71 in this event. She also holds the seventh rank in the 100 free at 50.87, a time she did not reach until NCAAs last season. If this is any indication of how fast Paulson can go, she will be ready to go after the win and record in the shorter distance. Paulson's performance this weekend will be a better indication, but you cannot count her out until the race is over in March.
Ryan Boraski (Keene State)- NEISDA Conference
Boraski is looking to add a few more All-American titles to his collection come March. His journey begins this weekend at the NEISDA Championships, although lowering his times is not crucial at this point as he is sitting second in the 100 free (44.23) and third in the 50 (19.95) in the national rankings. He may not even race these events, as it is safe to say that he is in for Shenandoah. After a third place finish in the 100 last year at NCAAs, Boraski is looking to improve on that mark and earn All-America status in the 50 and 200 as well. He should not see any competitors as a huge threat this weekend unless he races the backstrokes.
Jesse Novak (Rowan) – Metropolitan Championships
Novak may be the true challenger for Boraski in March, as he holds the top time in the 100 at 43.82. He may get a good race this weekend against Bridgeport's Didac Matsuyama, but expect Novak to ultimately take the wins in the sprint freestyles. He is the defending Metro champion in both the 50 and the 100, and will be looking for his first national title in a few weeks. Novak is always race-ready so expect him to post some fast times whether he is fully rested or not.