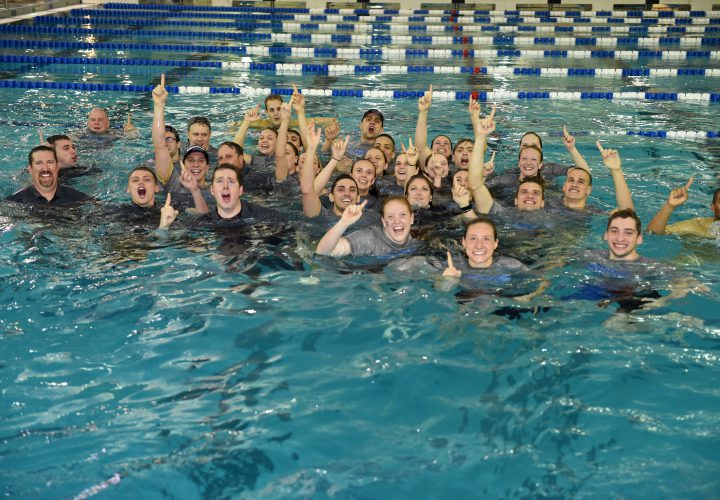 Photo Courtesy: Queens Athletics
Editorial content for the 2018 NCAA DII Championship coverage is sponsored by TritonWear. Visit TritonWear.com for more information on our sponsor.
It is still very early in the 2017-2018 season, but one of the biggest duel meets across any divisions will occur this weekend in Charlotte as three-time defending Division II national champions Queens will host the defending Division III national champions Emory. Emory and Queens both swept the men's and women's national team titles at NCAA's last year as the Emory women won their eighth straight title while the men won their first ever. Queens men and women each have won three straight team titles.
Queens already has wins over Richmond and in-state Davidson. This will be a huge test for Queens this early in the season. They lose their front-runner in Dion Dreesens, but they return national champions Paul Pijulet in his senior season and Marius Kusch in his junior season. They also have national champion Nick Arakelian in his senior year alongside Ben Mayes and Zach Bunner who were a part of a couple relay national titles for Queens last year.
Emory may have lost superstar Andrew Wilson who won three individual events last season, but they return 50 free national champ Oliver Smith as well as sophomore Sage Ono who led off the national championship winning medley relay teams.
The Emory women also lost a couple key seniors in Marissa Bergh and Marcela Sanchez-Aizcorbe, but they return Fiona Muir and Cindy Cheng. Muir won the 100 free national title last year while Cheng won the 200 free and 100 back, going 1-2 with Muir in each.
The Queens women lost their lone individual national champion in Hannah Peiffer in the 200 back, but return top eight scorers in McKenzie Stevens and Kyrie Dobson.
Whoever wins the meet in Charlotte this weekend will have bragging rights across the lower divisions and will certainly be in the driver's seat to win another national title this season in their respective division. The loser will still have a good chance at winning their respective national title.
Another big meet this weekend is the Shark Invitational in Fort Lauderdale hosted by Nova Southeastern. It is a three day meet that will feature many of the prominent Division II schools in the southeast. Wingate (3rd), Nova Southeastern (4th) and West Florida (6th) placed in the top ten at NCAA's last season on the women's side while Florida Southern (4th) joined Nova Southeastern (3rd) and Wingate (6th) in the top ten on the men's side. Other teams that will be swimming in Fort Lauderdale include Carson-Newman, Indianapolis, junior college Indian River and NAIA Keiser.
There will be new names at the meet as West Florida's Theresa Michalak and Nova Southeastern's Anton Lobanov have used up all of their NCAA eligibility. Nova Southeastern also lost distance freestyler Franco Lupoli but return backstroker Marco Aldabe. Wingate also will be missing NCAA runner-ups in Viktoriya Arkhipova and Alexis Divelbiss to graduation.
A lot of these teams at the Shark Invitational will have new faces, but they still are strong teams in the Division II race this season, so the Division II teams will be keeping an eye on what goes on this weekend in Fort Lauderdale.