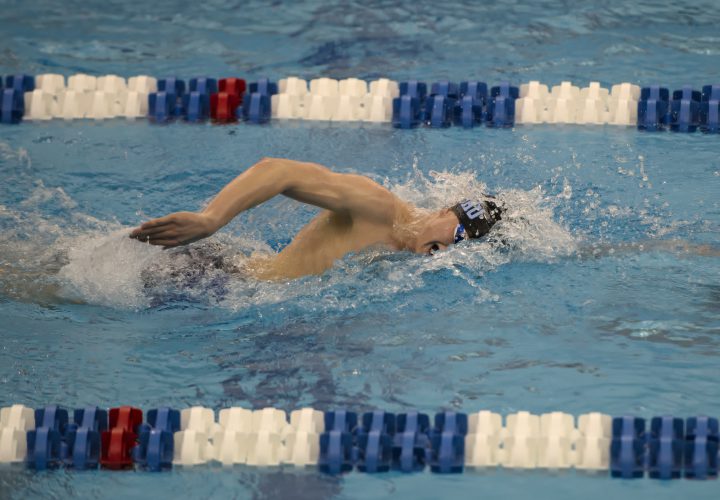 Photo Courtesy: James B Coon, JHU Athletics
NCAA DI editorial coverage is proudly sponsored by Adidas. Visit adidasswimming.com for more information on our sponsor. For all the latest coverage, check out our event coverage page.

CLICK HERE FOR LIVE RESULTS
Men's 200 Free
NCAA Record: 1:36.63 – Dennis Mulvihill, Kenyon (1988)
2016 Champion: 1:36.87 – Thomas Thetford, Washington & Lee
After three runner-up finishes at last year's NCAA Championships, Johns Hopkins' Evan Holder can finally call himself an individual NCAA Champion…and the fastest 200 freestyler in D-3 history at that.
His swim of 1:36.42 was good enough to break the D-3 NCAA record set 29 years ago by Dennis Mulvihill of Kenyon. Despite being behind for the first 150, Holder was actually out three tenths faster than he was this morning, making the ultimate difference in his record-breaking swim.
Keene State's Ryan Boraski was first to the 150, but finished third in 1:37.10. Boraski also placed third in last night's 50 freestyle and will compete in the 100 free on Sunday. If his initial speed here is any indication of how the 100 will go, keep an eye on Boraski come Sunday night.
Taking runner-up honors this time around was Emory's Thomas Gordon who swam to a best of 1:37.08, nearly four seconds faster than his entry time coming into the meet. Teammate Christian Baker placed seventh in this event, earning 29 combined points for the Eagles. Kenyon earned 15 points from Arthur Conover's fourth place finish and Robert Williams' eleventh place race. This extended the Eagles' lead to 19.5 points headed into the 400 medley relay.
NYU's Alexander Katz and Johns Hopkins' Andy Greenhalgh touched out Williams in the consolation final swimming 1:37.72 and and 1:38.73, respectively.
                       === Championship Final ===                        
 
  1 Holder, Evan           SR Johns Hopkins     1:36.67    1:36.42   20  
                 22.41        46.81 (24.40)
        1:11.62 (24.81)     1:36.42 (24.80)
  2 Gordon, Thomas         SO Emory             1:38.06    1:37.08   17  
                 22.63        47.23 (24.60)
        1:12.08 (24.85)     1:37.08 (25.00)
  3 Boraski, Ryan          SR Keene St.         1:37.32    1:37.10   16  
                 21.65        46.39 (24.74)
        1:11.57 (25.18)     1:37.10 (25.53)
  4 Conover, Arthur        SR Kenyon            1:37.93    1:37.12   15  
                 22.98        47.78 (24.80)
        1:12.52 (24.74)     1:37.12 (24.60)
  5 Sarier, Karl           SO Bowdoin           1:38.49    1:37.78   14  
                 23.30        48.34 (25.04)
        1:13.48 (25.14)     1:37.78 (24.30)
  6 Dauksher, Walt         SO Denison           1:37.96    1:38.01   13  
                 23.39        48.23 (24.84)
        1:12.98 (24.75)     1:38.01 (25.03)
  7 Baker, Christian       SR Emory             1:38.16    1:38.58   12  
                 23.18        48.29 (25.11)
        1:13.43 (25.14)     1:38.58 (25.15)
  8 Wohl, Michael          SO Johns Hopkins     1:38.34    1:42.03   11  
                 23.15        48.81 (25.66)
        1:15.30 (26.49)     1:42.03 (26.73)