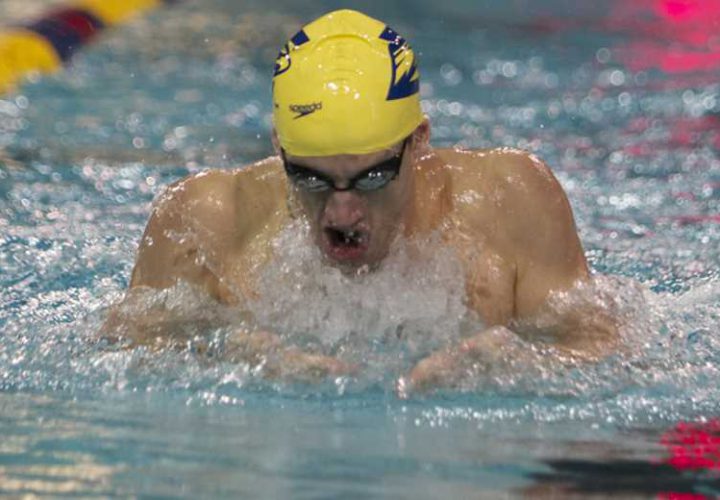 Photo Courtesy: UAA Sports
NCAA DI editorial coverage is proudly sponsored by Adidas. Visit adidasswimming.com for more information on our sponsor. For all the latest coverage, check out our event coverage page.
CLICK HERE FOR LIVE RESULTS
Men's 400 Medley Relay
NCAA Record: 3:12.96 – Ono, Wilson, Cooper, Kolleck (Emory, 2017)
2016 Champion: 3:15.20 – Anderson, Manz, Josephson, Duronio (Kenyon)
Once again, the dream team of Sage Ono, Andrew Wilson, Christian Baker and Oliver Smith came together to break the D-3 NCAA record in the 400 medley relay.
Of course, Wilson had the split of the night with a 50.27 breaststroke leg. That's nearly what some teams had as their fly leg let alone breaststroke. But another notable split on this relay is Oliver Smith's 43.33. Smith has always struggled at the 100 distance compared to his 50; he has only been 44.34 compared to his 19.55 sprint.
Ben Lin was just off his 100 back split from this morning, and recent NCAA Champion and record holder Evan Holder split a great 53.05 breaststroke leg for Johns Hopkins who took third.
 Event 20  Men 400 Yard Medley Relay
==================================================================================
    School                              Prelims     Finals Points 
==================================================================================
                            === Championship Final === 
  1 Emory                               3:12.96    3:10.51   40  
     1) Ono, Sage FR                  2) Wilson, Andrew SR            
     3) Baker, Christian SR           4) Smith, Oliver JR             
                 22.94        48.07 (48.07)
        1:11.24 (23.17)     1:38.34 (50.27)
        2:00.51 (22.17)     2:27.18 (48.84)
        2:47.39 (20.21)     3:10.51 (43.33)
  2 Williams                            3:16.26    3:15.72   34  
     1) Lin, Ben SR                   2) Melnick, Jack SO             
     3) Kostolansky, Timothy JR       4) Johnson, Grant SR            
                 22.73        46.94 (46.94)
        1:12.94 (26.00)     1:42.78 (55.84)
        2:04.64 (21.86)     2:30.58 (47.80)
        2:52.02 (21.44)     3:15.72 (45.14)
  3 Johns Hopkins                       3:18.30    3:16.04   32  
     1) Kuyl, Emile SO                2) Holder, Evan SR              
     3) Wilson, Mark JR               4) Wohl, Michael SO             
                 23.68        49.49 (49.49)
        1:14.04 (24.55)     1:42.54 (53.05)
        2:04.60 (22.06)     2:30.88 (48.34)
        2:52.10 (21.22)     3:16.04 (45.16)
  4 Kenyon                              3:16.26    3:16.30   30  
     1) Baturka, Ben FR               2) Manz, Trevor SR              
     3) Zimdars, Jonathon SO          4) Carpenter, Weston SO         
                 24.02        49.13 (49.13)
        1:14.16 (25.03)     1:43.44 (54.31)
        2:05.72 (22.28)     2:31.70 (48.26)
        2:52.65 (20.95)     3:16.30 (44.60)
  5 Wash U. MO                          3:16.77    3:16.62   28  
     1) Wilson, Peyton FR             2) Lagieski, Michael SR         
     3) Pek, Andrew SO                4) Brown, Ross JR               
                 23.72        49.40 (49.40)
        1:14.41 (25.01)     1:42.74 (53.34)
        2:05.30 (22.56)     2:31.90 (49.16)
        2:52.88 (20.98)     3:16.62 (44.72)
  6 Denison                             3:17.83    3:17.15   26  
     1) Lindell, Jackson SR           2) Foster-Smith, Tiernan SO     
     3) Fox, Kenny SO                 4) Wagner, Zach JR              
                 24.46        50.18 (50.18)
        1:15.62 (25.44)     1:44.85 (54.67)
        2:06.80 (21.95)     2:33.11 (48.26)
        2:53.72 (20.61)     3:17.15 (44.04)
  7 NYU                                 3:17.54    3:17.63   24  
     1) Moody, Chad JR                2) Kou, Timothy JR              
     3) Delbuono, Joe SO              4) Katz, Alexander JR           
                 23.67        48.95 (48.95)
        1:14.25 (25.30)     1:43.36 (54.41)
        2:06.09 (22.73)     2:33.08 (49.72)
        2:54.10 (21.02)     3:17.63 (44.55)
  8 MIT                                 3:17.51    3:17.85   22  
     1) Smith, Daniel SO              2) Chiu, Justin JR              
     3) Edskes, Bouke FR              4) Bogle, Jeremy JR             
                 23.79        50.31 (50.31)
        1:15.80 (25.49)     1:45.47 (55.16)
        2:07.19 (21.72)     2:33.15 (47.68)
        2:54.54 (21.39)     3:17.85 (44.70)