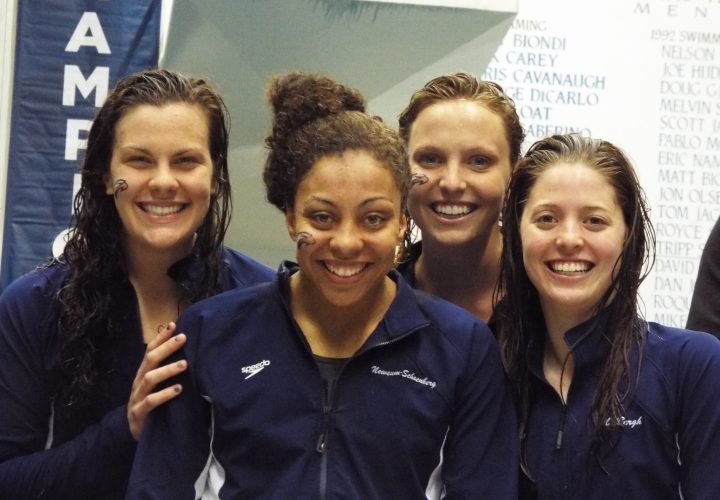 Photo Courtesy: Hayley Good
NCAA DI editorial coverage is proudly sponsored by Adidas. Visit adidasswimming.com for more information on our sponsor. For all the latest coverage, check out our event coverage page.
CLICK HERE FOR LIVE RESULTS
Women's 400 Medley Relay
NCAA Record: 3:40.13 – Oberholzer, Kaestner, Saiz, Towsend (Kenyon, 2013)
2016 Champion: 3:42.76 – Cheng, Kowalsky, Sanchez – Aizcorbe, Bergh (Emory)
Emory's team of Cindy Cheng, Annelise Kowalsky, Marcela Sanchez-Aizcorbe and Fiona Muir broke the NCAA D-3 record in this event.
Cheng started off with a 54.24 leadoff giving Kowalsky about a half second advantage over Williams' Caroline White. The breaststroke splits between these two team were nearly identical, but nobody in the field could out-split Emma Waddell in the fly at 53.15. But Muir was too much for Lauren Jones to handle as she split an incredible 49.05 to bring it home for the Eagles.
Williams' final time was nearly under the previous record mark as well, but the Ephs came up just short in the end. Kenyon was third in 3:43.47 including a great 49.77 anchor leg from Orbach-Mandel.
Once again, NYU was disqualified in the championship final. This is the team's third in two days.
                            === Championship Final ===                            
 
  1 Emory                               3:41.97    3:39.57   40  
     1) Cheng, Cindy JR               2) Kowalsky, Annelise SR        
     3) Sanchez-Aizcorbe, Marcela SR  4) Muir, Fiona SO               
                 26.08        54.24 (54.24)
        1:22.66 (28.42)   1:56.17 (1:01.93)
        2:21.23 (25.06)     2:50.52 (54.35)
        3:13.53 (23.01)     3:39.57 (49.05)
  2 Williams                            3:42.17    3:40.57   34  
     1) Jackson, Olivia SR            2) White, Caroline FR           
     3) Waddell, Emma JR              4) Jones, Lauren SR             
                 26.81        54.98 (54.98)
        1:23.81 (28.83)   1:56.98 (1:02.00)
        2:21.54 (24.56)     2:50.13 (53.15)
        3:14.44 (24.31)     3:40.57 (50.44)
  3 Kenyon                              3:46.31    3:43.47   32  
     1) Otazu, Summer FR              2) Wilson, Julia JR             
     3) Desai, Kanchi JR              4) Orbach-Mandel, Hannah SO     
                 26.63        55.69 (55.69)
        1:24.56 (28.87)   1:57.95 (1:02.26)
        2:23.65 (25.70)     2:53.70 (55.75)
        3:17.33 (23.63)     3:43.47 (49.77)
  4 W & L                               3:45.25    3:44.72   30  
     1) Rollo, Emily SR               2) Hageboeck, Emily FR          
     3) MacQueen, Ali FR              4) Chancey, Elle SO             
                 26.72        55.65 (55.65)
        1:25.70 (30.05)   1:59.62 (1:03.97)
        2:24.85 (25.23)     2:54.11 (54.49)
        3:18.15 (24.04)     3:44.72 (50.61)
  5 Denison                             3:44.52    3:45.12   28  
     1) Kirby, Casey FR               2) Kustritz, KT FR              
     3) Le, Angela FR                 4) Kane, Carolyn SR             
                 27.19        57.04 (57.04)
        1:25.79 (28.75)   1:58.98 (1:01.94)
        2:24.59 (25.61)     2:54.47 (55.49)
        3:18.44 (23.97)     3:45.12 (50.65)
  6 Conn College                        3:45.44    3:47.07   26  
     1) Fergus, Danielle SO           2) Erb, Mary FR                 
     3) Peterson, Anna SR             4) Haskell, Olivia SO           
                 27.62        57.00 (57.00)
        1:25.84 (28.84)   1:59.71 (1:02.71)
        2:25.67 (25.96)     2:56.59 (56.88)
        3:20.10 (23.51)     3:47.07 (50.48)
  7 Amherst                             3:46.39    3:47.08   24  
     1) Moriarty, Stephanie JR        2) Shu, Ingrid FR               
     3) Lam, Geralyn JR               4) Rumpelt, Natalie FR          
                 27.08        56.62 (56.62)
        1:26.06 (29.44)   1:59.35 (1:02.73)
        2:24.86 (25.51)     2:55.33 (55.98)
        3:20.40 (25.07)     3:47.08 (51.75)
 -- NYU                                 3:45.22         DQ  
     1) Li, May SO                    2) Gibbs, Elise SR              
     3) Lin, Kathy FR                 4) Leung, Noel SO               
                 27.16        57.20 (57.20)
        1:26.09 (28.89)   2:00.20 (1:03.00)
        2:25.55 (25.35)     2:54.65 (54.45)
        3:18.45 (23.80)          DQ (50.27)