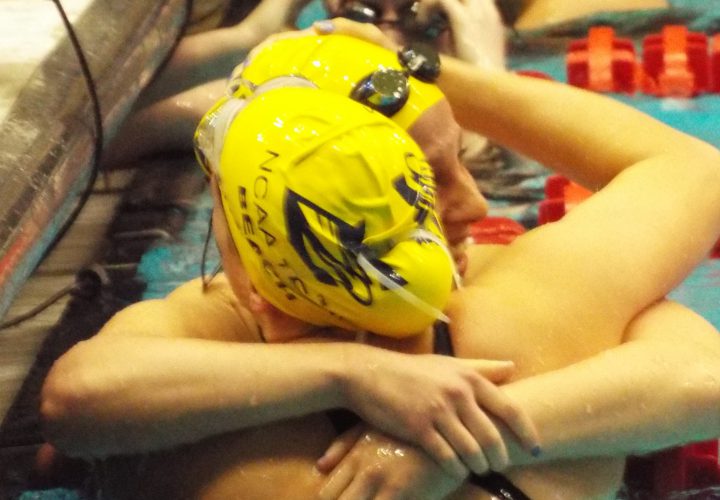 Photo Courtesy: Hayley Good
NCAA DI editorial coverage is proudly sponsored by Adidas. Visit adidasswimming.com for more information on our sponsor. For all the latest coverage, check out our event coverage page.

CLICK HERE FOR LIVE RESULTS
Women's 200 Free
NCAA Record: 1:44.82 – Kendra Stern, Amherst (2011)
2016 Champion: 1:48.88 – Julia Wawer, Emory
The Eagles took full advantage of their three swimmers in tonight's A final with first, second and fifth place finishes. Cindy Cheng took top honors in 1:46.82 followed by Fiona Muir in 1:47.78. Both women went out fast and had no problem securing the win as the race went on.
Kenyon duo Hannah Orbach-Mandel and Abby Wilson each raced to top finishes as Orbach-Mandel took third in 1:48.83 and Wilson touched fourth in 1:48.89. It was a great last 50 for Orbach-Mandel to give her the edge; her 27.60 split was the fastest of anyone in the field.
Kenyon's Delaney Ambrosen cracked the 1:50 barrier tonight by racing to a 1:49.88 claiming the consolation final. Chicago's Alison Wall also dipped under for the first time finishing next in 1:49.97. In an attempt to make a move on the final 75, Wall slightly ran out of room to catch Ambrosen.
                       === Championship Final ===                        
 
  1 Cheng, Cindy           JR Emory             1:48.25    1:46.82   20  
                 24.93        51.68 (26.75)
        1:18.95 (27.27)     1:46.82 (27.87)
  2 Muir, Fiona            SO Emory             1:47.73    1:47.78   17  
                 24.87        52.10 (27.23)
        1:19.75 (27.65)     1:47.78 (28.03)
  3 Orbach-Mandel, Hannah  SO Kenyon            1:49.90    1:48.83   16  
                 25.92        53.63 (27.71)
        1:21.23 (27.60)     1:48.83 (27.60)
  4 Wilson, Abby           SO Kenyon            1:48.30    1:48.89   15  
                 25.17        52.40 (27.23)
        1:20.11 (27.71)     1:48.89 (28.78)
  5 Wawer, Julia           JR Emory             1:50.34    1:49.26   14  
                 25.43        52.96 (27.53)
        1:21.43 (28.47)     1:49.26 (27.83)
  6 Zanolli, Nicole        JR Wash U. MO        1:49.32    1:49.49   13  
                 25.86        53.35 (27.49)
        1:21.04 (27.69)     1:49.49 (28.45)
  7 Jones, Lauren          SR Williams          1:49.81    1:49.90   12  
                 25.59        53.33 (27.74)
        1:21.29 (27.96)     1:49.90 (28.61)
  8 Costley, Campbell      SR Denison           1:50.40    1:51.51   11  
                 25.91        53.80 (27.89)
        1:22.53 (28.73)     1:51.51 (28.98)